It's Not Just for Partitions: Vanities in HDPE Solid Plastic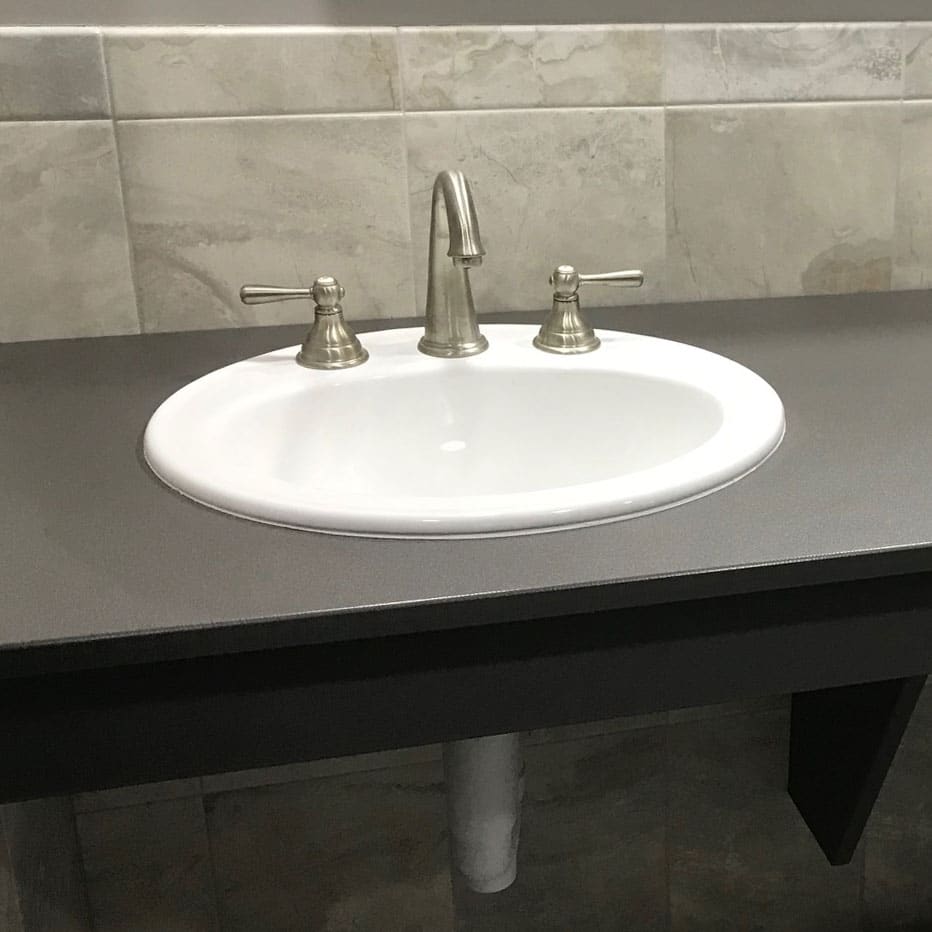 Anyone who's spent time browsing our site has likely read about the virtues of HDPE toilet partitions. HDPE, also called "solid plastic," refers to bathroom stalls made with extruded, one-inch-thick high-density polyethylene. Partitions constructed from this material (along with the included hardware) are impervious to moisture, making them very tough and easy-to-clean.
Occasionally, we speak with customers who aren't aware that we also sell public restroom vanity tops in coordinating solid plastic. Partition Plus offers HDPE vanity tops designed to coordinate with toilet partitions made from the same material. Solid plastic vanity tops offer all the same benefits of HDPE stalls: total moisture resistance, hassle-free maintenance, and high durability. Plus, these vanities perfectly coordinate with stalls made from the same material. Read on to see images from a recent Partition Plus project where we installed solid plastic toilet partitions and vanity tops for a local business.
Scranton Products manufactures the HDPE vanity top at facilities in Ohio and Arizona, alongside their partition and locker offerings. Because Scranton uses so much solid plastic, they produce the unfinished sheets themselves, rather than purchasing them from a supplier. After extruding the plastic sheets from raw or recycled materials, they cut and mill it into the components necessary for partitions and vanities (and storage lockers). As a result, when an end-user orders stalls and vanities in Hunter Green (for instance), they can be confident the color and texture of the two products will match exactly.

In addition to the top itself (the horizontal slab that eventually accepts sink basins), orders can include backsplashes and sidesplashes, as necessary. Scranton Products also manufactures matching HDPE center and end supports, with coordinating shoes where supports contact the floor. They also include an appropriate number of specialized, rust-resistant brackets to support the vanity layout. A standard skirt (a short, vertical strip that runs side-to-side across the front edge of the vanity, also called an "apron") lends a finished appearance to each unit. Upon request, Scranton Products can supply angled kickplates, designed to attach to the angled center and end supports. These pieces conceal pipes and plumbing below the basins. The exact options available depend on the layout of your bathroom and the orientation of your vanity: in-corner right, in-corner left, between wall, and free-standing.

Scranton's solid plastic vanities are provided without cut-outs for sink bowls, allowing you to customize the functionality and appearance of your restroom's lavatory area using readily-available washbasins. Despite HDPE's toughness, it cuts easily and cleanly with conventional power tools. This quality makes the installation of basins, faucets, counter-top soap dispensers, and other accessories very easy.

As mentioned earlier in this post, HDPE solid plastic – whether in partition, vanity, or locker form – is straightforward to clean. Because the plastic is moisture-proof, spills and grime never get a foothold on it. Most soil washes away with warm water and mild cleaning solutions – both of which you may use liberally. Again, this is thanks to plastic's moisture-proof properties. Just be sure to avoid harsh cleaners and chemicals, like bleach, abrasives, and undiluted acids. Always rinse the plastic components and mounting hardware and thoroughly dry them after any cleaning.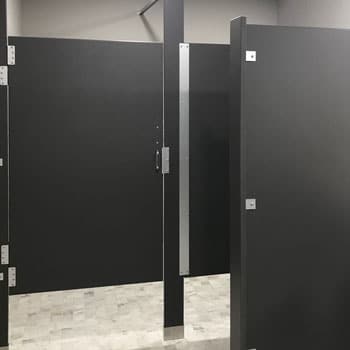 For any questions about Scranton Products solid plastic vanities and toilet partitions, contact the experts at Partition Plus. We're eager to discuss how we can help with your public restroom project! Call 800-298-9696 or email sales@partitionplus.com now.