Bathroom partitions are essential to public facilities. Clients, customers, visitors, and employees are quick to judge a business or organization based on the quality of their furnishings – especially the stalls appointing the restroom. Fresh, clean partitions leave an excellent impression.
Replace Deteriorating Restroom Partitions
The total replacement of deteriorating stalls is frequently the best option when renovating a restroom. Occasionally, we work with customers interested in purchasing a mix of new hardware and replacement panels. While there are certain circumstances where this can work, in most cases, completely replacing partitions will yield the best result. The advantages of replacing all components at once are that all of the pieces will match – in material, color, texture, and other properties. Also, purchasing the necessary elements in bulk – as part of a system – will likely be cheaper than buying the same components ala carte.

Powder coated steel is a typical bathroom partition material.
Additional Considerations
Another consideration when discussing bathroom partitions should be how well they complement the look and feel of your restroom. Gone are the days of defaulting to beige metal stalls. In the 21st century, we have a choice of finishes and materials. Cutting edge stainless steel is the top of the line. The luxury feel is unmatched. SCRC, solid phenolic, and solid plastic slot in below stainless, providing a rainbow of exciting colors and a world of unique textures to accent your bathroom space. At the economy end of the spectrum, plastic laminate and powder-coated steel offer affordable options for smaller budgets.
Partitions are an investment, but they needn't be overly expensive. A reputable toilet partition retailer will offer a range of material and installation options: enough to suit any budget. On the low end, a retailer will provide a customer with the self-installation of powder-coated steel bathroom stalls. As previously mentioned, powder-coated steel is the least expensive partition material. When a consumer opts to self install their stalls, the savings are significant, as no skilled labor is involved. Most DIYers who are comfortable with building materials, standard tools, and following written directions, can assemble powder coated steel toilet partitions. On the high end, retailers should offer customers a luxury toilet stall system furnished complete and installed. Because of the quality of the materials, fabrication, and installation, the cost is significantly higher.
Partitions Are an Investment
Rather than choosing an inexpensive material with plans to replace your stalls shortly, consider a higher-end configuration. In most cases, purchasing a single partition system will always be cheaper than buying two. This fact is likely to be true even if the higher-end system is significantly more robust and designed to last an extended amount of time.
Solid Plastic Bathroom Partitions
Heavily-used bathroom environments are perfect for HDPE solid plastic or phenolic stalls. The critical factor in these materials' heavy-duty resilience is that they are both 100% waterproof. Both materials can be fully submerged in water for days at a time, with no detrimental effects. Water impacts less durable, less expensive materials by causing rust (in the case of metals) or delamination.
Phenolic Restroom Partitions
A bathroom finished with phenolic stalls can achieve a range of looks: from traditional to contemporary. Traditional looks are made using classic solid colors and time-honored wood grain patterns. Modern designs often contrast the design of the phenolic's laminate with the design of the rest of the bathroom. Finely detailed patterns and abstract faux textures regularly grace the walls of contemporary bathrooms that use phenolic partitions.
Plastic Laminate Stalls
Laminates appear in a variety of partition products. On the high end, manufacturers coat solid phenolic with laminate. Manufacturers create the core from sheets of resin-impregnated kraft paper sheets. The layers and the laminate are bonded together under extreme heat and pressure.
Only the toilet itself may be more critical than bathroom partitions in a public bathroom. They are vital for privacy and cosmetic appeal. Cosmetically appealing, private stalls don't need to be expensive. Metal partitions are a popular option for budget-focused shoppers. Also referred to as "powder-coated steel," metal is an excellent blend of durability and affordability. It is the lowest priced material available. However, when properly cared for, they can last many years. Proper care involves regular light cleaning with a mild soap solution, rinsing, and drying. This care also consists of the owner verifying that all fasteners are tight. Also, make sure that hinges, locks, and brackets are all functioning as intended.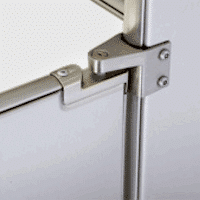 Stainless steel is a premium bathroom partition material.
Leading Bathroom Partition Materials
Significant time and money have gone into the research and design of modern toilet stalls. When properly installed and maintained, even the least expensive options are engineered to provide years of use. For instance, a unique paper-based honeycomb fills the hollow areas of powder-coated steel panels. Manufacturers developed this innovative structural support after much testing as a way to increase rigidity and impact resistance. Additional benefits include sound deadening and low weight. It should come as no surprise that more sophisticated, more expensive materials also undergo a range of development and testing before release to the public. For instance, the process used to meld resin-impregnated kraft paper and laminate into a piece of solid phenolic required an extended amount of testing to perfect.
Make Your Project a Success
Skilled individuals across the country contribute to a successful partition project. Every step of the process involves extraordinary contributions to produce top of the line products. We can't be sure about what the future holds for stalls. Without a doubt, popular finishes will change with time. Likewise, materials will evolve to last longer and demonstrate higher resiliency. Rest assured, that with proper care, the bathroom dividers sold today by Partition Plus will last years into the future.