---
Phenolic partitions have a solid core with a laminate layer fused to the outer sides. Manufacturers offer a wide variety of colors and pattern options. A fantastic feature of these stalls is that they are completely waterproof. Solid core phenolic bathroom stalls are composed of layers of craft paper soaked with resin and cured under intense pressure. The laminate outside is applied under the same high pressure. The resulting plastic panel is incredibly strong, yet still lightweight. They are built to last a very long time. In fact, these stalls come with a 25-year warranty.

Solid core phenolic toilet stalls, also known as compact laminate bathroom partitions, are versatile and tough. As a matter of fact, Phenolic is one of the highest performing materials available. However, Partition Plus offers phenolic at a great price point. It sells at an average cost per stall of $769.
Need your project done fast? We have you covered. 18 colors of solid phenolic have a lead time of just 10 days! Furthermore, solid phenolic quick shipment includes all available mounting configurations. Be sure to select the design that best suits your needs. Also, many other colors from Wilsonart, Formica, and Arborite are also available.
Check Out Phenolic Partitions in Action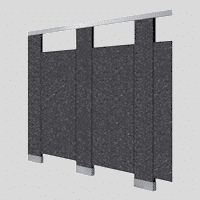 A range of laminate finishes are available for solid core phenolic stalls.
Distinctive DuraLine Collection
Partition Plus offers partitions from DuraLine Series 1080 or DuraLine Series 1180. These stalls come with a black core and thicknesses of ½ or ¾-inches. Additionally, the panel faces come in several different laminate options like:
Classic white
Denim blue
Pewter mesh
Faux-graphite or granite
Each of these choices come with a jet-black partition edge. The black band boldly contrasts almost all available colors. Manufacturers produce phenolic bathroom partition products in accordance with ASTM E 84. They are also rated Class B (for 1080) or Class A (for 1180). Because of their hard resin core, solid phenolic bathroom stalls are resistant to steam and soaps. Specifically, this resiliency makes them an excellent choice for facilities with increased moisture or showering facilities. Serious cleaning is quick and easy. For instance, owners may power wash the stalls without fear of corrosion or damage.

Phenolic partition systems include hardware that's as durable as the phenolic itself.
Our 25-Year Replacement Guarantee on Solid Core Phenolic
DuraLine bathroom partitions carry an industry-leading 25-year guarantee which protects against:
Defects
Corrosion
Breakage
Delamination
Partition Plus covers the costs of any returns. Also, we will replace defective sections at no charge. These restroom dividers all come with stainless steel hardware mountings and hinges. Because of this, partial opening or self-closing doors are possible. The metal-to-metal contact of the factory-installed inserts can withstand 1500 lbs. of force.
Privacy options for these phenolic restroom partitions include Gap-Free Interlocking. This system eliminates sight-lines along both sides of the door frame. If desired, we also offer an extra-long 72-inch door and 72-inch panel that sits just 4 inches off the floor. Also, the one-piece shoe design includes a hidden leveling device. Because of this, installation issues are reduced.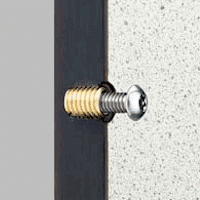 Sturdy phenolic partitions make assembly and mounting accessories a simple process.
Easy to Clean Surfaces, Solid Core Phenolic is GREENGUARD Safe
All DuraLine solid core phenolic bathroom partitions feature a thin outer coating of melamine. Because of this, you can quickly and easily clean them using only liquid soap. Moreover, strong resistance to graffiti makes phenolic bathroom dividers very popular in public facilities, where vandalism often takes place and cannot be prevented.
Additionally, DuraLine models have been Indoor Air Quality Certified by the GREENGUARD Environmental Institute. When you have high-traffic areas with a lot of moisture, it makes sense to choose phenolic bathroom partitions. In summary, DuraLine is an affordable solution that will provide years of service to your facility.
For more information on our solid core phenolic bathroom stalls, contact us today. We will be happy to help! Call 800-298-9696 or email sales@partitionplus.com.