Not all solid plastic bathroom partitions are created equal! Here, we break down the different benefits of each so that you can easily understand the differences.
THE DIFFERENCES IN PLASTIC COMMERCIAL RESTROOM PARTITIONS
There are three main "plastic" based commercial restroom materials in the marketplace.
High Density Polyethylene referred to as HDPE. These are constructed from one inch solid plastic with one color throughout. The material is dent, scratch, corrosion, graffiti, and mildew resistant. It will also never rust.
Solid Color Reinforced Composite (SCRC). These bathroom partitions are made from a homogenous composite of cellulose fibers, dyes & resins. They also have a Graffiti Off surface coating.
Phenolic. Phenolic bathroom stalls are made up of a melamine sheet and multiple layers of resin impregnates paper.
If you are in the process of choosing which is best for you, you can go even further into the differences. Multiple tests have been conducted to help guide you on which plastic provides the best total performance in the follow categories: Microbial Resistance, Surface Durability, Graffiti Removal, Screw Retention, Cost of Ownership and Sustainability.
MICROBIAL RESISTANCE
Testing for microbial resistance is done in accordance with ASTM D3292. Results are shown in the chart below. Samples were scored on a scale of 0-10, with 10 being the best microbial resistance. HDPE & SCRC showed no growth during the testing period where as Phenolic showed mold and mildew growth in just 21 days and more as time continued.
SURFACE DURABILITY
The abrasion resistance of the plastic bathroom partition materials was measured in accordance with ASTM G195 using a CS-10 abrasion wheel. This wheel was selected for this test because of its mild to medium abrading action, like that of normal handling, cleaning or polishing.
The test results show that HDPE has the best abrasion resistance with the lowest surface wear. Phenolic and SCRC have a higher surface wear and once the surface in compromised on the Phenolic or SCRC materials stains may be more difficult to remove and leave a ghosting effect.
GRAFFITI RESISTANCE
Graffiti resistance testing was conducted in accordance with ASTM D6578. The test provides a standard set of conditions that can be used to evaluate the graffiti resistance of a surface. When using a Scranton Products HDPE and recommended cleaning solutions graffiti was easily removed in all instances. Phenolic and SCRC have an exterior coating to prevent graffiti that may deteriorate over time and may require special maintenance such as waxing. When using HDPE the material does not require a special coating and no additional maintenance.
SCREW RETENTION
Using a tensile tester, the force required to pull a (9" x 2.5") screw fastener from the bathroom partition material was measured. The testing showed that the SCRC material failed at less than half the pull then HDPE or Phenolic. This could impact the durability of the partition system and its ability to support the mounted hardware.
TOTAL PRODUCT COST VS. LENGTH OF WARRANTY
Phenolic and SCRC both have higher starting costs and lower warranties than HDPE. Overall, HDPE has the lowest cost of ownership due to its performance, durability and long warranty.
SUSTAINABILITY:
HDPE partitions provide the best sustainability story when compared to Phenolic & SCRC. Select manufactures such as Scranton Products provide 25-100% pre-consumer content, offer 100% post-consumer content and are 100% recyclable. HDPE also does not contain any added Urea-Formaldehyde resins.
OVERALL PERFORMANCE:
Throughout all the independent lab testing it reveals that Scranton Products HDPE provides the best total performance compared to SCRC and Phenolic. This means you purchasing HDPE you are investing in peace of mind that you are getting a material that will with stand the harsh environments of commercial bathroom partitions.
BENEFITS OF HDPE PLASTIC
Solid Plastic bathroom stalls are impermeable to moisture and will not support the growth of mold & mildew. Since they are build with solid materials, they are the same color throughout. They will not chip and to not require painting as regular maintenance. They also will not deliver any VOC emissions and select manufacturers such as Scranton Products are Greenguard Gold Certified.
HDPE plastics are also fully power washable and steam cleanable. They resist bacteria, odors, moisture, mildew and will never rust unlike their metal counterparts.
SUSTAINABILITY BENEFITS OF HDPE
• Made from recycled materials
• Improved air quality
• Contains 25-100% post-industrial recycled material
• Available with 100% post-consumer content
• 100% recyclable
• Factory responsible recycling
• Contributes to LEED points
Benefits of HDPE compared to Stainless Steel bathroom partitions
Do you love the look of stainless steel but wish you could have the same durable benefits you get with High Density Polyethylene bathroom partitions? By selecting Scranton Products HDPE in their stainless-steel rotary brushed color and finish it can give you the look you desire that will last.
HDPE is comprised of polyethylene resin and pigment and is solid color throughout where as Stainless-Steel partitions are manufactured with a honeycomb or wood core glued under pressure to #304 stainless steel sheets and assembled with roll formed molding. Stainless Steel partitions are at a high risk for moisture penetration because of this and it increases dramatically when they are placed into restrooms or shower rooms due to the high humidity in these environments.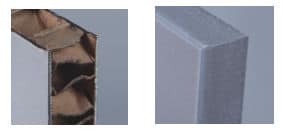 Additional challenges with Stainless-Steel partitions is they are susceptible to dings, dents and rust is very common. Testing following ASTM standards shows that HDPE partitions have 59 times greater resistance to impacts when compared to Stainless Steel and HDPE will absolutely never rust.

And if you are not sold yet, HDPE partitions initial cost is lower than traditional stainless steel partitions and will provide significantly lower cost over time.