Eclipse Series Solid Plastic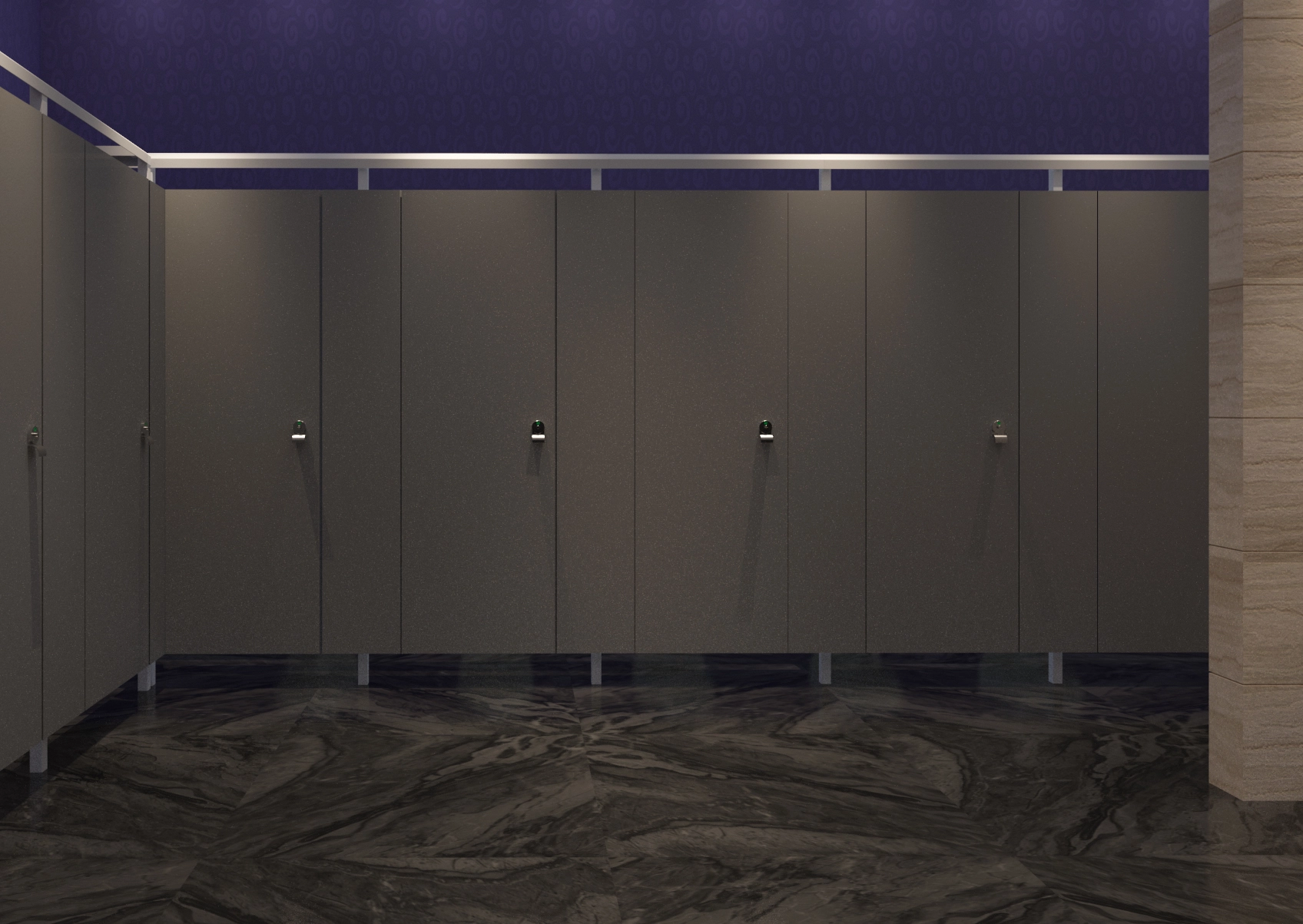 Scranton's Eclipse Series Partitions
Take a look at one of Scranton's high privacy offerings with their Eclipse Series bathroom partitions.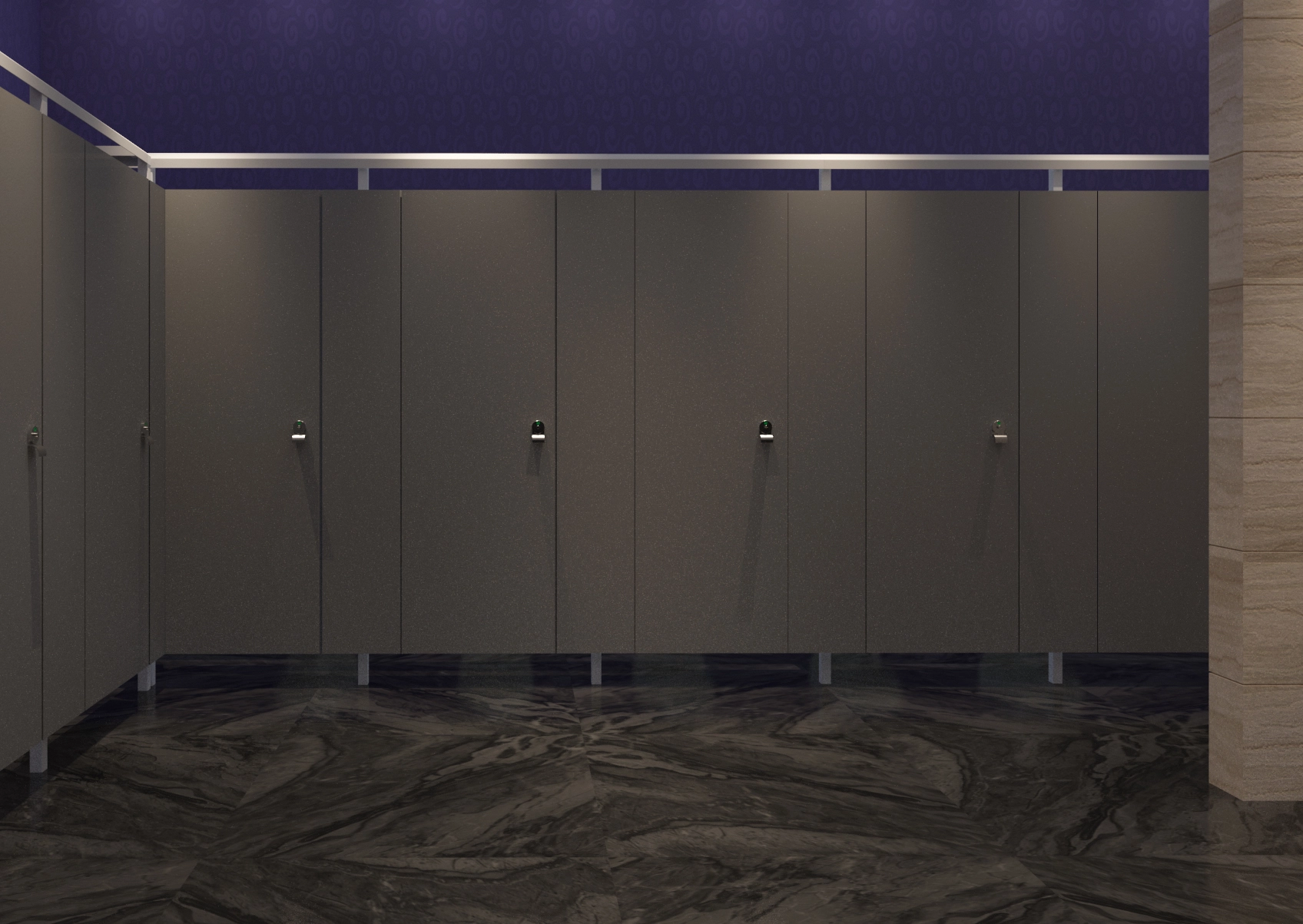 Innovative aesthetics and durable performance come together in Eclipse Series solid plastic bathroom stalls. The minimum sight design offers enhanced privacy. The contemporary look, a vast selection of colors, and an extensive texture collection guarantee a finished product that is sure to improve your bathroom's decor.
A Glimpse of the Future
Scranton Products' Eclipse system represents the future of toilet partitions. The blend of innovative design with durable performance is entirely new. The look is sure to upgrade even the most elegant bathroom. Often, the superior privacy-enhancing features perform even better than intended.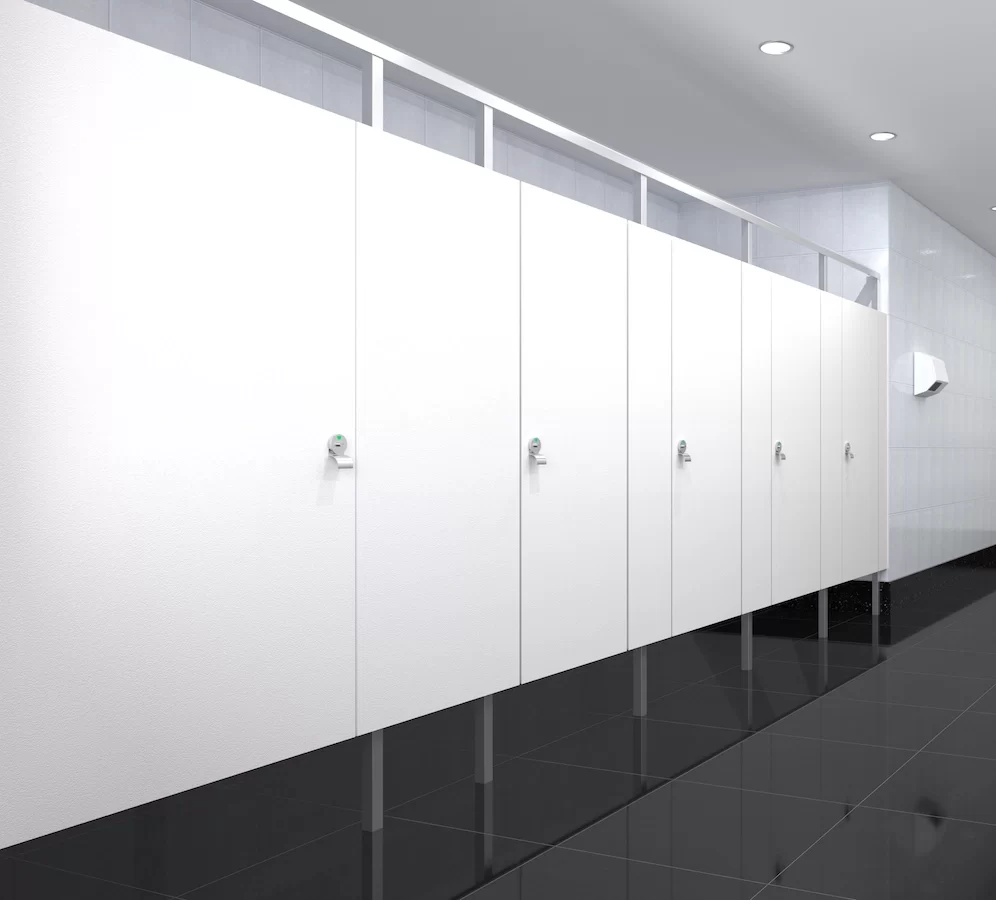 Better Privacy Features
Eclipse partitions eliminate large floor gaps and slightlines at door edges. The European-inspired system creates a private space in each stall. When ordering, you'll choose from 55 inch (standard), 62 inch, or 72 inch panel heights. The increased 62 inch and 72 inch heights reduce the floor gap. They also prevent anyone from easily peering over the top of the panels. Angled edges around the door block sightlines. There is no need to add obtrusive privacy strips.
Truly Modern Design
The Eclipse system utilizes sturdy floor-mounted overhead braced mounting. Partitions using this time-tested mounting style are inherently more stable than ceiling-hung or floor-mount-only systems. Eclipse enhances aspects of the floor-mounted overhead braced concept with concealed brackets, shoeless supports, and clean lines.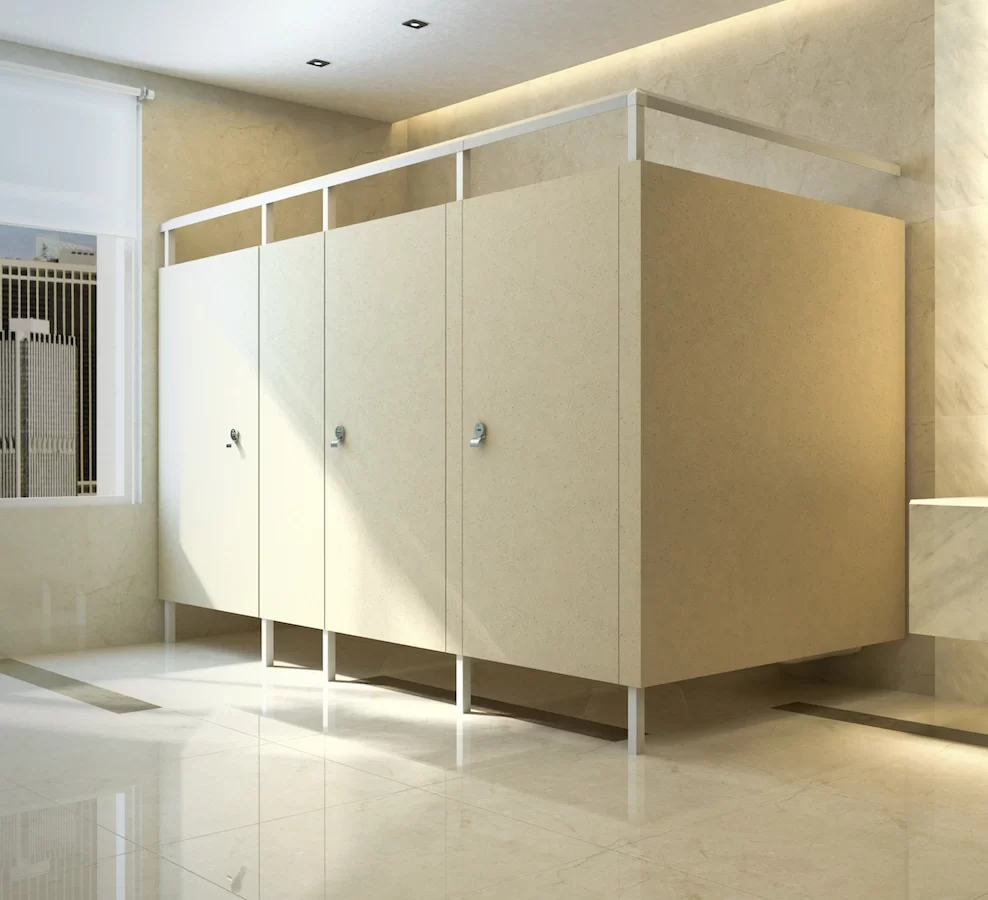 Gives a Clean Appearance
Eclipse stalls reduce visual clutter. When possible, hardware is concealed. Brackets, hinges, and strikes fade into the background. This allows your color and texture choices to emerge. Scranton Products carefully finessed the design of Eclipse headrail and latches – hardware that can't be hidden. The forms and finishes of these elements complement the contemporary design. Eclipse's "clean" appearance makes actual cleaning much more accessible. There are no protruding brackets, hinges, or finicky pilaster shoes to accumulate dirt and debris.
Based on a Durable Material
While Eclipse uses a fresh, sophisticated design, components are manufactured from the same trusted material as other HDPE solid plastic stalls. HDPE solid plastic resists dents with its solid core. Scratches resulting from regular wear and tear are barely visible as they are the same color as the material's surface. Unlike metal, corrosion is not a concern. Solid plastic will not absorb water and swell, like wood and other fibrous materials. The structural integrity and screw retention of panels, doors, and pilasters remain the same regardless of moisture exposure. HDPE's moisture resistance also significantly reduces the potential for mildew and microbial growth. Read more about HDPE solid plastic.
Offered in Many Colors
As with other HDPE solid plastic partitions from Scranton Products, a wide gamut of colors are offered. The palette is broken up into four simple groups: the traditional color collection, the bold color collection, the warm color collection, and the metallic color collection.
The Traditional Color Collection includes Black, White, and various shades in between. These shade include Paisley, Shale, Charcoal Grey, Grey, and Glacier Grey. Glacier Grey is an extremely light gray tone with very tiny dark gray specks. Paisley, on the other hand, is black with irregular pale dots.
Tones in the Bold Color Collection are designed to make an impact. Use them to coordinate with your organization's colors. Or, create contrast in an otherwise conservatively decorated bathroom. Choose from Hunter Green, Fossil, Blueberry, French Blue, Burgundy, and Midnight.
Complement the beige color family, and other neutral hues, with a choice from the Warm Color Collection. Solid colors include Mahogany, Desert Beige, Mocha, Linen, and Concrete. For a variegated effect, choose Sandstone or Sandcastle. Both finishes feature a neutral base with tiny darker flecks of color.
Create the illusion of metal partitions with the Metallic Color Collection. Stainless is a silvery-gray metallic finish. Bronze evokes notions of award medallions and metal sculptures. Nickel sits between the two other metallic colors – grayer than Bronze, but much more golden than Stainless.
Download and view the Scranton Products HDPE color card to see the complete collection of tones.
Several Exciting Textures
The standard HDPE solid plastic texture is referred to as Orange Peel (OP). Orange Peel is so named because it mimics the texture of citrus fruit skin. The texture is very dense and only clearly visible at a distance under certain lighting conditions.
Black and Stainless colors are offered in the Grip EX (EX) texture. Grip EX is best described as a regular pattern of tiny hemispheres protruding from the plastic's surface. Grip EX would be an excellent choice for modern restrooms with clean lines.
A texture called Hammered (H) is available with all three shades in the Metallic Color Collection: Stainless, Bronze, and Nickel. The irregular depressions that comprise the Hammered texture are intended to mimic the look of hammer-formed metal objects, like jewelry and urns.
The Rotary Brushed (RB) texture is available for Stainless, Bronze, and Nickel from the Metallic Color Collection. It replicates the distressed swirling seen on the surface of unpolished metals. The texture creates the effect of real stainless steel or cast bronze.
Download and view the Scranton Products HDPE color card to see the complete collection of textures.
So Many Ways to Get a Quote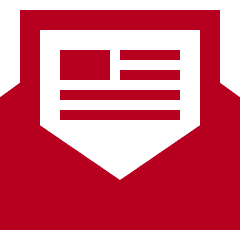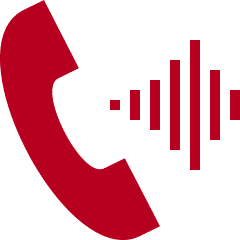 Call
Get in Touch with Our Experienced Team
Call: 800-298-9696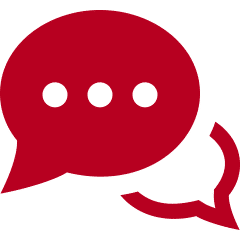 Text
Send Us a Message with the Stalls You Want
Text: 410-343-9660

Need Additional Details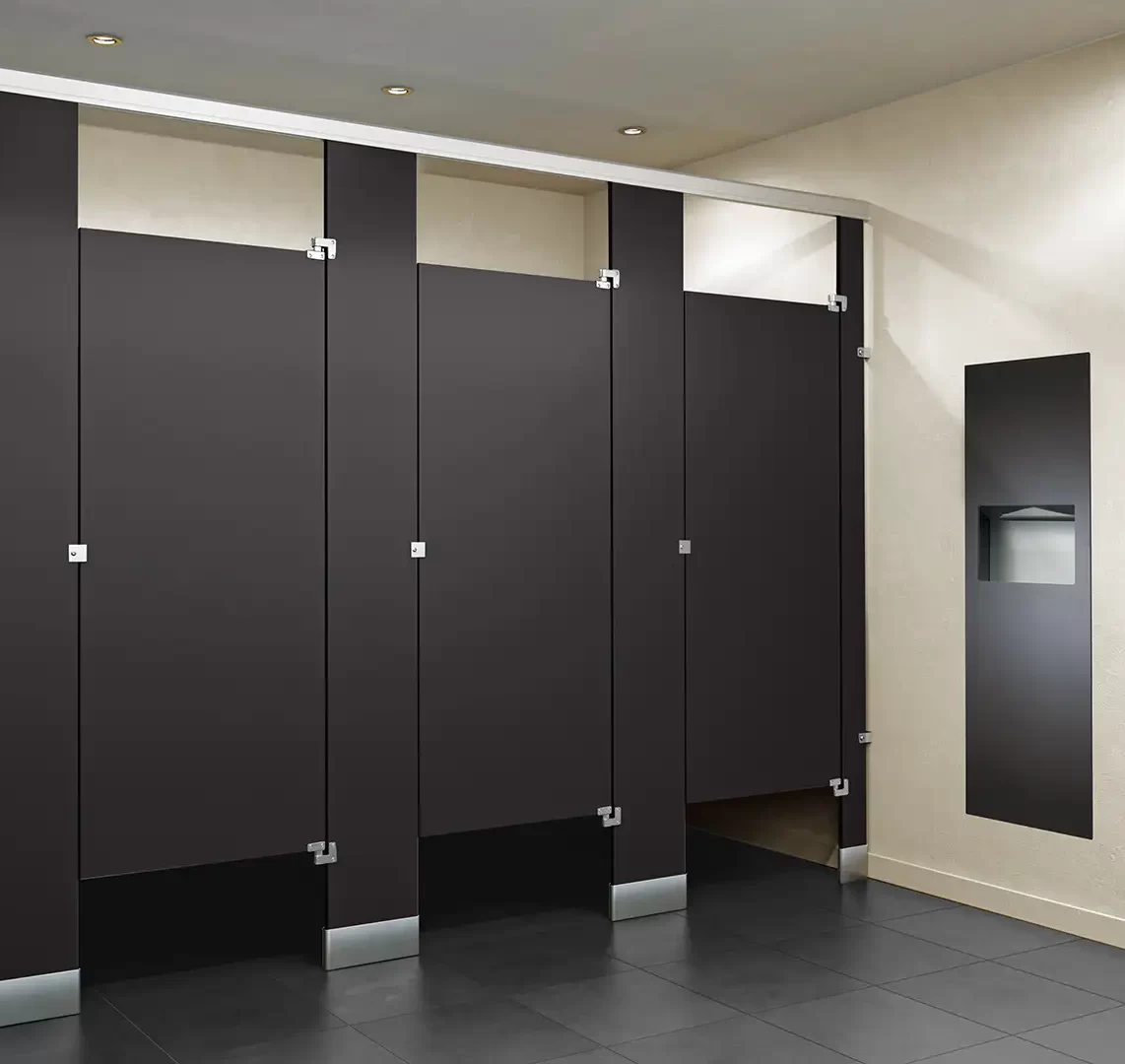 See More Toilet Partitions