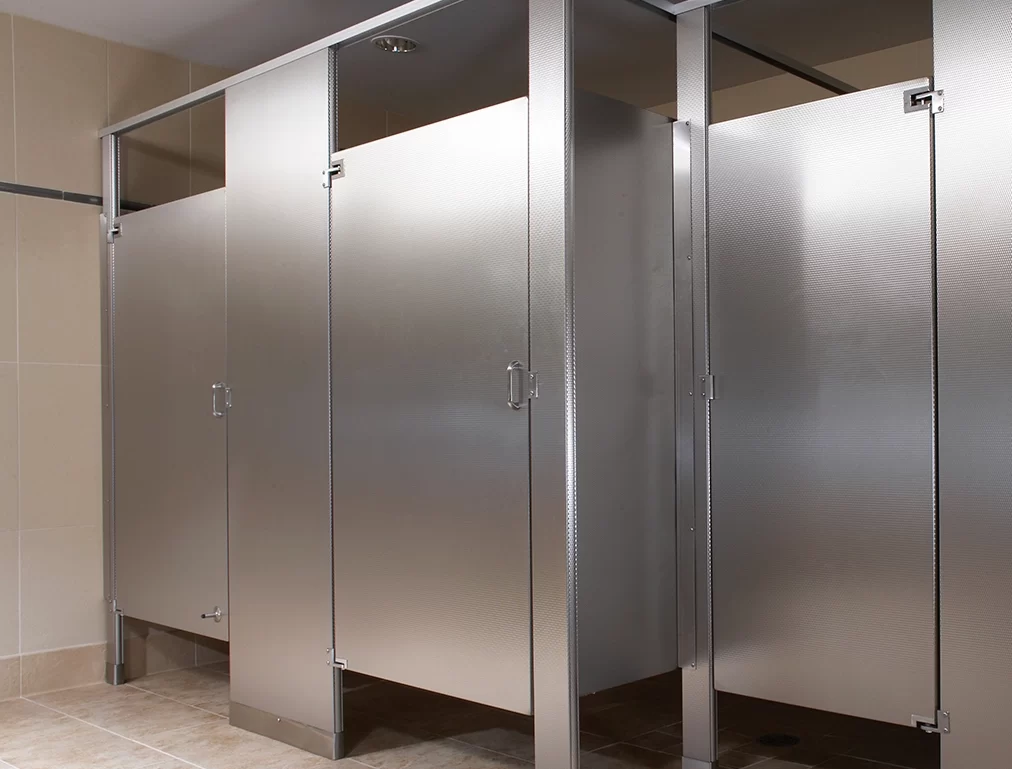 We make it
easy

for


anyone

to buy partitions
and have them delivered


anywhere

in the US.

– Fast quotes, prepared by helpful, friendly experts
– Many quick ship material and finish options
– Competitive prices, at all budget levels
Toilet Partitions & Division 10 Products Sold Nationwide to All Types of Customers
Whether you're a construction professional or an end-user, we'll help you navigate purchasing, receiving, and installing your bathroom partitions. Our wide selection of stalls and accessories is sure to include the perfect products for your project. Customers unfamiliar with toilet partitions regularly benefit from our live, virtual demonstrations. With just a click, you can connect with our experienced sales team for a one-on-one video chat. An easy-to-use quote request system and friendly phone support round out our straightforward shopping experience. Shipping locations throughout the country mean your order will arrive quickly and safely. Once you receive your order, we are happy to provide partition installation support.
Years of Experience with Toilet Partitions in All Styles & Materials
Choose from a range of partition materials and styles – all from leading manufacturers. Partition Plus can accommodate any job's requirements: from high-end construction to do-it-yourself projects. Unsure which type of bathroom stall is best for you? No need to worry. Tell us about your situation, and our experts will recommend the best solution for your needs and budget. We understand how to outfit bathrooms and surrounding areas. You can trust our knowledge of bathroom stalls, bathroom partitions, and toilet partitions.

Powder Coated Steel Toilet Partitions
Powder Coated Steel (PCS) toilet partitions are the least expensive partition option available. But their cost doesn't mean they aren't sturdy. For the customer short on time PCS stalls can ship in as little as 48 hours.
Price Point: $
Graffiti Resistant Colors Available
4 Levels of Privacy to Choose From

High Pressure Laminate Toilet Partitions
High Pressure Laminate (HPL) bathroom partitions are great for the customer looking for a customizable design without breaking budget. HPL is well suited to office and hotel bathrooms.
Price Point: $
Highly Customizable – Over 400 Colors
Impact and Scratch Resistant

HDPE Solid Plastic Toilet Partitions
Solid plastic bathroom stall partitions are well known for their high durability and colorful design options. HDPE plastic also boasts multiple privacy options including full height partitions and shiplap detailing.
Price Point: $$
Moisture Resistant
Customizable Privacy and Engraving

Solid Phenolic Toilet Partitions
Solid Phenolic boasts many benefits including the customizability of HPL and the moisture resistance of Solid Plastic. Phenolic partitions are also highly durable and graffiti resistant making them a great choice.
Price Point: $$$
Moisture Resistant
Highly Customizable – Over 400 Colors

Stainless Steel Toilet Partitions
Stainless Steel bathroom stalls come at the highest price point for partitions but there is no match for their sleek luxury design. Stainless steel is sturdy, durable, and even customizable for the high-end customer.
Price Point: $$$$
Three Texture Options
Elite High Privacy Series
Offering Toilet Partitions & Accessories from Leading Manufacturers
Partition Plus distributes products nationwide for numerous manufacturers. Quick shipment and low freight costs are possible thanks to our many shipping locations across the country. We ship toilet partitions and accessories anywhere in the United States. If you need your bathroom stalls installed, we provide those services to Maryland, Washington DC, Virginia, and the surrounding region.
See Toilet Partition Materials in Action
Partition Plus offers videos so that you can see each of the materials we supply in vivid detail. Learn more about each toilet partition material's strengths and weaknesses and take a look at some of our color and texture options. Our Partition Experts offer easy to understand explanations and show off tabletop displays to give you an idea of what your bathroom stalls will look like right down to the hardware. Check out one of our videos below. You can also find videos on individual toilet partition material pages or on our resource page.
Our Services
For over 25 years we have been proud to provide toilet partitions for a variety of industries around the United States. We work with small businesses and large corporations alike, furnishing restaurants, schools, and even medical centers. No matter your industry, if you're in need of restroom products we are here to help. Still not sure if Partition Plus is the right choice for you? Check out some of the other projects we've worked on.






Our team is dedicated to giving you professional and expert quality help for jobs big and small. Whether it's your first time purchasing toilet partitions or you're a seasoned pro, our group of experts is ready to work with you. So give us a call and let us help you get started.
How Can I Submit a Toilet Partition Quote?
We've tried to make the quote submission process as easy as possible, all you need to do is:
Most quotes take less than an hour to receive after you submit, if it's near the end of the day, please wait for the following business day. If it's an emergency, let us know and we will give it priority.
Have Partition Questions?
Here at Partition Plus we want to make buying your toilet partitions as easy as possible. If you have questions about us, our partitions, or what happens after you order check out our FAQ page. Don't see your question there? Go ahead and give us a call. We have a team of experts ready to help you with all your partition needs.