---
High-Pressure Laminate bathroom stalls are an excellent choice for a variety of project types. Design flexibility and low cost are two of their stand out features. Bathroom partitions should be sensibly priced and look good, no matter what the scale or budget of the job. Consider high-pressure laminate for your situation. Laminate toilet partitions boast a CLASS B (ASTM E84) fireproof rating, higher impact and scratch resistance than metal, and a resin-infused, industrial grade particle board cores.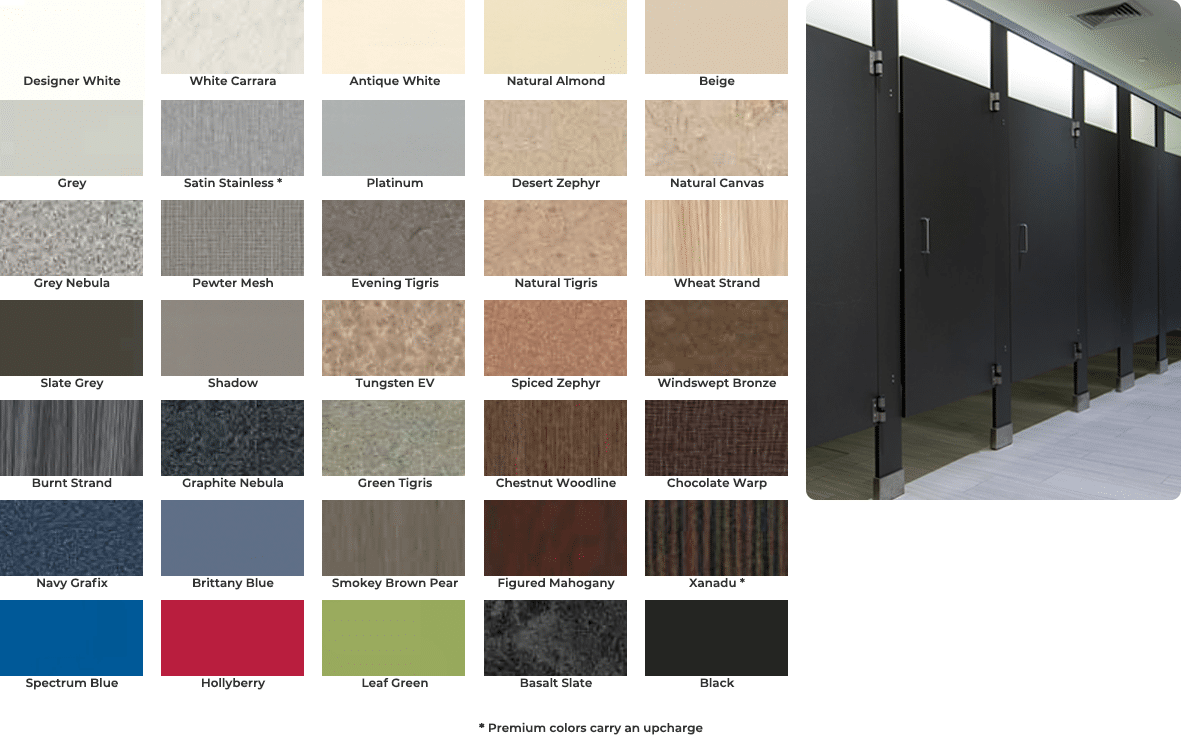 Standard high-pressure laminate bathroom stalls feature a particle board core. We don't recommend this material for high humidity and high moisture areas. For those situations, we recommend solid phenolic or solid plastic (HDPE) partitions. But if your restroom space is relatively dry, you may be able to benefit from the low cost and visual appeal of laminate.
Manufacturers produce raw high-pressure laminate in a variety of finishes. These options include premium high-gloss colors and faux-wood patterns. Additionally, manufacturers supply upgraded hardware with laminate partitions. Sleek, concealed hinges allow the eye-catching finishes to stand out. Assuming the restroom is dry enough, and high-pressure laminate is within budget, we can recommend a color or style of material that will blend into any facility's decor.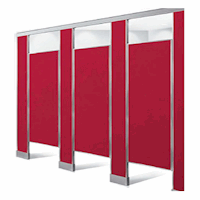 High pressure laminate toilet stalls are low cost, but design-friendly.
35 Standard Colors of High-Pressure Laminate Toilet Partitions
Whether your goal is to stand out or blend in, your bathroom stalls should look great. In many cases, Partition Plus makes this happen with high-pressure laminate. Customize your bathroom partitions to use loud, bright finishes to make your facilities memorable. Or, select a subdued shade that blends nicely with your paint or tile. With 35 standard colors to choose from, you are sure to find the perfect match no matter your design intention.
Rugged, Resilient High-Pressure Laminate
Don't think that because laminate looks exceptional, it is delicate. In even the least expensive configurations, laminate stalls use durable plated brackets, stainless steel floor anchors, and Zamak hinges and latches. Door hardware is cleverly designed to allow for easy exit in case of emergency.
During testing, technicians removed 100% of graffiti marks from high-pressure laminate panels. This performance contributes to laminate's ATSM D6578 rating for graffiti resistance. In other tests, high-pressure laminate continues to best metal stalls. Impact resistance of 3 inches per pound beats metals 2 inches per pound rating. High-pressure laminate can also withstand a 10kg load in trials designed to test scratch resistance. Metal partitions could only withstand 3kg in the same tests.
Two-Year Warranty for High-Pressure Laminate
Manufacturers and sellers, including Partition Plus, stand behind these durable and versatile options. As such, they come with a limited two-year warranty. The warranty protects against breakage, corrosion, and defects in materials. If any of these issues occur, properly installed and maintained toilet partitions will be replaced or repaired at no extra charge. We are happy to supply additional details about this product's warranty and properties. Call 800-298-9696 or email sales@partitionplus.com to begin the conversation.
Environmentally Friendly Manufacturing
Last, but certainly not least, high-pressure laminate bathroom stalls typically qualify for LEED credits. Hardware is 50 to 70% recycled steel, and the panels also consist of recycled material. This unique manufacturing allows institutions, corporations, builders, architects, and others to benefit financially while increasing environmental consciousness.