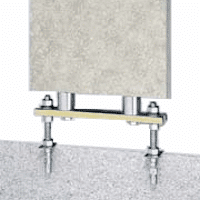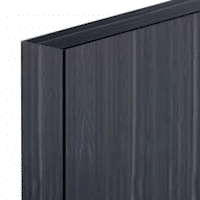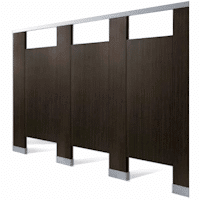 Budget is always an important consideration when taking on any project. High pressure laminate bathroom stalls offer a terrific and sensible option at a great price point.
These restroom stalls are made of sturdy, resin-infused, industrial grade particle board panels and doors.
They are also CLASS B fireproof (ATSM E 84).
They are proved to have a higher impact and scratch resistance than metal too!
The core of our standard version is made of particleboard. It is not recommended for high humidity and moisture areas. If you have a high moisture area, Solid Phenolic Core or Solid Plastic (HDPE) is the best choice for you. There is an optional steel core welded leveling device available for every configuration. This will elevate durability at an added cost.
High pressure laminate stalls come in a wide variety of finishes. This includes:
Premium high-gloss colors and faux-wood patterns.
You can find a a color or style that will fit in with any facility or institution. These bathroom partitions are noted for their concealed hardware on the exterior and sleek look that always appears clean and smooth.
35 Standard Colors Available to Customize Your Look
We understand that your bathroom needs a customized and unique look to match the rest of your establishment. Want to match your high pressure laminate stalls with your newly painted bathroom? We have 35 standard colors to choose from. Our color chart brochure is below so you can browse through our color selection yourself!
Quick Ship Colors
Need your stalls as soon as possible? The colors below ship in 2-3 days plus just a few days for transit time!
Designer White
White Carrara
Antique White
Natural Almond
Beige
Grey
Satin Stainless
Platinum
Desert Zephyr
Natural Canvas
Grey Nebula
Pewter Mesh
Evening Tigris
Natural Tigris
Wheat Strand
Slate Grey
Shadow
Tungsten EV
Spiced Zephyr
Windswept Bronze
Burnt Strand
Graphite Nebula
Green Tigris
Chestnut Woodline
Chocolate Warp
Navy Grafix
Brittany Blue
Smokey Br Pear
Figured Mahogany
Xanadu
Spectrum Blue
Hollyberry
Leaf Green
Basalt Slate
Black
** Many other colors from Wilsonart and Formica are also available **
Reinforcement On Every High Pressure Laminate Panel
Inside each cubicle, the high pressure laminate door is securely fastened with chrome-plated polished Zamak hinges and latches. The latches are easy to operate with one hand. They also allow for rapid exterior access in case of emergency. There are a wide variety of mounting options. However, all mounting options an be securely attached together with strong plated brackets and bolted to the floor with stainless steel wedge floor anchors.
High pressure laminate panels meet ATSM D 6578-00 for their graffiti-resistance, with 100% of marks removed in a testing environment. This will keep your bathroom stall looking fresh and new for years into the future.
These partitions are tested on even more levels. They outperformed metal counterparts in two more important categories:
They resist impact, having been shown to deflect a force of 3 inch-lb. spherical weights dropped on them. As a comparison, metal withstood just 2 inch-lbs.
When it comes to scratch resistance, high pressure laminate withstood a 10kg load applied with a scraping device. Comparatively, it only took 3 KG of force to mar the metal partition.
Backed by a Two-Year Warranty
There is no question that these partitions are strong and resilient and come with a limited two-year warranty. The warranty protects against:
Breakage
Corrosion
Defects in materials or workmanship
Within the warranty period, properly installed and maintained dividers will be repaired or replaced at no extra charge.For information on redeeming your warranty, please contact us via phone, email or fax and we will be happy to walk you through the process.
Environmentally Friendly Construction
High pressure laminate partitions allow architects, builders, corporations, and institutions to be more environmentally conscious in their construction projects. These panels consist of recycled content and include rapidly renewing materials along with other eco-friendly design enhancements. All their bathroom partition hardware is made from 50-70% recycled steel. That means when you purchase these stalls you can qualify for LEED credits, benefiting you and the community.