High Pressure Laminate Restroom Partitions
High Pressure
Laminate
Toilet Partitions
Design Flexibility – Textures, Wood Patterns & Colors
Low Cost
Privacy Options Offered

WATCH HIGH PRESSURE LAMINATE
PARTITIONS IN ACTION
HPL Models and More
Watch Caroline, one of our Partition Experts from Partition Plus, show off many of the feature and advantages that come with high pressure laminate Toilet Partitions.
Interested in More Videos?
We have demonstrations for all our partition materials and videos covering a variety of your partition needs, from installation to design features. Click the button below to visit our video library.
HPL PARTITIONS COLOR AND MOUNTING
OPTIONS FROM BOBRICK

Designer
White
D354-60

White
Carrara
4924-38

Antique
White
1572-60

Natural
Almond
D30-60

Beige
1530-60

Grey
1500-60

Satin
Stainless
4830K-18*

Platinum
D315-60

Desert
Zephyr
4841-60

Natural
Canvas
7022-58

Grey
Nebula
4622-60

Pewter
Mesh
4878-38

Evening
Tigris
4674-60

Natural
Tigris
4669-60

Wheat
Strand
6212-58

Slate
Grey
7022-58

Shadow
7022-58

Tungsten
EV
7022-58

Spiced
Zephyr
7022-58

Windswept
Bronze
7022-58

Burnt
Strand
6307-58

Graphite
Nebula
4623-60

Green
Tigris
4667-60

Chestnut
Woodline
5884-58

Chocolate
Warp
5881-58

Navy
Grafix
7018-58

Brittany
Blue
D321-60

Smokey
Brown Pear
5488-58

Figured
Mahogany
7040A-60

Xanadu
7945-38*

Spectrum
Blue
851-58

Hollyberry
D307-60

Leaf
Green
8820-58

Basalt
Slate
3690-58

Black
1595-60
35 Standard Colors of High-Pressure Laminate Toilet Partitions
Whether your goal is to stand out or blend in, your bathroom stalls should look great. Partition Plus can make this happen with high-pressure laminate. Customize your partitions to use loud, bright finishes to make your facilities memorable. Or, select a subdued shade that blends nicely with your paint or tile. With 35 standard colors to choose from, you are sure to find the perfect match no matter your design intention.
Need More Laminate Options?
For customers with some additional time, high-pressure laminate can be customized in well over 400 colors including premium high-gloss colors and faux-wood patterns! Talk to the experts at Partition Plus today to find the perfect color for your high pressure laminate toilet partitions.
WHAT ARE HIGH PRESSURE LAMINATE
BATHROOM PARTITIONS?

High pressure laminate is made with a 45 lb density particle board substrate that has been embued with resin, covered with a laminate plastic sheet that gives the partition its color. These two layers are then wrapped with a clear melamine overlay that protects the entire toilet partition. It is all these layers that come together to make a strong material that is impact and graffiti-resistant. High pressure laminate comes at a low cost without sacrificing durability.
We don't recommend this material for high humidity and high moisture areas. For those situations, we recommend solid phenolic or solid plastic (HDPE) partitions. But if your restroom space is relatively dry, you may be able to benefit from the low cost and visual appeal of laminate.
The Partition Experts at Partition Plus often recommend high pressure laminate bathroom partitions for churches, restaurants, and businesses. Call us and find out if high pressure laminate toilet partitions are right for your bathroom!
ADVANTAGES OF HIGH PRESSURE LAMINATE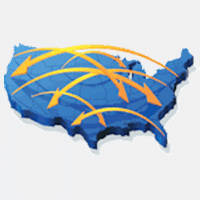 FAST DELIVERY
Small business owners can't afford to put aside essential renovations that impact sales and turnover. If you've waited to place your order, or you have a fast-approaching deadline, Partition Plus has you covered. Our manufacturers ship out 35 different high-pressure laminate colors in just two to three business days. Even with transit time, you will get this material fast!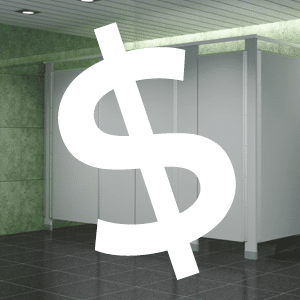 BUDGET FRIENDLY
A member of the "economy line" of bathroom stalls, alongside powder coated steel, high-pressure plastic laminate needn't break the bank. This material is available at a low cost allowing even the budget-conscious consumer to get durable stalls that will last. For more specific information on pricing get your free quote today or give our friendly experts a call!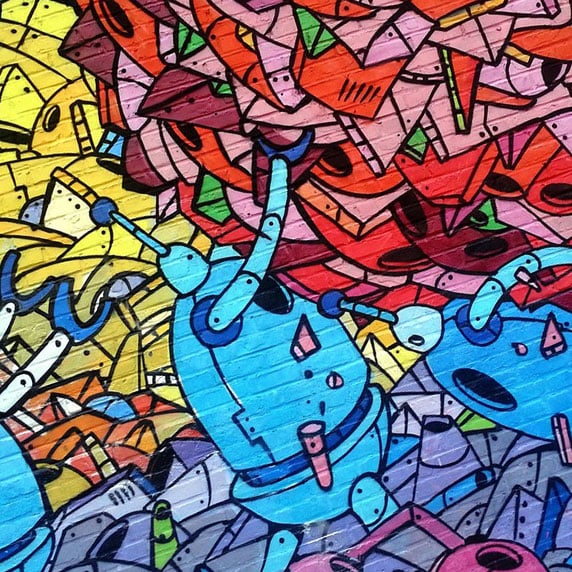 HIGHLY VANDAL RESISTANT
HPL and graffiti resilience are synonymous. Commercial graffiti removers work perfectly with high-pressure laminate panels, doors, and pilasters. During testing, technicians removed 100% of graffiti marks from high-pressure laminate panels. This performance contributes to laminate's ATSM D6578 rating for graffiti resistance.

LEED CERTIFIED & ENVIRONMENTALLY FRIENDLY
Receive points when using high-pressure plastic laminate toilet stalls. Contractors and business owners stand to benefit. LEED points are offered, as:
All of the industrial-grade particle boards found in these bathroom stalls have 100% pre-consumer recycled content.
The laminate is rapidly renewable and low-emitting by LEED standards.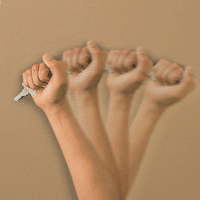 RUGGED & RESILIANT
In even the least expensive configurations, laminate stalls use durable plated brackets, stainless steel floor anchors, and Zamak hinges and latches. Door hardware is cleverly designed to allow for easy removal in case of emergency. High-pressure laminate also tolerates accidental scratches and forceful impacts easily, besting metal stalls in many tests.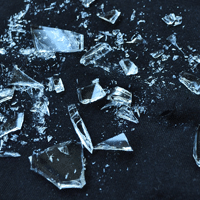 TWO-YEAR WARRANTY
Manufacturers and sellers, including Partition Plus, stand behind these durable and versatile options. As such, they come with a limited two-year warranty. The warranty protects against breakage, corrosion, and defects in materials. If any of these issues occur, properly installed and maintained toilet partitions will be replaced or repaired at no extra charge.

STRONG FIRE RESISTANCE
As a CLASS B material, high-pressure laminate bathroom partitions meet the ASTM E84 standard. They will not burn quickly or accelerate the spread of fire. They will stall the spread of fire and give building inhabitants time to reach safety.

STYLISH DESIGNS
For the design conscious customer High Pressure Laminate can be nearly endlessly customizable with its over 400 color choices. Highly customized stalls do take additional time but with a variety of mounting, hardware and color options the perfect stalls are within reach.
HIGH PRESSURE LAMINATE UPGRADES
There are many upgrades you can choose from for your high pressure laminate toilet partitions. The Partition Experts at Partition Plus can help find the right panel height, stall system, and hardware options for your bathroom.

PRIVACY COMES IN MANY FORMS
Partition Plus serves many different customers, so we can vouch that various establishments require different levels of privacy in their bathroom stalls. Above and beyond requirements, some business owners or bathroom designers prefer higher privacy. Regardless, we aim to give you a wide range of privacy options for high-pressure laminate. Balancing budget and preference is no issue when purchasing high-pressure laminate bathroom stalls.
Standard privacy stalls are perfectly acceptable for protection from accidental viewing. However, no sight line solutions completely obscure the occupant from view. For this, we use full-length channels at all connections, full-length hinges, and full-length keepers (keepers stop the door from swinging outward when users shut it). Partition Plus offers no sight line solutions for all material types, not just high-pressure laminate.

CUBICLE SYSTEMS IN HIGH PRESSURE LAMINATE
We work with Bobrick, and other manufacturers, who offer high-design, high-privacy partition systems. These nicely designed components are combined with high-privacy hardware to provide nearly total privacy. Bobrick offers both larger panel traditional systems and the high-end PRIVADA system perfect for bathrooms looking to make an upgrade. Inquire about specialized high-privacy high-pressure laminate solutions by calling sales@partitionplus.com or calling 800-298-9696.
Remember that all of these options are customizable, so matching the look and feel of your bathroom space will not be a problem. Increasing privacy doesn't mean you must sacrifice style. Individual style and fine-tuned privacy make the toilet partitions uniquely yours!

HARDWARE
Manufacturers can supply upgraded hardware with laminate partitions. Sleek, concealed hinges allow the eye-catching finishes to stand out. Occupancy indicators and no-sight-line options allow for enhanced privacy and function of your stalls. Hardware pieces come with multiple finish options allowing them to coordinate with the look of any bathroom. Elevate the look of your restroom without breaking the bank using hardware options.
Partition Plus includes all necessary hardware with our partition shipments and also sells individual pieces separately for the customer looking to make an upgrade to their existing stalls. If you're not sure what you're looking for ask the Partition Experts about hardware upgrades that can make your bathroom stand out!
⇧