Toilet Partitions
Find toilet partitions that will fit your all bathroom needs, fast and at a great cost.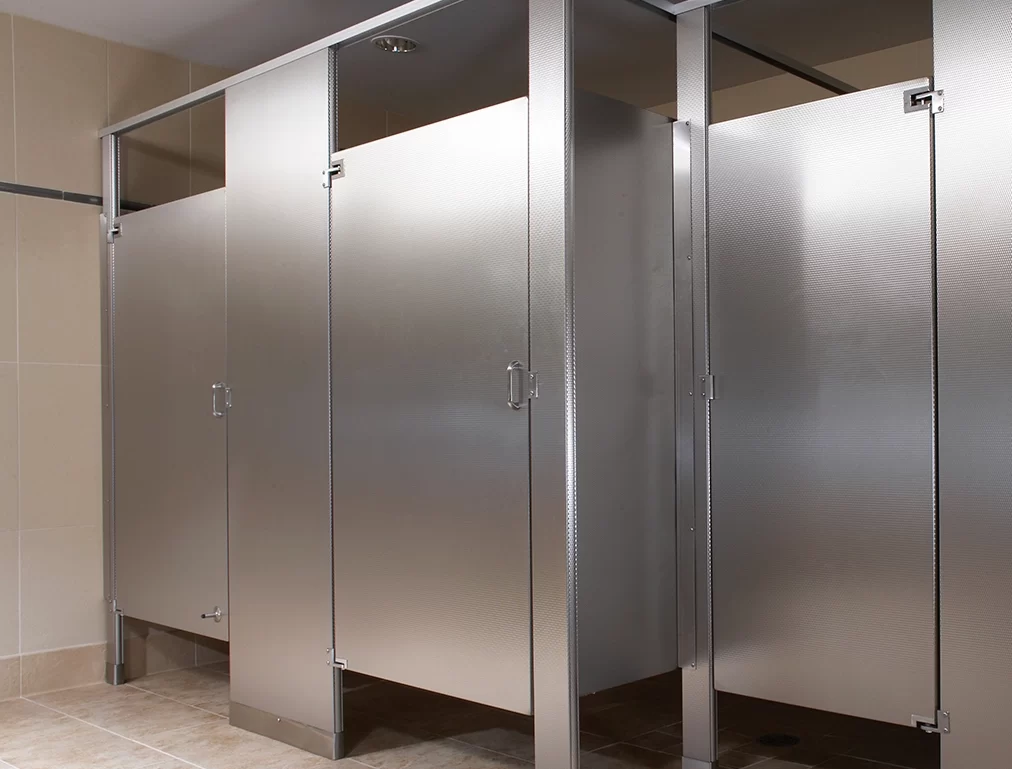 Get the Best Toilet Partition Material for Your Restroom
Toilet partitions may seem complicated, but they don't need to be. When choosing partitions, you'll need to consider the bathroom space, so that you can buy the right material in the correct color or pattern. All in all, getting high-quality stalls for your bathroom is an easy and exciting process.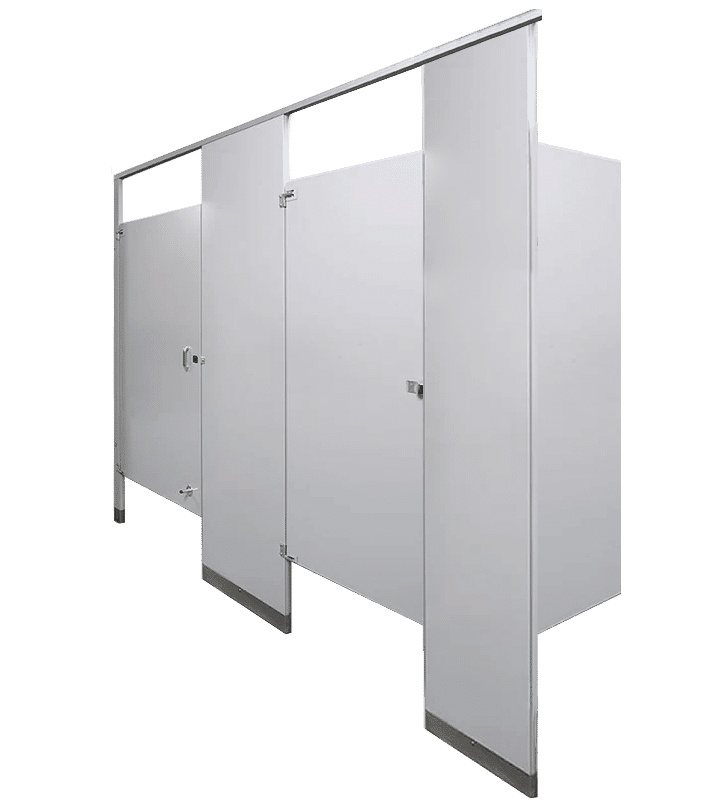 Powder Coated Steel Toilet Partitions
Powder Coated Steel (PCS) toilet partitions are the least expensive partition option available. But their cost doesn't mean they aren't sturdy. For the customer short on time PCS stalls can ship in as little as 48 hours.
Price Point: $
Graffiti Resistant Colors Available
4 Levels of Privacy to Choose From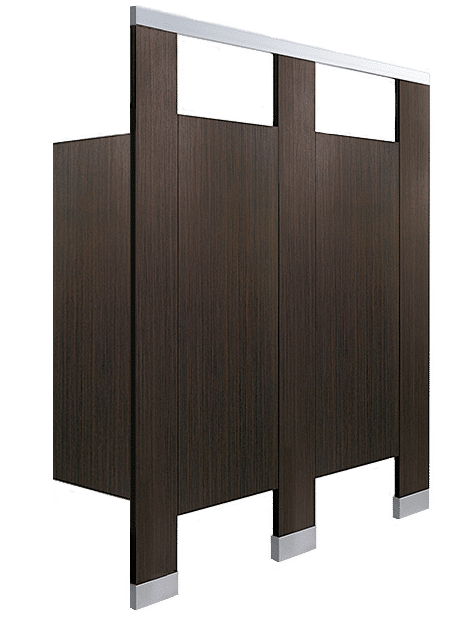 High Pressure Laminate Toilet Partitions
High Pressure Laminate (HPL) bathroom partitions are great for the
customer looking for a customizable design without breaking budget.
HPL is well suited to office and hotel bathrooms.
Price Point: $
Highly Customizable – Over 400 Colors
Impact and Scratch Resistant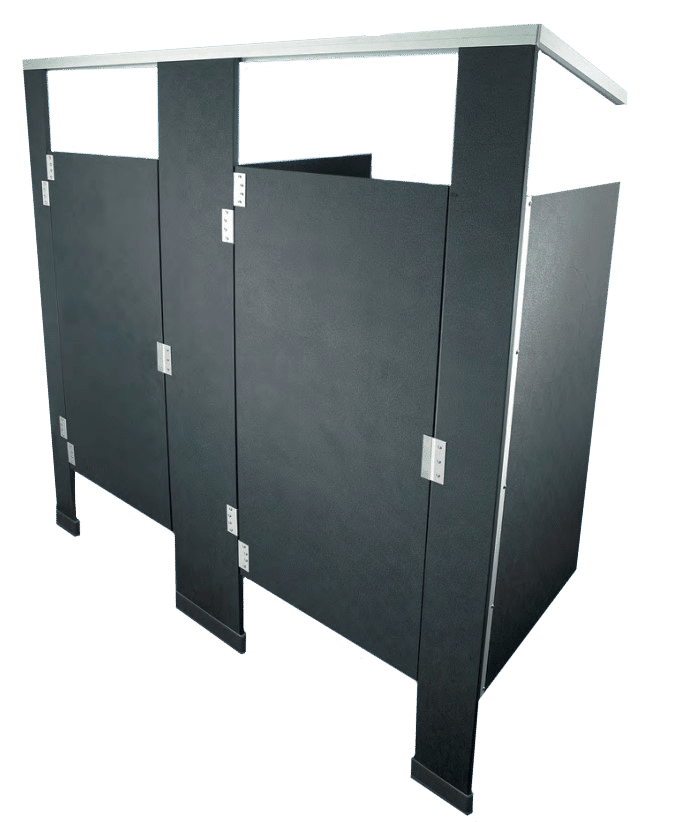 HDPE Solid Plastic Toilet Partitions
Solid plastic bathroom stall partitions are well known for their
high durability and colorful design options. HDPE plastic also
boasts multiple privacy options including full height partitions and
shiplap detailing.
Price Point: $$
Moisture Resistant
Customizable Privacy and Engraving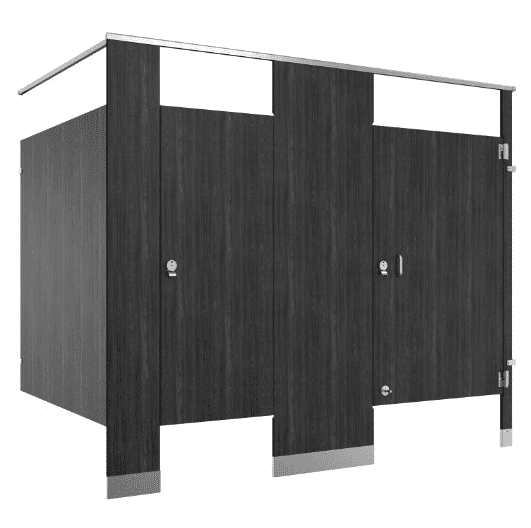 Solid Phenolic Toilet Partitions
Solid Phenolic boasts many benefits including the customizability of
HPL and the moisture resistance of Solid Plastic. Phenolic
partitions are also highly durable and graffiti resistant making
them a great choice.
Price Point: $$$
Moisture Resistant
Highly Customizable – Over 400 Colors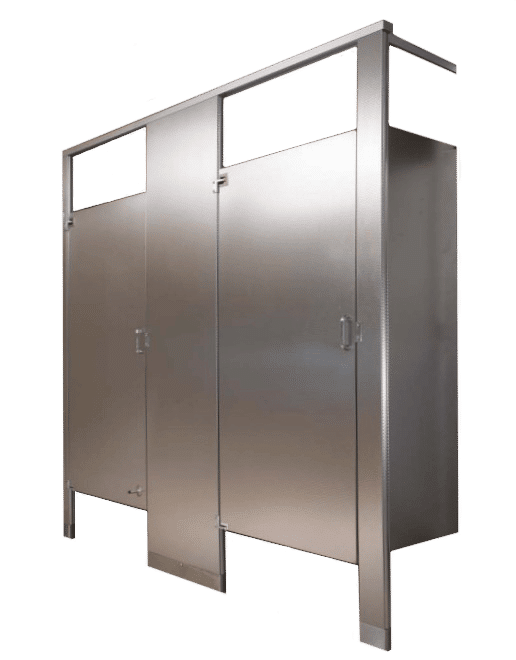 Stainless Steel Toilet Partitions
Stainless Steel bathroom stalls come at the highest price point for
partitions but there is no match for their sleek luxury design.
Stainless steel is sturdy, durable, and even customizable for the
high-end customer.
Price Point: $$$$
Three Texture Options
Elite High Privacy Series
So Many Ways to Get a Quote
Shop the Best Toilet Partition Brands

Installing Yourself?

Need Installation?
Want to See Toilet Partition Materials in Real Life?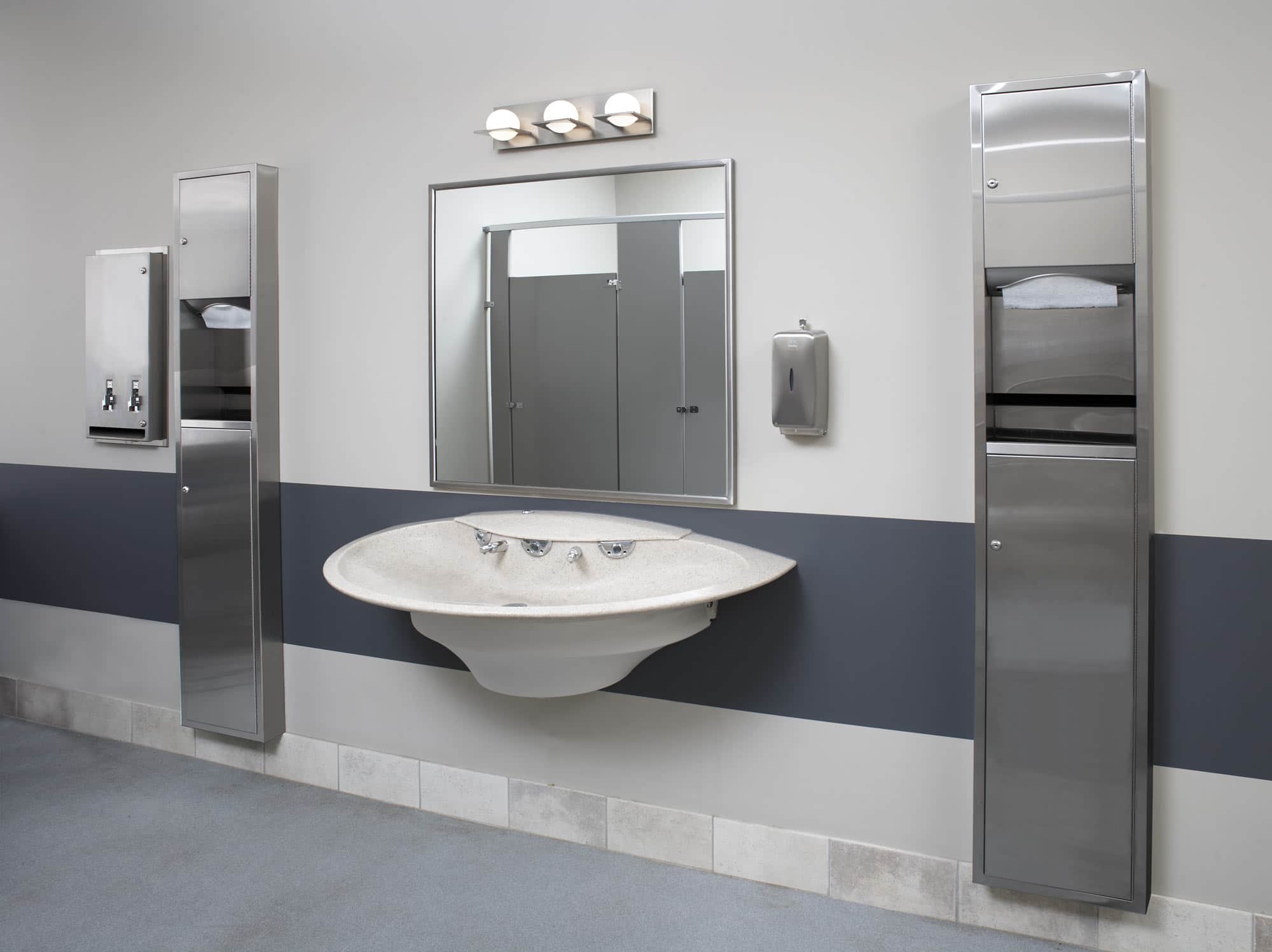 Toilet Partition Accessories
You've got your partitions, now you need to fill the rest of your bathroom. Luckily, Partition Plus has you covered. Need accessories for inside your toilet partitions? We have grab bars, toilet paper dispensers and more that you can mount onto the toilet partition material of your choice. For outside the stall we have a variety of items including mirrors, soap dispensers, and many others. We even sell vanity tops.
If you're in need of any restroom accessories take a look at our selection. If you've got a lot of stalls that need accessories or are just generally buying a large number of an item, you're in luck. Many of our bathroom accessories have quantity discounts. Can't find what you're looking for? Give us a call, we're happy to help you find what you need.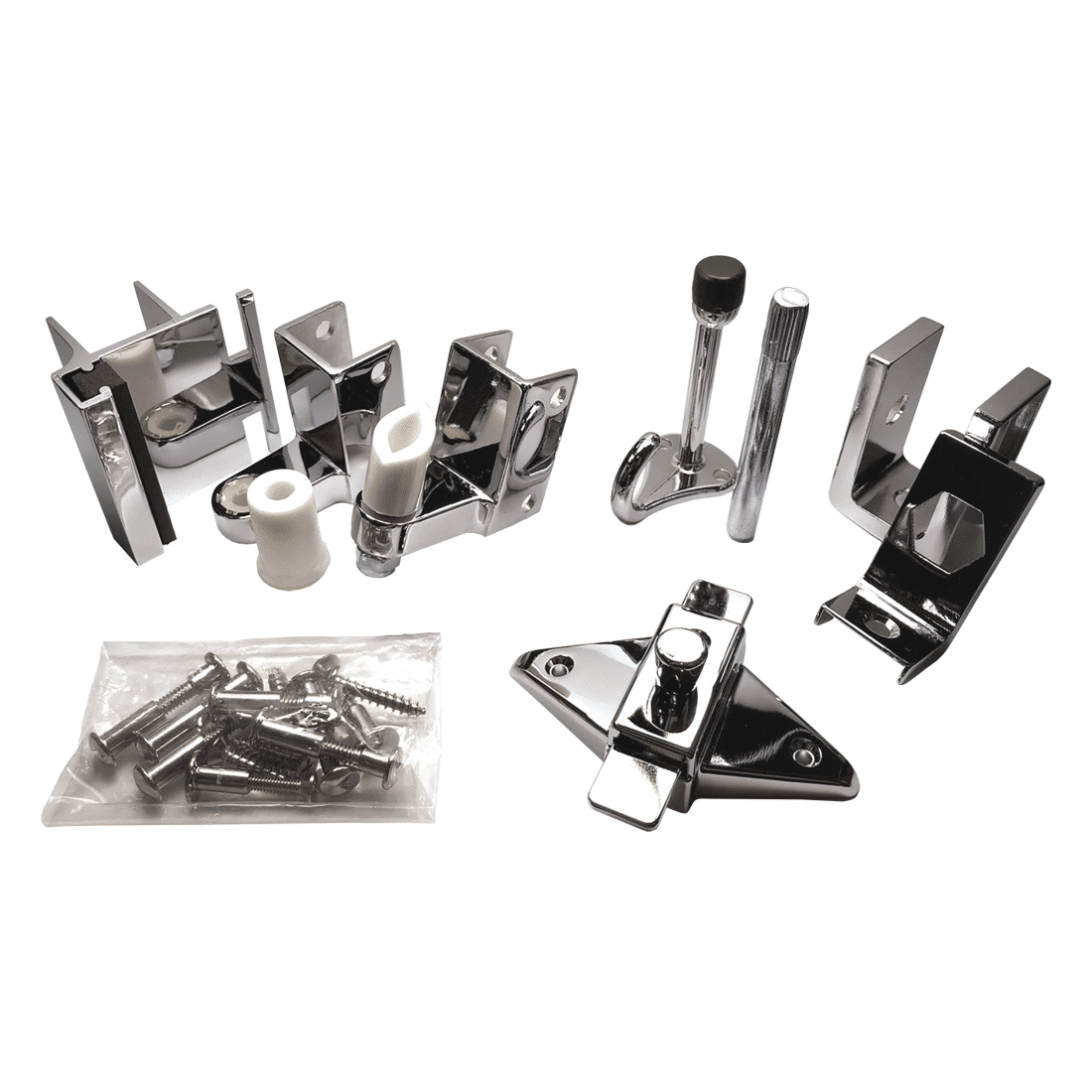 Toilet Partition Hardware
Maybe you don't need an entire new set of stalls; maybe you just have a broken piece of hardware. Don't spend hundreds of dollars on new toilet partitions! We offer hardware that can replace your broken pieces, set the direction of your door swing, and even block sightlines (nobody wants someone watching them use the restroom). Take a look at our selection of toilet partition hardware here!
If you're looking for a specific brand of hardware, we sell pieces from Bobrick, Hadrian, and Scranton. Knowing the brand of your partitions can help you find the exact replacement piece you need.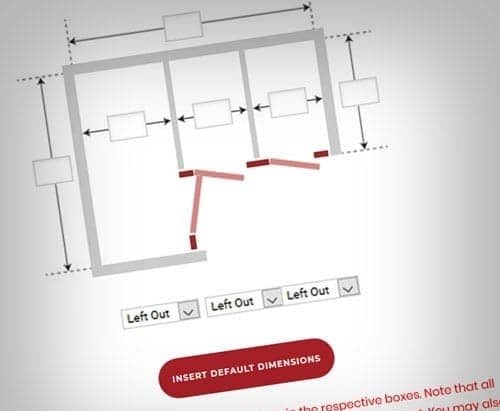 Toilet Partition Mounting and Layout Styles
Partitions are laid out and mounted to their surroundings in a variety of styles. Be sure to discuss the best options with your retailer before ordering. Some configurations can save on materials, make maintenance more manageable, and increase overall durability.


When taking delivery of your order, make sure you are ready to receive the material. For facilities without a dock, customers should be prepared to offload the stalls from the delivery vehicle. If the truck driver needs to make use of the truck's "lift gate," there may be a charge for using the equipment. For this reason, it is best to have a team of energetic individuals ready to help unload the materials. This planning will make the least expensive work of your delivery.

Quick Shipping
When you need new toilet partitions you need them fast. That's why we are dedicated to getting your toilet partitions to you quickly!
When you submit a quote there are two waiting periods. The first, lead time, is the time manufacturers take getting materials together and making your partitions. The second, transit time is the amount of time it takes for your toilet partitions to travel to you.
We do our part by helping you choose the right partitions for you and submit a quote quickly. The faster we get started the faster your toilet partitions are at your door. Talk to a Partitions Expert at Partition Plus today and start the timer.