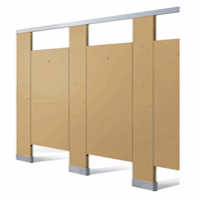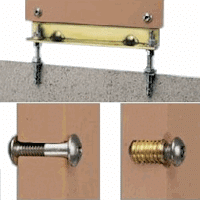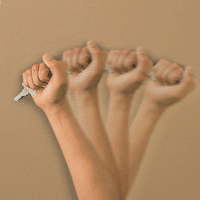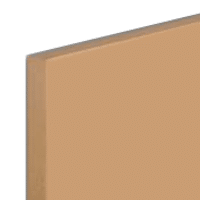 SCRC Reinforced Composite bathroom stalls are a great option for many different kind of establishments. They provide a clean and neat look while having a number of different benefits. They are also an environmentally friendly choice so you can rest assured you are making a good decision by making this purchase. Continue reading for information about all the benefits of this material.
Average price per stall is only $865.00
At a fair price, these bathroom stalls are built to last. Solid Color Reinforced Composite (SCRC0 is a dyed fibrous material that is reinforced with polycarbonate and phenolic resins. This material is then coated with a non-ghosting, graffiti-resistant surface thermoset and integrally fused into a homogeneous piece. This means that it is durable, and at the same time resists vandalism and normal wear and tear.
SCRC Reinforced Composite bathroom partitions only come in 4 colors:
– Golden Khaki
– Desert Beige
– Terra Cotta
– Forest Green
All of these restroom partitions have a relatively quick lead time of 10 days. This means that even if you have a tight deadline, we can make sure to get you what you need, fast!
Resistant to Moisture, Impacts, Scratches and Dents
Bathrooms can take a lot of abuse. It is important that your stalls are made of solid material to last you a number of years. SCRC Reinforced Composite is a resilient material that is able to handle a number of common causes of deterioration.
In terms of impact force SCRC ( Solid Color Reinforced Composite ) was able to handle 34 inch-lbs of impact force before denting, whereas standard untreated HDPE was only able to handle 5 inch-lbs impact force before denting.
As for scratch resistance SCRC was able to withstand a 10kg load before damage occurred while standard untreated HDPE withstood a 5 kg load before damage occurred.
As you can see from these tests, SCRC is clearly a strong material that can withstand regular use and damage withing reason.
Class B ASTM E 84 Interior Wall and Ceiling Finish Classification
Fire resistance is always an important safety asset. With SCRC Reinforced Composite, you'll be in good hands!
The surface burning characteristics of SCRC handled the flame spread and smoke development as follows: For 3/4″ thick stiles and doors the flame spread index was 45, for the smoke developed index is was 95.
For 1/2″ thick panels the flame spread index was 45 and the smoke developed index was 120. The ICC & NFPA class B flame spread index: 26 – 75, and smoke developed index: 0 – 450 as per ASTM E 84-01.
Graffiti Removal Without Ghosting
Graffiti damage is an unfortunate reality for bathroom stalls. Luckily, this material does extraordinarily well at fending off graffiti marks and cleaning them off. For graffiti tests against untreated SCRC Reinforced Composite was able to have 9 out of 9 graffiti marks removed, whereas standard untreated HDPE was only able to remove 3 out of 9 marks. It is important that you use a proper graffiti remover to make sure there is no ghosting and your surface is completely back to normal.
Environmentally Friendly
This material is not only beneficial for all of the reasons above, but it is also an eco friendly option. These toilet stalls help add to the LEED certification program credits in new construction & existing buildings. They get 5.1 / 5.2 credits for local regional materials in the " Materials & Resources " category. Bobrick's manufacturing plants are located on the east coast, west coast and Tennessee, allowing projects in many parts of the country to earn credits. They also get 4.4 credits for low emitting materials in the Indoor Environmental Quality category, since they do not contain urea-formaldehyde.
All in all, SCRC Reinforced Composite is a great choice for your bathroom project!