SCRC Reinforced Composite
---
Solid Color Reinforced Composite bathroom stalls offer a clean appearance and several benefits. Also, they are environmentally friendly. SCRC is a dyed fibrous material reinforced with polycarbonate and phenolic resins. The material is then coated with a non-ghosting, graffiti-resistant "surface thermoset" and then integrally fused into a homogeneous piece. Don't worry about vandalism or normal wear and tear. SCRC is durable enough to stand up to both.


Bathrooms can take a lot of abuse. SCRC Reinforced Composite is a resilient material that can handle many common causes of deterioration, including moisture. In terms of impact, SCRC was able to handle 34 inch-lbs of impact force before denting. Also, SCRC was able to withstand a 10kg load before any scratching damage occurred.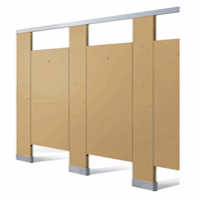 Composite toilet partitions offer a number of unique benefits.
Resistant to Moisture, Impacts, Scratches, and Dents
Fire resistance is always a valuable safety asset. The chemical composition of SCRC reinforced composite minimizes any flame spread and smoke creation.
Graffiti damage is an unfortunate reality for bathroom stalls. Luckily, this material does extraordinarily well at fending off graffiti marks. For graffiti tests against untreated SCRC Reinforced Composite was able to have 9 out of 9 graffiti marks removed, whereas standard untreated HDPE was only able to remove 3 out of 9 marks. It is crucial that you use a proper graffiti remover to make sure there is no ghosting and your surface is entirely back to normal.
Class B ASTM E 84 Interior Wall and Ceiling Finish Classification
This material is not only beneficial for all of the reasons above, but it is also an eco-friendly option. These toilet stalls help add to the LEED certification program credits in new construction and existing buildings.