SCRC Reinforced Composite – Advantages
---
Solid color reinforced composite offers many advantages over similar materials. For facility owners seeking a superior bathroom stall material, the SCRC is an excellent choice. Continue reading about the many benefits of SCRC.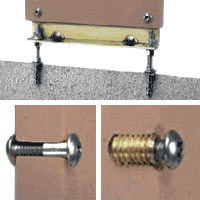 Composite toilet partitions feature specialized mounting hardware.
Concealed Hardware Made of Stainless Steel
Stainless steel is famous for its clean, hygienic appearance. Given this, it makes sense to outfit SCRC partitions with 304 satin finish, heavy gauge stainless steel hardware. Durable barrel hinges included. Adjust them for partial opening and self-closing. Other hardware highlights include:
Through-bolted brackets to connect panels and pilasters.
Through-bolted keeper coordinates with reinforced latches.
Clothes hook through-bolted, and vandal resistant door stops.
Emergency access door lifts on inswing doors.
Full Height Stainless Steel Hardware Optional
The manufacturer offers full height stainless steel hardware. The upgraded stainless hardware is also heavy-gauge type 304 satin finish stainless steel.
Self-closing hinge running the full height of the door
Through-bolted panel-to-pilaster angle brackets
U-channels running the full height of the panels
Equipped with vandal-resistant door stops & clothes hooks
Reinforced latch with through-bolted keeper
Emergency access door lifts from the outside on inswing doors
Stile Base Leveling Device
An integrated 7-gauge steel angle leveling bar is factory-installed on the pilaster. The bar attaches to the floor with 3/8″ (10mm) diameter stainless steel anchors. The patented pilaster shoe conceals the ingenious leveling device.
Factory-Installed Inserts Come Standard; Through-Bolted Hardware
Threaded brass inserts provide metal-to-metal contact. The system includes through-bolted clothes hooks, latch keepers, and panel-to-pilaster brackets.