Locker rooms are a place where people go to get ready for athletic events, store belongings, and wind down after a workout. In any case, locker rooms should offer places to rest belongings and sit down to relax. Certainly, you don't wish for your locker room guests to not have a place to sit!
Here at Partitions Plus, we offer two types of locker room bench options: wood top and solid plastic. Whatever your locker room seating needs, these two benches provide for whatever seating you'll want to incorporate.
Wood Top Benches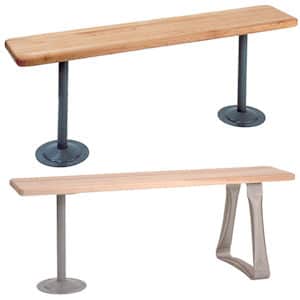 Solid Plastic Benches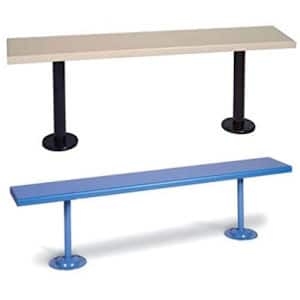 About Wood Top Benches
Wood top benches offer a modern look to locker room settings. Plus, they're long-lasting and durable enough to withstand all that happens inside locker room walls. This means being resistant to water, sweat, and even cleaning products.
About Solid Plastic Benches
Our solid plastic benches are manufactured by Tufftec and developed with a high-quality plastic solution called HDPE. With 15 colors to choose from, these benches are a great addition to colored lockers. Plus, offer a number of added benefits like being eco-friendly, resistance to graffiti, and extreme durability.
Can't Determine What Locker Room Benched you Need?
If you're having trouble determining what locker room benches would be best for your needs, we can help! Our expertise allows us to be informational about layouts, materials, and ADA accommodations. Just tell us your needs and wants, and we will help to best match you to the products for your project.