Washroom Accessories
Partition Plus offers all the washroom accessories you'll need to complete your project, no matter what the scope. These accessories, all from top manufacturers, offer both eye catching looks and reliable functionality. They're perfect for restroom renovations or new construction.
A Clean and Comfortable Public Restroom
Washroom accessories are required to maintain the cleanliness and comfort of your public restroom. The following accessories appear in almost every bathroom: toilet tissue dispensers, liquid soap dispensers, hand dryers, and waste receptacles. Including these items provides a bare minimum of functionality. Most facilities also include coat hooks and grab bars near the commode. Likewise, almost all bathrooms include a mirror above the sink. While baby changing stations, sanitary napkin disposals, and seat cover dispensers don't appear in all washrooms, they are still prevalent. A range of accessories is necessary to meet most users' basic restroom expectations. It would be easy for an inexperienced business owner, restaurateur, or facility operator to overlook one or two of these items. The omission would quickly become apparent, however. As mentioned, several of these washroom accessories provide basic functionality.
The ability to purchase commercial bathroom accessories alongside toilet partitions is one of the most significant advantages of shopping with Partition Plus. After all, certain accessories are as crucial as dividers in a multi user bathroom. Just as no one would use a facility with many toilets, but no partitions, few people would use an otherwise complete facility without proper accessories. How would a user maintain hygiene or achieve comfort?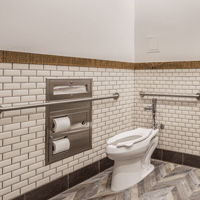 We offer a range of washroom accessory choices.
Washroom Accessory Choices
Washroom accessory manufacturers commonly offer several tiers of a single product, making a clean and pleasant restroom attainable on nearly any budget. They build less expensive models with utility and mass-market appeal in mind. Upgraded designs offer durability, speed, and aesthetic improvements, often at a modest price premium. Bobrick uses this practice.
The majority of washroom accessories currently produced, even cheaper units, are practical and accessible. Today's products are simply the latest versions of devices that have been in production for many years, if not decades. Major manufacturers have gradually modified their designs in response to real-world usage. Using this process, a useful product that starts as "good enough" can change into something that's nearly indispensable and uses an ideal design. Perhaps the unglamorous realities of public restrooms forced innovators to focus on iteration rather than transformation. The accessibility of public washroom equipment is a product of the legal requirements placed on facility owners and operators. Laws require accessible experiences in public restrooms, so entities building public restrooms demand accessible products. In turn, accessory manufacturers favor accessible enhancements and modifications to product designs.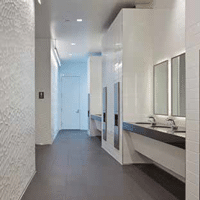 Washroom accessories offering reliability, speed, and eye-catching looks.
Reliability, Speed, and Eye-Catching Looks
Reliable operation is a hallmark of the bathroom equipment sold by Partition Plus. A properly functioning restroom will accommodate thousands, if not hundreds of thousands, of users between significant renovations. Inevitably, the washroom accessories will need to withstand much use and abuse as part of these duty cycles. Among our offerings are numerous robustly-build restroom accessories.
Because of the large volume of users most public and commercial bathrooms experience, speed-of-operation is a critical attribute of many accessories we sell. Convenient, easily understood functionality goes hand-in-hand with speed. All three factors – speed, convenience, and ease-of-use – help move visitors through the washroom quickly. A faster pace reduces waits, lines, congestion, and other unpleasantness associated with crowded restrooms.
While the visual appeal of a public bathroom is an ancillary consideration for some, it is a top priority for just as many others. The definition of what "looks good" varies widely. However, an examination of the context will inform many design decisions. Similarly, the application of a shared restroom heavily influences the suitability of any given decorative scheme. For instance, decor and appointments appropriate for a California movie theater built in 1999 wouldn't likely befit a Class A office located in Washington DC that's scheduled to open next year.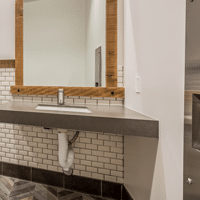 Use washroom accessories to create a comfortable bathroom.
Tools for Creating a Comfortable Bathroom
Whether or not a clean and comfortable bathroom experience is sufficient is a subjective decision. But, to offer the best, most complete bathroom experience, more amenities are unequivocally required. Well-appointed public restrooms should include seat cover dispensers, sanitary napkin receptacles, baby changing stations, and coat hooks. These are in addition to standard and mandated accessories. Offering both paper towels and airflow-based hand dryers gives the best experience. Using combination units to make towel dispensers and waste units more convenient is another welcomed enhancement.
Baby changing stations are increasingly in demand at establishments' restrooms. Businesses and organizations initially favored installation in just some ladies' rooms. Now, patrons and visitors expect baby changing stations and other childcare products in family restrooms, men's rooms, and ladies' rooms. Plenty of parents prefer to tend to their children's toileting in private family restrooms. Parents who use restroom facilities could just as easily be fathers as mothers.
Coat hooks are vital for public restrooms. While out in public, many people carry bags and extra garments. Not providing one or more hooks within a bathroom stall to safely and cleanly hold these items off the ground is often viewed as inconsiderate.
Combination units that integrate towel dispensers and waste units into a single chassis are a win for all parties. Users benefit from the space-saving design and a convenient location to dispose of used paper towels located directly below the dispenser. Bathroom owners will enjoy lower costs and lower maintenance. Some combo units are less expensive than their constituent components. Combination units also promote tidy restrooms, with the best paper towel disposal method also being the most effortless.
Far beyond expected, grab bars are required by law to aid disabled bathroom users. It is difficult to dispute the utility of grab bars to bathroom users who have mobility deficiencies.
Deciding to offer both hand dryers and paper towel dispensers gives end-users a choice between convenience and conservation. Towels require less patience but produce more waste. Hand dryers are often more elegant and efficient but are seemingly slower.
Everyone appreciates being able to view their appearance in a mirror and make adjustments before exiting a bathroom into more public spaces. For this reason, providing large, clear mirrors is important.
Sanitary napkin receptacles are a welcome addition to any ladies' room. With many areas mandating feminine hygiene product dispensers, the applications for corresponding waste receptacles are apparent.
Seat covers provide comfort to many individuals. Consider adding a seat cover dispenser to enhance the livability of your facility.
A public restroom is incomplete without soap dispensers and toilet tissue dispensers.