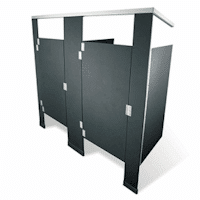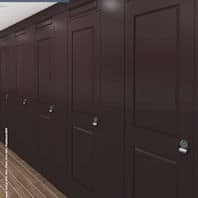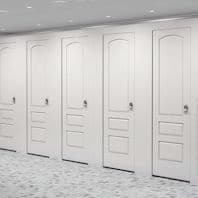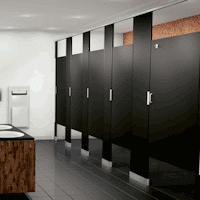 Standard HDPE SOLID PLASTIC BATHROOMS
Solid plastic bathroom stalls are a great choice for those building or renovating projects. If you like the convenience and heartiness of polymer plastics and have a larger budget, solid plastic bathroom partitions are perfect for you. These 1-inch thick stalls are made in the U.S.A. and they are backed with one of the longest warranties in the industry, 25 years. Because of their lasting service and imperiousness to mildew or corrosion, solid plastic bathroom dividers often are the best choice for large stadiums or universities. Any place that will see a large volume of people over a long period of time.
HDPE solid plastic can be built to meet any fire rating and also to have three configuration options. These are all compliant with the Americans with Disabilities Act (ADA). These bathroom partitions come in various fire ratings from Scranton Products and from Hadrian – a Certified Class B fire rating.
41 Quick Ship Colors
We know how important it is to meet deadlines. You don't want to delay your project because you can't get your bathroom stall in time. For your convenience, all colors from our manufactures below ship in 5 days.
High-Class and Low-Maintenance
Our solid plastic bathroom stalls offer an wide range of colors from basic to bold to fit any decor. These include rich solids like burgundy and mocha as well as unique metallic sheens. We also have speckled mosaics such as gravel and sandcastle if that fits your needs. There are five exclusive standard textures which can also be combined, creating looks such as mahogany, shale, or titanium, adding a touch of distinction. These smart, adaptable restroom partitions can be customized and even engraved to perfectly match your facility's look and feel. Solid plastic stalls have the color injected directly into the mold so they will never peel or need painting. Additionally, can be power washed or steam cleaned without worrying about deterioration.
25-Year Guarantee
Know you are making a solid choice that will last for years! These bathroom dividers are backed by a 25-year guarantee, making them literally last for generations to come. Choose your partition hardware from plastic, aluminum, or stainless steel. Whatever look you decide to go with is sure to look great and stand the test of time. HDPE solid plastic restroom stalls are tough enough for even the largest and liveliest crowds or athletic teams.
Solid plastic bathroom partitions have been shown to be 59 times more resistant to impact than metal is. Due to the color being infused throughout, it is excellent at hiding any scuffs or scratches that do manage to get through. It also can withstand use or abuse from most common chemicals and cleaners. Additionally, it is protected against vandalism from pen, paint, stickers, and markers.
Sustainable Build
Standard HDPE solid plastic bathroom stalls are designed to reduce industrial waste and leave a small eco footprint. By purchasing these, you are making a good investment for your facility, and at the same time positively impacting the environment.
These stall have never been painted and will never need to be. Therefore, there are no VOC emissions associated with their manufacture or upkeep. These HDPE solid plastic toilet stalls are always manufactured with at least 25% recyclable materials. Additionally, if you order them 100% post-consumer you can qualify your project for LEED credits, which is a huge benefit. And when, or more likely – if, you decide to retire your bathroom partitions, they are 100% recyclable as well.
These bathroom stalls are a great choice for your restrooms. You can rest assured they will last for years to come with lasting visual appeal.