Shopping with Us = Better Info, Real Photos, and Expert Support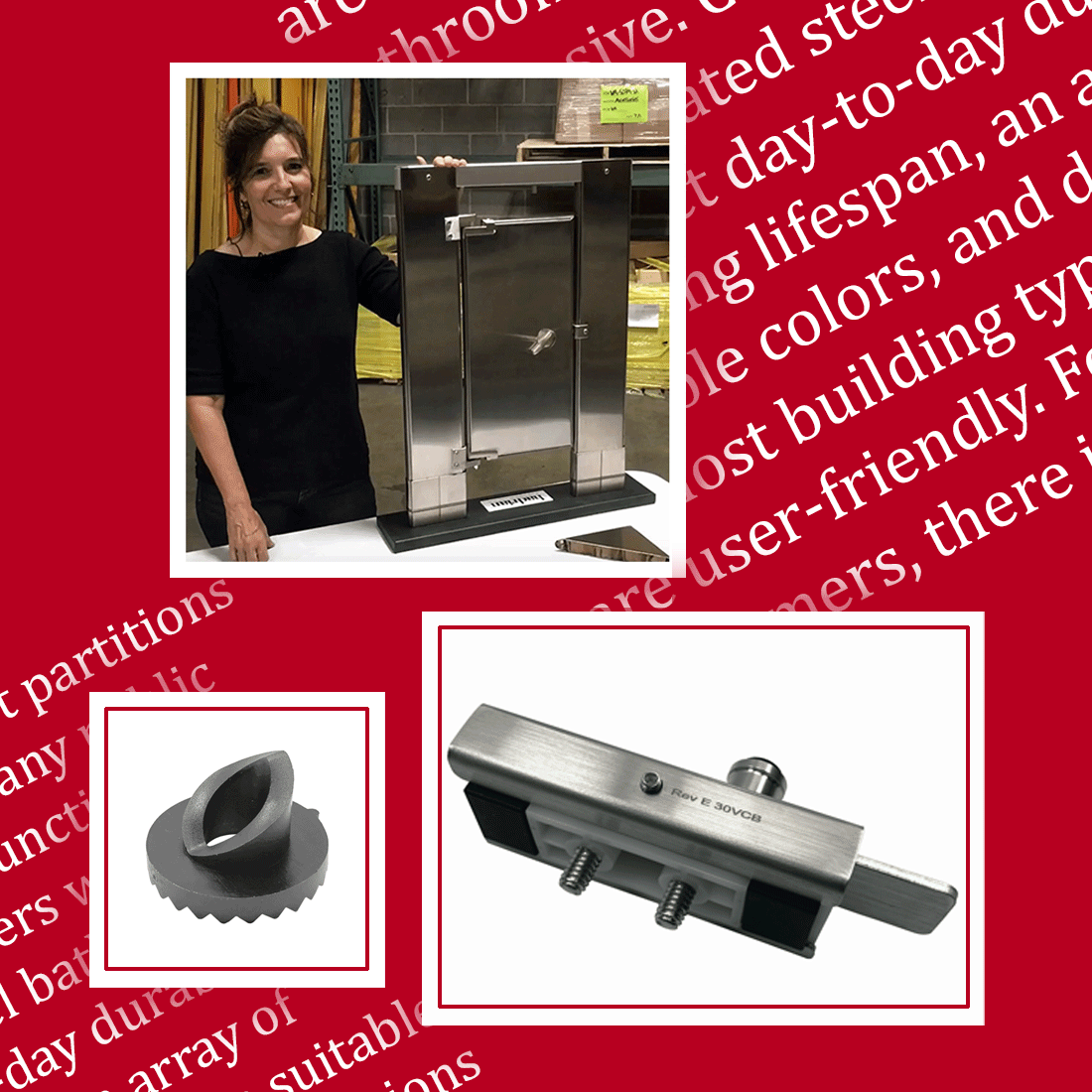 Selling products online and by phone has plenty of advantages. At Partition Plus, our web presence connects us with toilet partition shoppers spread across the entire United States. We reach many more businesses, organizations, and individuals than a brick-and-mortar storefront would ever allow. Furthermore, our main products – toilet partitions – are always entirely custom and shipped directly from the manufacturing facility. A "partition store" wouldn't make much sense, given the nature of bathroom stalls.
On the other hand, phone and online-only sales present unique challenges. Significant hurdles include establishing trust and appropriately informing shoppers. A physical location filled with friendly staff and striking marketing materials – where the public can casually engage salespeople in conversation – is a tremendous sales tool. No doubt, it's easier to trust a business you can visit. And face-to-face communication is the best way to explain a product's benefits to a potential customer.
Partition Plus responds to these challenges using high-quality website content and by encouraging shoppers to engage with us in the way most convenient for them. They can submit a quote request, email sales@partitionplus.com, call 800-298-9696, watch a product video, or browse a gallery of detailed images. For more about how we enhance your partitionplus.com experience, continue reading.
Real-World Product Photography
Making regular use of what we term "real-world product photography," rather than renderings or dated stock photography, is a big part of how we tailor our product information for online shopping.
Standard photographs and computer-generated imagery certainly have their place in sales material. In many cases, stock photography provided to us by a product manufacturer may be entirely sufficient for depicting a simple accessory or component. For instance, our product page for Bobrick's B-2111 soap dispenser would gain little if we were to stage and shoot photos of our own, rather than using the manufacturers.
Similarly, there wouldn't be any benefit to redrawing most manufacturer dimensional images. The renderings that accompany the Scranton Products Surface Slide Latch – HLSLA are an excellent example of this.
All that said – you'll see excellent examples of product pages enhanced by quality photography when browsing our selection of replacement toilet partition hardware.
Items such as the Bobrick J-Hinge Packet – 1002331 and Bobrick Out-Swing Keeper Packet – 1002525 are not overly complicated. However, they are used in several different ways – depending on your toilet partition configuration. So, it is essential to show a variety of angles when documenting the product. Better photographic coverage allows our customers to visually determine whether a particular component will suit the task at hand. Giving a sense of the scale of the item and any included hardware is another crucial function of our photography.
Accurately Representing Colors and Finishes
Another area requiring special attention is the representation of colors, textures, and other finish details. We are always willing to supply additional images and information about the finish and appearance of any product we offer. Aesthetic considerations are, after all, a significant aspect of many products. For example, many customers choose solid-core phenolic toilet partitions over solid plastic HDPE toilet partitions (a less-expensive option with similar durability) because of the significant variety of finishes available with phenolic. Manufacturers produce solid plastic in a large number of colors and finishes (dozens), just not as many as phenolic (hundreds). Given this, we go to great lengths to accurately represent finishes.
In cases where our on-page color charts are not sufficient, we have manufacturer-supplied PDFs on our site.
When additional detail is necessary, we regularly send manufacturers' professionally-printed color carts to customers.
We can also photograph physical color samples under varying lighting: indoor/outdoor, bright/dim indoor light, warm/cool light, etc.
And, when requested, we can send actual material samples and color chips to customers through the mail.
Product Videos: Worth 1000 Pictures
Beyond still photography, we also leverage video to showcase our products. One of the best ways to get a sense of toilet partitions and washroom accessories is to see them in a prerecorded video or during a live video call (using FaceTime, Duo, and other widely-used teleconferencing standards). Our YouTube page and online video center currently features several clips of different stall materials: stainless steel, phenolic, and plastic – with more to come. We're happy to video call customers to discuss partition options and show finish samples and desktop demo units.
Detailed Product Information
The written content of our product descriptions will never be as eye-catching as a video walk-though or detailed photo gallery. Still, it is essential. As such, we author our product copy with great care, never "copy and paste" words written by manufacturers. If we find that a product page or other area of our website is confusing for a customer, we act to revise and enhance the content as soon as possible.
Everyone involved with the Partition Plus website strives to provide accurate, easily understood information, upon which our customers can feel comfortable making significant purchasing decisions. This goal is part of the reason you'll see frequent appeals to contact us with any toilet partition questions you may have. We're eager to answer any washroom accessory or toilet partition questions visitors to our site may have. Reach us by phone at 800-298-9696 and via email at sales@partitionplus.com. We're also available by text at 410-343-9660. Our website makes it easy for anyone – no matter their experience with toilet partitions – to request a quote. Access our interactive quote form at https://www.partitionplus.com/config/.