Hadrian Elite Plus "in Real Life"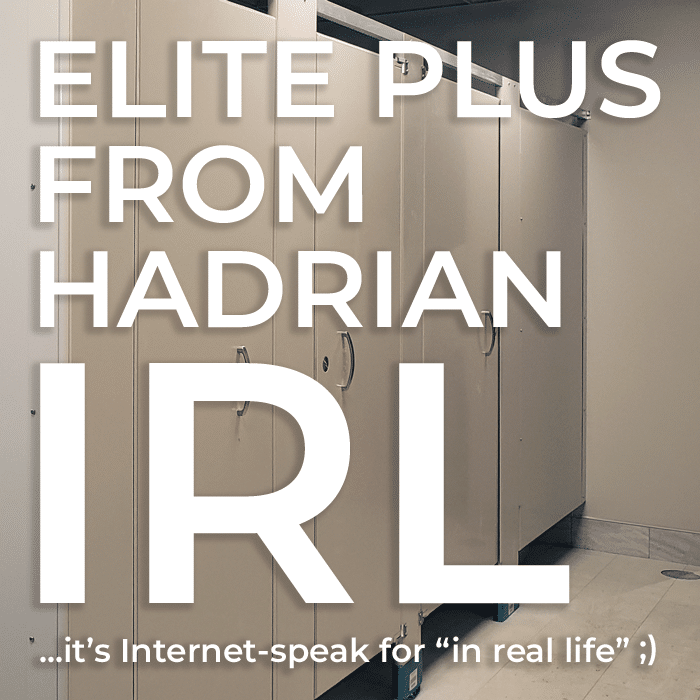 Even though Hadrian's Elite Plus toilet partitions are no longer king when it comes to privacy (Hadrian's newly introduced Elite Max stalls have stolen the crown), they remain an excellent solution for restrooms requiring intermediate privacy. If your facility could benefit from stalls providing greater separation, but you aren't quite ready to make the jump to individual cubicles, consider Elite Plus.
Recently, a customer sent us photographs of their Elite Plus stalls taken during installation. These images give an excellent sense of what the Elite Plus system looks like "in real life." We've included them in the body of this post. Continue reading to take a look.

This first image shows off the "no sightline" features included as part of Elite Plus toilet partitions. No gaps are present between the panels and the bathroom's architectural walls (the seam marked "A" above). Elite Plus also eliminates gaps at the corners, where the side panel meets a pilaster ("B"). Hadrian even addressed the gaps typically present where doors and pilasters join ("C"), on both the hinge and latch sides.
When our customers request standard privacy partitions (meaning styles with small gaps between the components), we do our best to finesse each layout to minimize these gaps. The majority of Partition Plus layouts have significantly narrower gaps compared with other, less detail-oriented partition retailers. But a gap of any width creates the potential for a privacy-diminishing sightline. Hadrian Elite Plus truly excels in scenarios where the stalls must block all possible sightlines. We offer accessory products from several manufacturers designed to augment typical partitions by blocking sightlines. These additions work well, especially when installed at the same time as new stalls. However, opting for a privacy-focused product from the outset is usually a better value and yields better results – both where concealment and aesthetics are concerned. For instance, the "no sightline" elements included with the Elite Plus partitions shown on this page perfectly match the dimensions and color of the other components.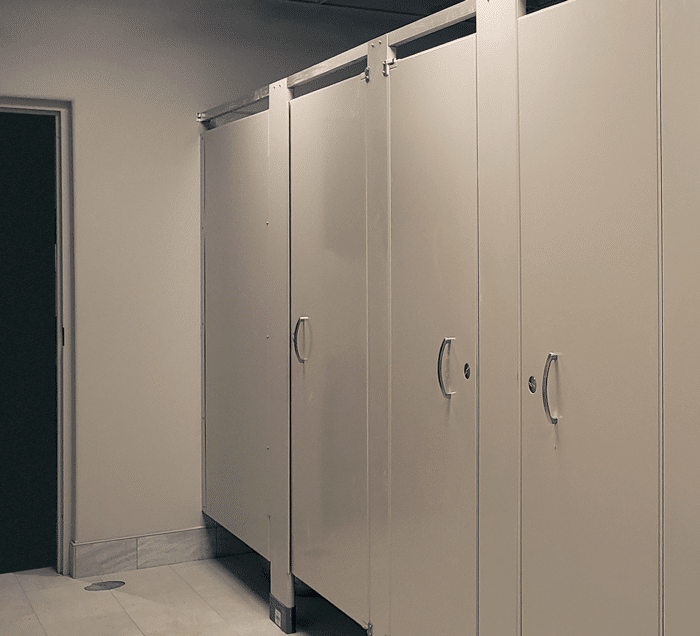 Value is another aspect of Elite Plus worth considering. Power-coated steel components – like those used in Elite Plus partitions – are a defacto standard for toilet partitions. In fact, "painted" steel is what comes to mind when most people think "bathroom stalls." The material is so popular because it is relatively inexpensive and withstands typical wear-and-tear. As you might expect (and have probably read, if you've browsed our site), customers can opt for more expensive partition materials if they desire increased moisture resistance, durability, or design options. Many high-privacy systems are only available in more expensive materials. Hadrian's Elite Plus uniquely combines a less-expensive material (trusty powder-coated steel) with a design that promotes separation (in line with our society's movement towards privacy).
Because Elite Plus uses powder-coated steel, it looks stately without drawing excess attention. At Partition Plus, we love flashy stalls. We'd be all too happy to sell you a set of ultra-modern glass stalls that electronically frost on-demand for privacy. But, there are many situations where ordinary products work best, and the familiar is more desirable than new and unexpected.

We should mention that these stalls sport an entirely custom color (one not found on Hadrian's standard color card). An upcharge and minimum quantities apply for this color-matching service, but as you can see, the results are excellent: the perfect color, professionally-applied, direct from the factory. In the image above, the tone of the partitions nicely accents the speckled floor and special wall protection (shown still factory wrapped).

In this candid photo, the installers lend a valuable sense of scale. The extra-height panels and doors of the Elite Plus system are 72″ (1829mm) tall (not including the distance above the floor). With the top of each side panels at 6.5′ (or more), unintentional or accidental glances over the panels are all but impossible. These panels might not span the entire distance from the floor to ceiling, but what an improvement in isolation they offer!

This image of a stall interior expresses an everyday user's experience with Hadrian Elite Plus partitions. Note the side panels' position, just a few inches off the floor. With Elite Plus, you can choose to make this height either 6″ (152mm) or 9″ (229mm) above the finished floor. Retaining some elevation above the restroom floor ensures that moping remains a straightforward task. It also helps protect the stall components from kicks, scuffs, and moisture. Continuous brackets close the space between the side panels and the back wall.
If you'd like more information about Hadrian's Elite Plus high-privacy stalls, please call us at 800-298-9696 or email sales@partitionplus.com. You can also request a quote or submit a layout using our online tools – be sure to note your interest in privacy options when inputting your information.