Bobrick's B-540 Serves Two Roles (or is that "Rolls?")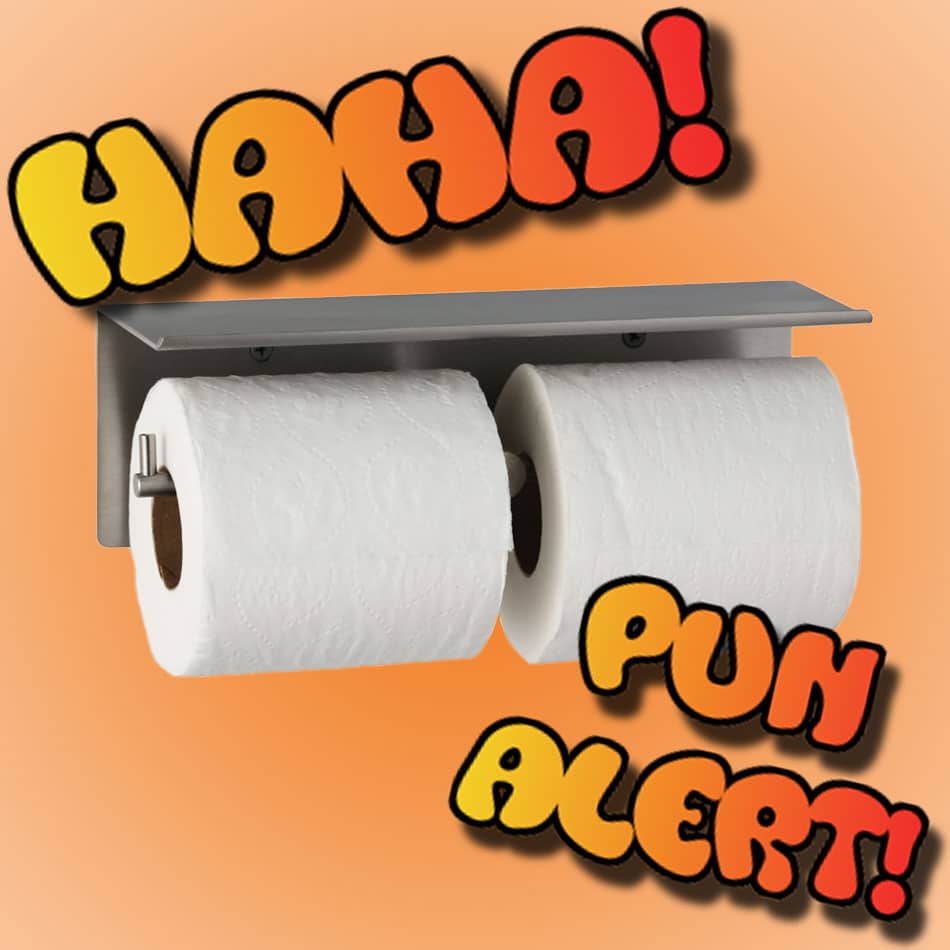 OK… we admit it, this post's title is excessively corny. Can you blame us, though? At Partition Plus, our specialty is providing customers with toilet partitions and washroom accessories that suit the demands and budgets of their projects. We have bathroom stalls and accessories on our minds all day long. So when something innovative, like the B-540, comes along, it gets our attention and leaves us a bit giddy… What? You don't get giddy thinking about TP dispensers?
What's so special about the B-540 surface-mounted toilet tissue dispenser? The answer is simple: this well-designed product shows that Bobrick is paying attention. Bobrick has long held a reputation for high-quality, high-value bathroom accessories. You'll find their products installed in hundreds of thousands of restrooms throughout North America and the world. These accessories and partitions see millions of uses throughout each year. Bobrick's success in the market puts them in a position where they can innovate – and they've done it with the new B-540. It offers plenty of benefits as a toilet tissue dispenser, but it also acts as a darn handy small utility shelf. It might not sound Earthshattering to some people, but it indicates that Bobrick is responding to the changing needs of the public.
Please continue reading for more of our thoughts on Bobrick's B-540 surface-mounted toilet tissue dispenser and utility shelf.
Cynics may view the inclusion of a small shelf in the B-540's design as an obvious choice of minor consequence. To seasoned washroom accessory sellers and installers, the decision is genius. Adding the shelf presents no apparent drawbacks while increasing functionality. It immediately distinguishes the B-540 from similar capacity dispensers.
In restrooms outfitted with Bobrick B-540 toilet tissue dispensers, visitors gain access to an 11″ wide by 3.75″ deep satin-finish stainless steel shelf. A subtle upward return edge at the front helps prevent items from sliding off the shelf. It also makes it possible to place larger objects on the shelf – propping them against the adjacent wall. The surface is an ideal size for many of the handheld objects we all carry every day.
In an office environment, the shelf is tailor-made for notebooks or document folders. Many individuals keep their cellphones with them at all times, even while visiting the restroom. The storage of the B-540 perfectly accommodates smartphones, tablets, and laptop computers of various dimensions. Depending on size, a valise or compact bag could also fit atop the B-540's shelf.
Bobrick has paired this new, unique functionality with an unobtrusive look. The B-540 toilet paper dispenser and utility shelf includes design elements from Bobrick's Cubicle Collection of minimalist washroom accessories. The satin stainless steel finish coordinates well with stainless partitions and other steel accessories. In less design-oriented situations, stainless steel finishes pick up tones and tints from surrounding surfaces, giving the finished space a sense of unity.
We mentioned it in the introduction: as a toilet tissue dispenser, this unit performs quite well and includes several useful features. Chief among its features are two-roll capacity, solid construction, and easy installation.
Multi-roll toilet paper dispensers are a must for public restrooms. Stalls without necessary supplies aren't useful. Worse, they can present a tricky problem for anyone unaware of the depleted toilet tissue. Installing and regularly restocking dual roll dispensers keeps bathroom facilities ready-to-use, even during periods of increased traffic. Along the same lines, maintenance staff won't need to tend to replenishment as frequently. Fortunately, with this Bobrick unit, fresh rolls of tissue slide on to the B-540's dispenser bar smoothly. A pair of retaining pins keeps each roll of tissue correctly positioned on its respective spindle. In this dispenser's product literature – and that of other multi-roll toilet paper units – Bobrick recommends leaving the second roll of toilet tissue wrapped or taped up. This restocking method avoids wasting the ends of both rolls.
With the B-540 (and their other offerings), Bobrick bucks the trend of declining quality in mass-produced building fittings. Some accessory companies are chasing lower costs while sacrificing design and manufacturing excellence – not so with Bobrick. The B-540 is constructed entirely from stainless steel, using an intelligent design that is sure to provide years and years of reliable service. Bobrick uses a single piece of 18-8, type 304, 14 gauge (2.5mm-thick) stainless steel, with a satin finish to create the wall plate, shelf surface, and front "lip" (the 1/4″ (6mm) upward return edge at the front of the shelf). There are no seams or fasteners to complicate the design – or potentially fail. The unit's post is a 3/4″ (19mm) diameter solid stainless steel rod that's securely welded to the wall plate. The rod uses the same 18-8, type 304 stainless steel as the shelf/wall plate combination. A concealed set screw secures the dispenser bar to the post, to preserve the clean appearance of the B-540.
Upon seeing the B-540, most people correctly anticipate the ease with which the dispenser installs. Because this product is surface-mounted, attachment to both architectural walls and toilet partition panels is possible. Installers make use of the two countersunk holes (2/5″ (10mm) in diameter) in the wallplate. Sheet-metal screws (matched with proper backing) are appropriate to secure the dispenser to walls with plaster or drywall construction. For other mounting circumstances, consider using expansion bolts, toggle bolts, or sheet metal screws with either fiber plugs or expansion shields. Take note that Bobrick doesn't package any fasteners with the B-540. All the hardware mentioned is available separately from most hardware retailers.