Bobrick's Cubicle Collection and Adoption of the Term "Cubicle"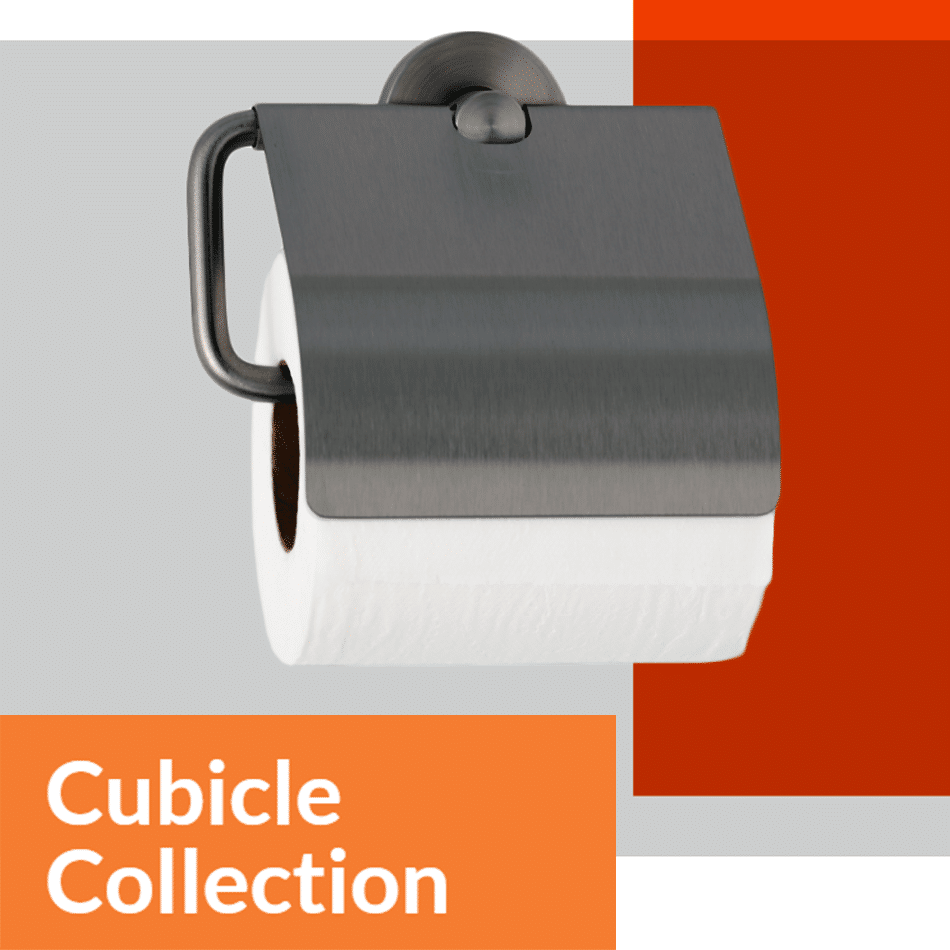 Our rep wasn't even halfway through his presentation on the 2020 Bobrick catalog before the Partition Plus website team started whispering among themselves about which new items we wanted to post first. Believe it or not, we are that enthusiastic about online washroom accessory sales. There'd be further conversations about how to prioritize and present some of the new accessory models, but we all knew that Bobrick's Cubicle Collection items should go up first.
Fast forward a few weeks: our website now features 80% of Bobrick's newest products. We made additions in several washroom accessory categories (for example, waste receptacles and combo units), and you can navigate to all our Cubicle Collection product pages.
It occurred to us while building the new accessory pages that many of the new products were worthy of additional discussion in this blog. Specifically, we wanted to write about the Cubicle Collection for two reasons. The first being that the collection has a nifty look and makes the task of coordinating accessories very simple. The second reason was to discuss the collection's name – particularly the usage of the term "cubicle."
Now that the majority of the new-for-2020 Bobrick accessories are online (along with several other additions), we've had a chance to jot down our thoughts on the new Cubicle Collection. Read on for our impressions.
Bobrick's Cubicle Collection of washroom accessories – mostly intended for installation and use within an individual restroom compartment – were released at the end of 2019. Each item shares one or more design elements with the other products in the collection. The consistent, contemporary style makes it much easier to coordinate all the accessories in a given restroom: simply buy all necessary items from this specific collection. Look over the Cubicle Collection, and you'll notice threaded escutcheons, distinctly proportioned posts, and satin-finished stainless steel throughout. Bobrick's designers carried these visual cues through a range of items: hooks, dispensers, holders, and more. All "Cubicle" items deliver the dependability and value that building industry professionals have come to expect from Bobrick products.
While aesthetics are an essential aspect of the Cubicle Collection, utility and versatility are still priorities for these products. Given this, customers have a degree of choice when selecting their dispensers, hooks, holders, and other accessories. Do you need a double hook, or would a single hook suffice? Are covered toilet tissue dispensers preferable to open models? How many rolls should each unit hold?
The complete Cubicle Collection includes:
5 tp dispensers
1 tp roll holder
1 towel bar
2 hooks
1 toilet brush and holder
Stainless steel, with a satin finish, was a perfect choice for the Cubicle Collection. In other blog posts, we've discussed how stainless gives a high-end feel to almost any product. It is quite durable and easily sanitized to boot. The look of steel nicely complements the clean lines and modern elements of the accessories. Designing the collection with this aesthetic was – itself – another good choice for Bobrick. Accessories with straightforward designs are sometimes still useful in elaborately designed restrooms. The opposite situation is not regularly feasible. Heavily decorated accessories would clash with a room using simple design elements. Overly embellished hooks, dispensers, and holders might appear to be poorly-selected afterthoughts.
Separate from the products themselves, the other notable aspect of the collection is the terminology Bobrick chose to use in the name: "cubicle." There's always a chance the choice was arbitrary. But we guess that those responsible for the "Cubicle Collection" name intended it to evoke notions of European-inspired design and increased privacy.
Until recently, it was unusual for manufacturers and industry professionals to use the term "cubicle" when referring to toilet partitions or restroom stalls. Words like "partition" and "stall" are still best representative of standard-privacy toilet partitions in North America. However, as European-inspired, high-privacy toilet partition options rise in popularity, to the point that several manufacturers offer systems providing near-total isolation, the usage of "cubicle" also increases. We'd wager that the association between the term and the concepts of high-design and high-privacy will grow over time.
You can read more about the Cubicle Collection here and on Bobrick's official website.