Ring! Ring! Partition Demos By Video Call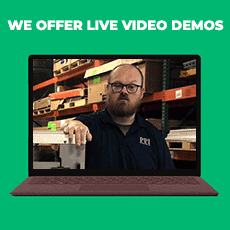 Partition Plus has just begun offering live video demos of toilet partition materials and hardware. Our experts are now able to connect with potential customers via a chat service that relays video as well as text. The service is compatible with both desktop computers and mobile devices!
Joining a knowledgable Partition Plus salesperson for a video call couldn't be easier. Visit our homepage and follow the links for a "live video demo." Within a few seconds, a representative from Partition Plus will initiate a two-way video chat. You'll be free to interact with the presenter and ask questions as needed.
What to Expect
During the video call, the Partition Plus staff member will conduct a hands-on demonstration of the materials and hardware you and your project's decision-makers are most interested in seeing. We utilize desktop-sized partition samples to enable this live, on-demand presentation. We maintain a broad inventory of samples: powder-coated steel, plastic laminate, HDPE solid plastic, solid phenolic, and stainless steel. Rest assured, we will have the material you're interested in on hand. A variety of color samples are also available for live, on-camera comparisons.
Visit our YouTube channel or our onsite video center to view recorded examples of previous live video demonstrations.
Quick and Easy Hands-On Demos
The hands-on demonstration will highlight the properties of the partition material itself, as well as the functionality of the hardware. Our expert staff is glad to make recommendations regarding the best materials for different types of bathrooms. In many cases, the short video presentation will be a big help in developing a plan for the partition material and hardware to be used on your job.
For more information about our live video demos, visit partitionplus.com/live, email sales@partitionplus.com, or call 800-298-9696.