Replacement Hardware, a Quick Upgrade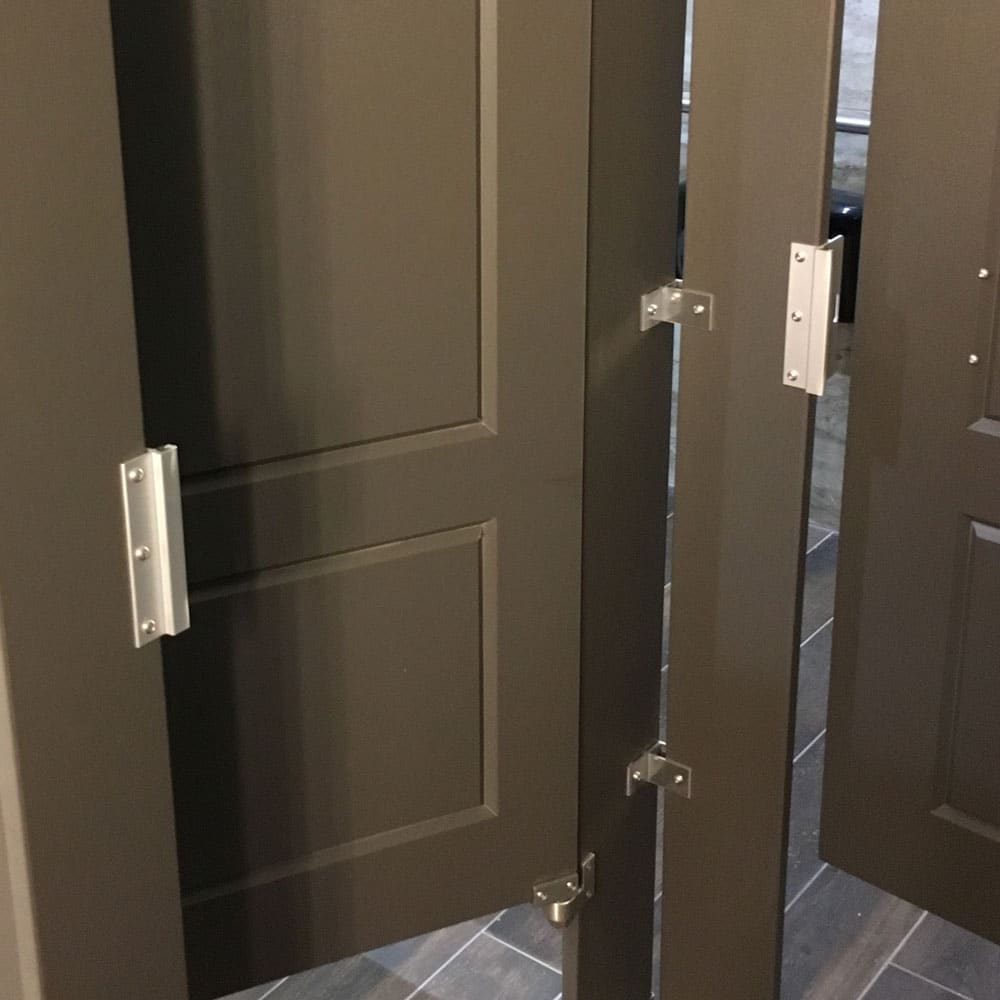 Partition Plus can supply replacement hardware parts for your existing toilet partition installation. Do you have stalls that look fine, but are operating poorly? If so, replacement hardware may help address your issues. In addition to resolving functional concerns, replacement hardware frequently helps improve the appearance of bathroom stalls. Take your partitions from tired to up-to-date in no time.
Hinges
Replacing hinges offers some of the most significant functional improvements available when installing new hardware. Your hinges govern such specifics as the direction of door swing (in or out) and the neutral position of the door (slightly open or shut). When replacing hinges, remember to purchase hinges that are compatible with your doors. Integral hinges and other hinge arrangements that use door inserts are only able to be replaced with the same style hinge. Surface mounted hinges, some wrap-around hinges, and vault hinges provide more flexibility. These hinge types leave the door material is intact, save for screw holes, after dismantling the previous hinges.
Keepers, Latches, and Locks
Replacing keepers, latches, and locks will offer the most significant functional improvement of any hardware swap. The primary function of toilet partitions is to provide privacy, and that is not possible without functionally locking doors. The keeper, latch, and the locking mechanism itself all contribute to the security of the door. For readers unfamiliar with these specific replacement hardware terms, let's define them.
The latch or lock is the element mounted to (or within) the door panel to extend the bolt into the frame of the door.
The strike is the part (usually a metal plate or metal plate with a hole) that connects with the bolt to keep the door closed. Strikes mount to the pilaster adjacent to the latch or lock.
Keepers are the elements of the partition's locking mechanism that prevents the door from swinging back open in the opposite direction when you go to shut and lock the stall. Manufacturers frequently integrate keepers into the strike.
Pulls
Switching to new, fresh pulls when installing replacement hardware is mainly a cosmetic improvement. Typically, toilet partition manufacturers don't equip standard stalls with pulls (only ADA stalls are set up with pulls by default). Users are meant to grab standard doors directly to open them and close them using the latch. Adding pulls to all doors may improve the functionality of your washroom space, depending on your circumstance.
Stops/Hooks
As with pulls, switching to new stops and hooks is mostly cosmetic. But, if your partitions need a refresh, they are an excellent place to start.
Brackets
Replacing brackets can offer both functional and cosmetic improvements. Brackets are the backbones of your partition system and are responsible for keeping the more significant components together. So, unfortunately, when you begin replacing brackets, you're essentially committing to rebuilding your toilet partitions and not just purchasing replacement hardware.