A Range of Product Offerings from Partition Plus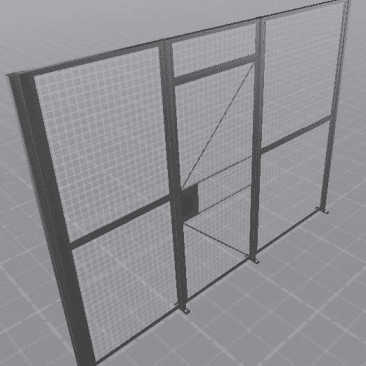 Toilet partitions are just one of several product areas in which Partition Plus regularly works. On this website, we also sell washroom accessories, lockers, and Hawa sliding door hardware. But did you know, we can easily quote a range of other building materials and Division 10 products?
Recently, we worked with a customer whose project called not only for toilet partitions and Division 10 items but also for the creation of a large, secure storage area. Our years of experience with building materials enabled us to recommend a suitable product for the project space, despite secure storage products being outside our core offerings. In this particular instance, we recommended a wire mesh partition solution from SpaceGuard Products' BeastWire brand.
A Ready Recommendation
Having previous experience with SpaceGuard's wire mesh product, we felt comfortable recommending it and having a customized solution quoted. For those unfamiliar, BeastWire, from SpaceGuard Products, is a versatile wire mesh partition and locker system that also includes products for enclosing warehouse racks and building warehouse mezzanine railings. In the case of this project's storage area, using BeastWire to create a room partition that would secure one end of the storage space was ideal use.
Quick Turnaround on Quotes
The process of obtaining the quote was quick and easy and required no more time than quoting our standard products. Ultimately, the customer opted to purchase the BeastWire secure room partition. Both they and the end-user were pleased with the quote and shop drawings. All parties involved were delighted by the finished product. BeastWire provided what the end-user sought: a large, secure storage area.
We Handle Special Requests
While this anecdote focuses on wire mesh products, Partition Plus would handle any other specialty building material request the same way. We would promptly make an informed recommendation regarding a manufacturer and product and have your specific needs quoted as rapidly as possible. To reiterate, if your project calls for more than toilet partitions, please let us know. It is likely we can be your one-stop-shop! We are happy to include additional products, hardware, and building materials in your quote: urinal screens, privacy screens, vanity tops, shower curtain systems, shower stalls, changing rooms, washroom accessories, sliding door hardware, and other Division 10 products.
For a quote, email sales@partitionplus.com or call 800-298-9696.