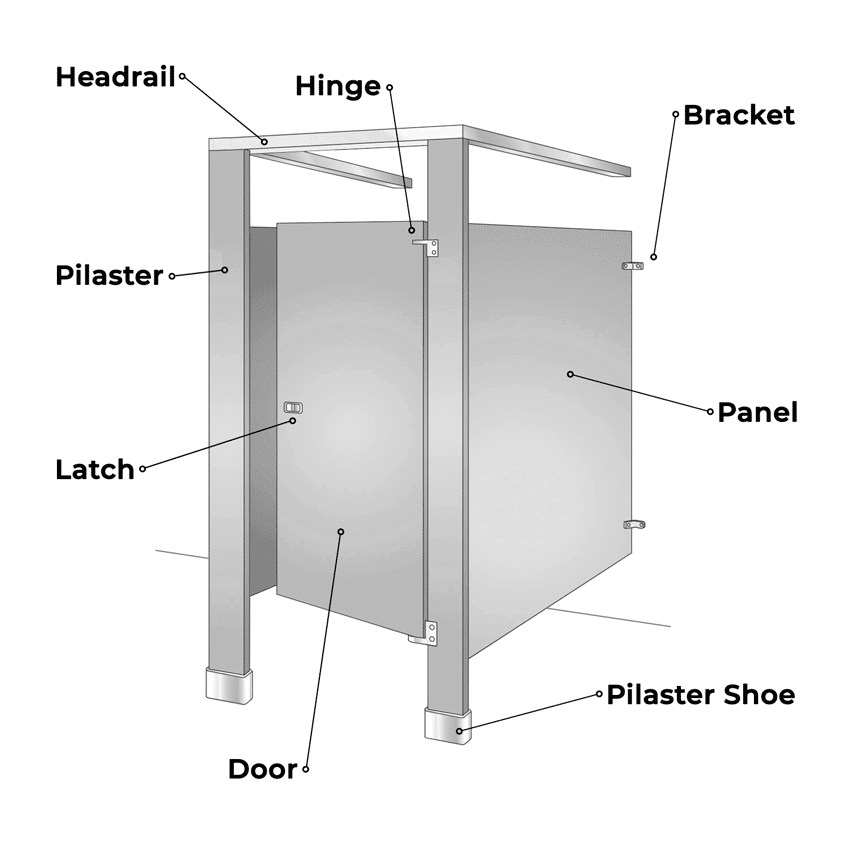 If you've spoken with our friendly, knowledgeable sales representatives, you've likely heard them refer to pilasters, brackets, panels, headrail, doors, and other bathroom stall components. When we are speaking with a customer, or corresponding via email or chat, we take the time to carefully explain how these pieces come together to build a bathroom partition.
For customers shopping online, we don't always have this chance. With this in mind, we've assembled this post as a guide. Today we are covering major parts, but expect more posts of this sort in the future. There is more to learn about different materials, mounting styles, privacy options, and special customizations. For now, read on: Partition Components 101 is in session.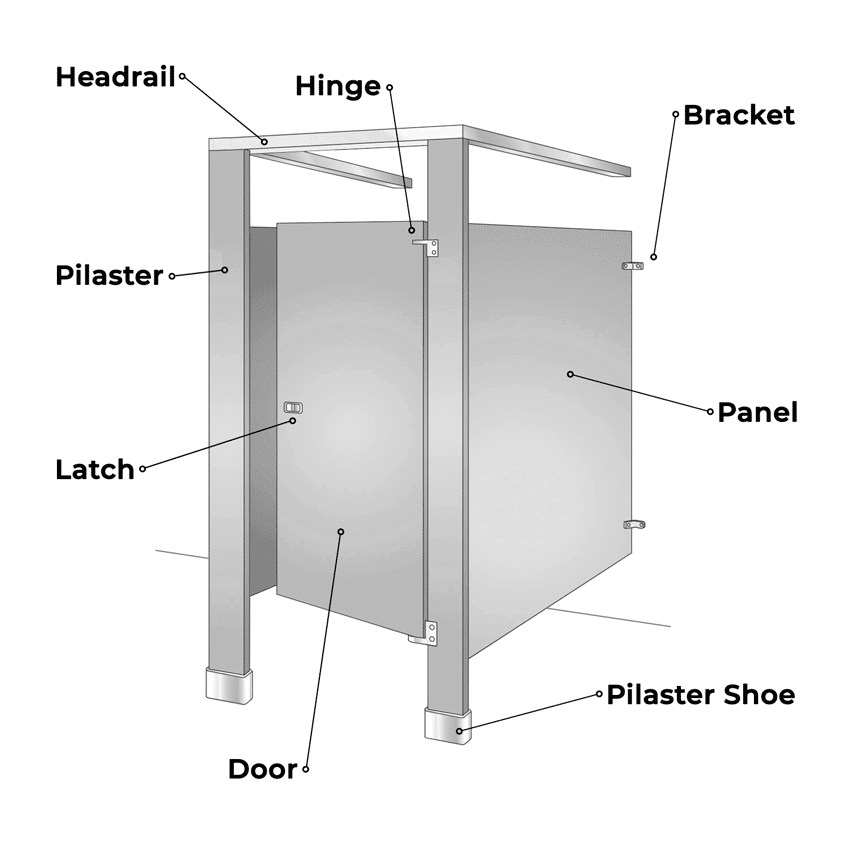 Pilasters
The narrow, vertical parts on either side of the door.
Panels
The sides of a stall. These large pieces typically establish a stall's depth, running from the entrance to the back wall. Many sizes are available and panels can be joined end-to-end.*
Doors
Just what they sound like! They attach to pilasters and shut for privacy. They can be left or right handed, in or out swing, and come in several heights.*
Headrail
For common partition styles, a "rectangle" of metal headrail connects the top of the pilasters to the wall, and each other. This reinforces the stall(s). It prevents wobbling during day-to-day use. Over time, wobbling leads to doors that won't shut properly, large panel gaps, and other big problems.
Brackets
Parts used to attach panels to walls, pilasters, and each other. Brackets have holes for screws that fasten them to walls or partition material.
Pilaster Shoes
Pieces that wrap around the bottom of pilasters. They hide the hardware that attaches pilasters to the floor and protect pilasters from kicks and floor cleaning tools.
Hinges
Hardware that attaches doors to pilasters. Many times, doors or pilasters accept only a certain design of hinge.
Latches
The element that keeps the door shut. The latch attaches to the door, while the (typically included) strike mounts to the pilaster – to mate with the latch. A variety of mechanisms exist (twisting, sliding, etc.). As with hinges, some doors and pilasters accept only a certain design of latch and strike.
More questions about partition parts or bathroom stall lingo? We want to help. Email us at sales@partitionplus.com or call 800-298-9696 to speak with a skilled staff member!