Our New Partition Design Tool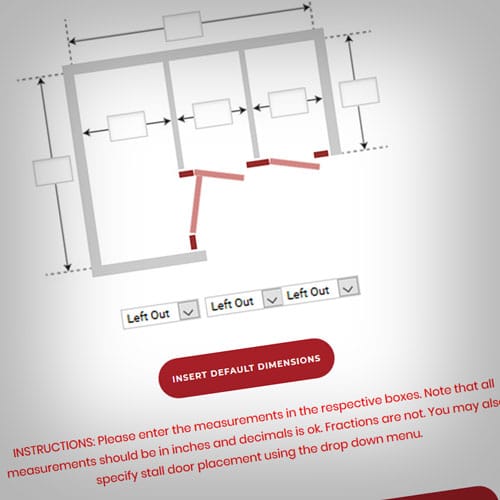 We're very excited about the recent launch of the Partition Design Tool. Why are we so enthusiastic about it? Because it is already saving time, informing customers, and reducing miscommunication. Visitors are guided through five quick steps that collect all the information we need to provide an accurate, prompt toilet partition quote.
While we know bathroom partitions inside and out, the average person doesn't know pilasters from plastic laminate. And that's OK! It has always been our job to explain enough about partitions to our customers so they can make an informed purchase. The Partition Design Tool streamlines the process.
If you call for a quote, one of the first pieces of information we want is the partition material you're interested in. If you don't already have a preference, we'll talk you through the different choices. We may ask you to recall public restrooms you've seen in the past. Perhaps we will email a few photos back and forth. Maybe you'll be directed to one of the helpful reference pages on our website. This part of the call usually takes a few minutes.
But, if you visit our website and use the new Partition Design Tool, when you're asked about your material preference, you're immediately presented with a grid of images showing all available options. When you move your cursor over the images, concise explanations of the materials will pop-up automatically. If you're a visual learner with some knowledge of building materials, this step could now require just a couple of seconds. Better yet, if you still have questions on materials, you're now familiar enough with the topic to research it yourself or contact us and discuss it.
The Partition Design Tool puts these important parts of the shopping process together in one spot:
a list of the exact information we need to provide a quote
a comprehensive toilet partition reference
a quick and easy means of sending us information
No more worries about sketching a layout and figuring out how to send it to us. You're able to use the Partition Design Tool any time of day, at your own pace. There is no pressure! And you can be sure we will get back to you quickly with accurate pricing.