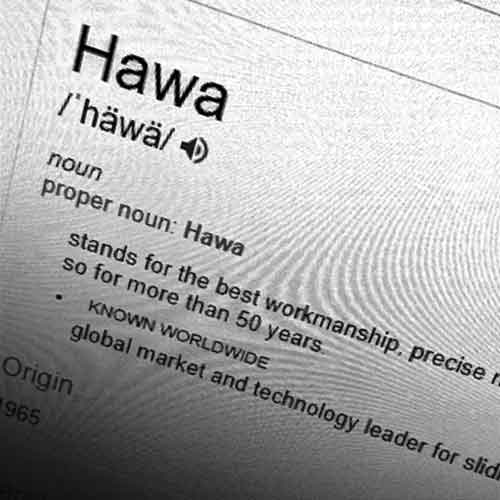 We've stayed busy adding products to our Hawa Sliding Door Hardware section and Hawa content to the blog. In last week's update, we discussed buying the proper Hawa hardware given the weight of your door. The main takeaway: don't buy a higher capacity system than you need. If a Junior 40 will work, purchase that, not a Junior 80.
After writing that post, we realized not everyone is familiar with Hawa's product naming scheme. Understanding Hawa names, numbers, and abbreviations makes shopping much easier. Also, understanding this "Hawa-ese" makes life easier if you call or email us with questions …which we always encourage!. To get started, let's break down the name of a popular product: the Hawa Junior 40/Z.
"Hawa"
Since you're reading this blog post, you probably already know this one. "Hawa" is shorthand for Hawa Sliding Solutions AG, a company that manufacturers door hardware. The company was founded in Switzerland in 1965.
"Junior"
A series of top hung sliding door hardware systems for use with wooden and glass door panels. Other Hawa sliding door series include Media, Telescopic, Symmetric, Silenta, Super, Alu, and Straightaway.
"40" (or other number)
This number signifies the maximum weight, in kilograms, of a single door panel to be used with the fitting set (coordinating track can support two panels). The Junior 40/Z fitting set handles a maximum of 88 pounds.
"Z" (or "B" or "A")
This letter signifies how the door attaches to the fitting set. "Z" indicates a two-way plate that screws to the top of the door. Remove and rehang the door panels from the front (pulling the panel from the track, keeping it parallel) or the side (pulling the panel in-line with the track). Front and side access is useful in tight spaces. "B" designates an attachment point sunken into the top of the door (reducing space between the bottom of the track and the top of the door). "A" means the system uses a one-way plate that screws to the top of the door. This plate only allows removal from the side, by pulling the panel in-line with the track.
There you have it! Now, by glancing at the name of a Hawa fitting set, you'll know a few basic specifications. Have more questions about Hawa? Email sales@partitionplus.com with questions, or call us at 1-800-298-9696.