Decorating a Public Bathroom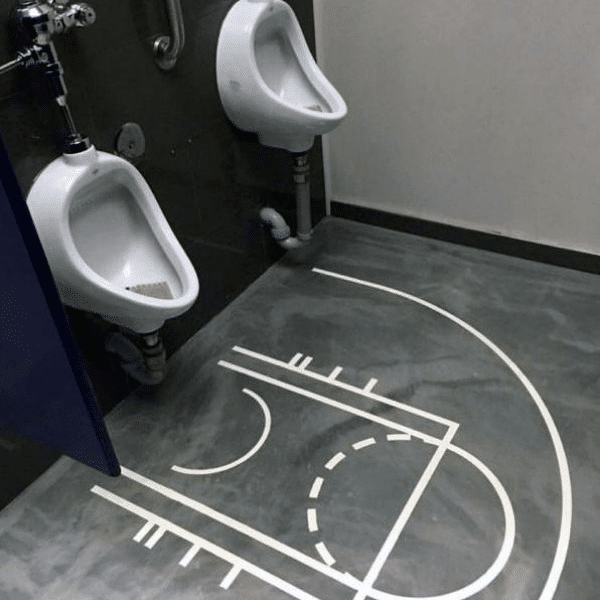 Consider redecorating your commercial bathroom at the same time as your toilet partition installation. It is an excellent opportunity to start fresh. Be careful, however. Giving a public restroom a new look is a more challenging task than renovating other shared spaces. Before diving into your project, review the following helpful hints.
A toilet partition installation project is the perfect time to reevaluate your bathroom decor. Because you will need to remove your old partitions and accessories before the installation of the new material, applying new wall treatments is much easier. Depending on the changes you are making, a fresh coat of paint may be needed. Your new toilet partitions will not necessarily connect to the wall in all the same locations or cover the same areas of your walls. If you've painted since installing your toilet partitions, you will almost certainly have some mismatched spots.
Choose a Tone
Some interior designers recommend a muted design scheme. Others suggest letting your restroom show personality. Whichever approach you take, we recommend buying-in 100%. A bathroom with a partially realized design scheme is almost worse than having no design scheme at all.
If you are creating a business-like atmosphere, avoid vibrant colors and overly whimsical accents. Make sure to coordinate hues, so the bathroom feels polished.
Or, decorate so that your bathroom makes a splash. Make it fun and lighthearted. Perhaps it should have a playful theme that relates to your area of business.
The image with this blog entry shows a restroom from an athletic facility. The decorator chose to apply graphics to the bathroom floor to set the mood. The graphics won't interfere with the function or maintenance of the bathroom, but go a long way towards establishing a feel.
Color and Material Choices
Public bathrooms typically contain minimal furniture and display space, if any. Make the most of the elements that are required, such as toilet partitions. This is where Partition Plus enters the story. Make sure that your toilet partitions coordinate with your decor and mood – whether it is professional and restrained, or loud and cheerful. Fortunately, we offer a broad range of design options. Give similar consideration to the colors and patters of paint, wallpaper, flooring, and accessories.
If maximum design flexibility is necessary, consider solid phenolic toilet partitions. Phenolic is composed of layers of thick, resin-impregnated paper sandwiched between sheets of laminate. The layers are fused into a super-strong, waterproof material. Because the finished product is faced with laminate, you have your choice of virtually any color, pattern, or design from the world's major laminate manufacturers.
Other Options
High-pressure laminate partitions have some of the same design options. However, the material is less durable and is not waterproof, like phenolic. If your project calls explicitly for powder-coated steel, solid plastic, or composite partitions, you still have a choice of numerous colors. Even though it is a monochromatic material, stainless steel lets you choose between a few different textures: brushed, embossed, and leather grain among them.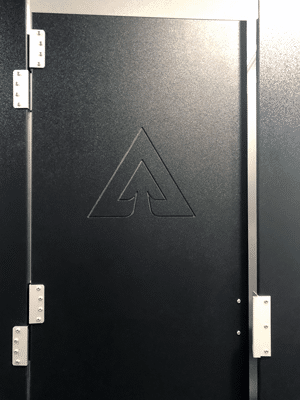 Custom engraving in solid plastic, from Scranton Products.
Solid plastic toilet partitions are customizable via engraving. Standard engraving gives doors a panel-like appearance. Custom engraving allows you to apply your athletic, academic, or corporate logo to the partition doors, as shown here.
Decorating a public or commercial restroom requires more thought than decorating a home bath. Keep these points in mind when making your design decisions:
Pick a feel and "go for it" – whether it is professional or playful
Make the most of wall and floor treatments – use color, texture, and imagery
Toilet partitions constitute most of the "furniture" in the room, so select material, color, pattern, and texture carefully
Personalize and customize partitions, wall treatments, and flooring where possible

For a quote on design-friendly toilet partitions, email sales@partitionplus.com or call 800-298-9696.