Let's Learn Locker Lingo, Lesson II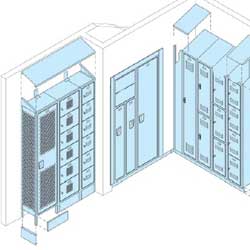 First, we discussed basic terms associated with purchasing lockers. Those terms help us understand how individual storage compartments constitute tiers, that are part of frames, that are part of banks. TL;DR: "Lockers" are individual, lockable compartments with doors. Tiers describe the number of compartments stacked vertically within a frame. Frames are joined side-by-side to make up banks. And banks are typically assembled before being brought to the installation site and put in place. Locker Installations typically require multiple banks.
Confused? Don't worry! Just reread last week's entry. Remember you can always email or call Partition Plus' friendly sales staff: 800-298-9696. But, if you're ready to learn more, read on!
More Locker Terminology:
Our installers use the following parts to customize and install lockers into your space.
Slope Locker Hoods
Slope hoods are a clever way of finishing the top of lockers. Sloped hooks prevent debris or any other objects (like the property of locker users) from sitting on top of the locker. They also provide a nicely finished surface.
Locker Tops
Some lockers with flat tops aren't finished (similar to the unfinished ends of some lockers). If the top of the locker is to be used for storage or will be easily seen, a top panel is required. It provides a smooth, cosmetically appealing surface for the locker top.
Zee Base
Zee base raises lockers off the ground. It is a continuous strip of material that provides sturdy support and blocks debris from collecting below the lockers. It is named for the approximate "Z" shape (in profile view).
Legs on Lockers
Lockers not using Zee Bases, or bases made from other materials, may use short metal legs integrated into the construction of the locker.
End and Front Base
End and front base pieces fill the space between the front and back legs (on the side) or multiple front legs (across the front). This finishes the appearance of lockers with legs.
Commercial Locker Filler
Filler closes gaps between the end of a bank of lockers and the nearby perpendicular wall. It matches the lockers' color and is wider than a piece of trim.
Locker End Panels
The side of a bank of lockers is typically unfinished (not smooth or colored to match the rest of the locker system). When the end of a bank of lockers is exposed, end panels remedy the problem.
Trim Pieces for Lockers
Trim pieces, both horizontal and vertical, close gaps between lockers and surrounding walls, specifically gaps between the end of a bank of recessed lockers and the surrounding walls.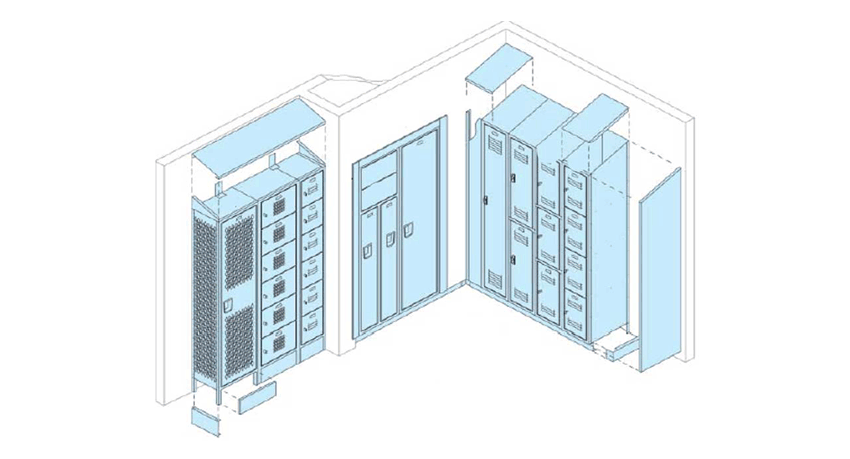 Once you know how to "talk the talk", the world of commercial lockers isn't complicated. Now that you've read this blog post, can you name the parts and accessories featured in this image?
Questions about Lockers or Locker Terms?
After reading, do you have more questions about locker terminology? Are you interested in a quote for a commercial locker system? The helpful staff of Partition Plus is standing by. Call us at 800-298-9696 or email for more information!