BeastWire Mezzanine RailGuard
SKU:BeastWire RailGuard
Easily-installed, full handrail system that includes wire mesh panels. Offers increased protection against falls and dropped objects.
Call For Pricing
---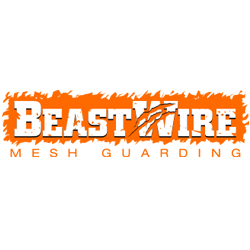 Description
BeastWire Mezzanine RailGuard enables businesses to safely utilize elevated platforms as shop, office, or storage space. The full handrail system with wire mesh infill reduces risk, installs easily, and looks great. It is a perfect solution for platforms, catwalks, and stairwells in industrial spaces.
Typical handrail systems provide stability and create a simple barrier against falls. BeastWire RailGuard goes a step further by reducing the open space below the railing. The addition of BeastWire mesh infill prevents shorter items from passing below the handrail and tumbling down to a lower level.
As a modular system, BeastWire RailGuard is easy to install and customize. Create a railing that suits your work space by selecting the ideal mounting, panel, kick plate, and gate options from a range of choices.
The appearance of BeastWire RailGuard is also customizable – several colors are available. Choose from square and diamond mesh infill patterns to fit the look – and function – of your space.
PDF Brochure & Other Documents