BeastWire Warehouse Rack Guarding
SKU:BeastWire Rack Guarding
System of rigid wire mesh panels that prevent objects from falling off pallet rack storage – protecting materials and warehouse staff.
Call For Pricing
---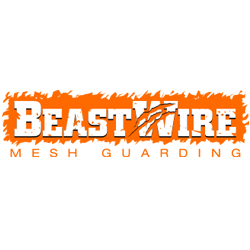 Description
BeastWire pallet rack safety systems significantly decrease the risk of falling objects in warehouse facilities – avoiding personal injuries and damaged materials. Despite the essential space-saving benefits of pallet rack systems, they introduce the potential for stored items to fall and break – or worse – injure an individual below. BeastWire warehouse rack safety systems prevent this problem while offering additional, unique benefits.
Panels in the Beastwire rack safety system are constructed from 10 or 6-gauge wire, welded into a 2″ square mesh arrangement. A 1-1/4″ wide by 1/8″ thick angle frame surrounds the edges of the mesh. BeastWire's sturdy panels provide a rigid barrier to keep objects on the rack during loading, unloading, and prolonged storage. Compared with industrial netting, which is designed to catch falling items, BeastWire entirely stops objects from leaving their level of the rack. It is perfect for retaining sharp or irregularly-shaped objects that might cut or penetrate a loose, flexible net.
BeastWire warehouse rack safety panels are easily attached to tear-drop uprights using the drop-in Grrripper Bracket. L-shaped brackets and sleeve brackets are also available – ensuring the BeastWire system is compatible with any pallet rack system.
In situations requiring controlled access to stored items, the BeastWire rack safety system includes several locking door options. Sliding access panels, along with traditional single and double doors, allow authorized personnel to load and unload items with a minimum of hassle. Rack space is secure but remains convenient to access – perfect for potentially hazardous materials or high-value tools and materials.
PDF Brochure & Other Documents