BeastWire Mesh Partition System
SKU:BeastWire Partitions
A customizable, high-security wire mesh partition system used to secure valuable objects and protect individuals from industrial hazards.
Call For Pricing
---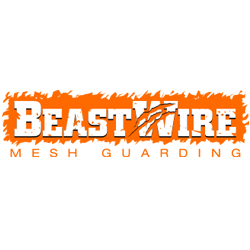 Description
BeastWire mesh partitions offer unrivaled strength and quality. SpaceGuard Products thoughtfully designed BeastWire mesh guarding to provide serious security. Standard panels use the heaviest gauge of wire mesh available, fit inside a robust frame. Careful manufacturing ensures the product looks great and lasts decades. A ten-year warranty backs BeastWire products.
BeastWire eases the planning and installation of wire mesh barriers, too. Thanks to a variety of readily available, versatile components, BeastWire guarding is easily configured to suit your unique needs. Flexible panels and "growth channels," among other parts, allow a custom-tailored solution that's a perfect fit for your physical space and intended use. Choose the best infill, door, lock, and closer options for your partition. Better yet, you'll pick your partition's color from eight great choices! After a brief lead time and quick shipping, the BeastWire elements will arrive, ready to fit into place. Framed panels stack between posts, with carriage bolts making necessary connections.
Wire mesh partitions – in one application or another – are necessary equipment for modern commercial, industrial, and storage facilities. Many other types of buildings benefit from the peace-of-mind and utility that wire mesh partitions offer. Create barriers to separate personnel from potentially dangerous machinery and other industrial hazards. Build cages to secure valuable and delicate items, such as tools, inventory, documents, medicines, computers, weapons, evidence, vehicles, and more.
PDF Brochure & Other Documents