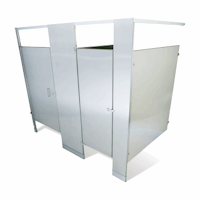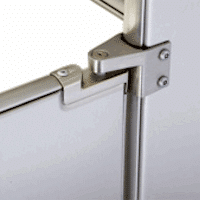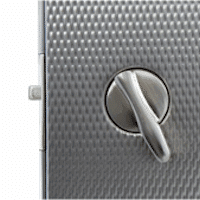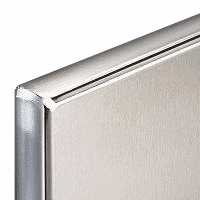 Stainless Steel Toilet Stalls Are Competitively Priced
Stainless steel toilet stalls offer an exceptionally high standard of materials coupled with long-lasting service. They also have unmatched fire protection. These commercial toilet stall dividers are modern, sleek, and still an affordable solution for your facility. Starting at $755, stainless steel stalls are known for their premium design. The look instantly upgrades a restroom to executive level. These stalls will save you more money in the long run because they will never need to be replaced.
Quick Ship Information:
Ships in only 2 days!
#4 Brushed Stainless Steel
Overhead Braced
(top rail)
Ships in 5 days!
Embossed Stainless Steel
Floor Mounted
(no top rail)
Ceiling Hung
(up to 108″)
Ships in 2.5 weeks!
Elite & Elite Plus Stainless Steel
Overhead braced
Floor to ceiling
Ceiling Hung
Floor Mounted
Stainless Steel Restroom Partitions Have A Pristine Appearance
A standard stainless steel bathroom partition comes with a #4 brushed finish. This provides a smooth, enviable appearance that is fit for any facility, ranging all the way to high end. Additional finishes can be also be applied to the restroom stalls to enhance damage resistance, including embossed and hybrid options. You can customize these bathroom stalls even further with a fantastic leather grain to add another level of visual elevation to the facility.
Stainless Steel is made out of natural minerals of the Earth and is incredibly strong. It is also highly resistant to damage from industrial cleaners or sanitizers. It can easily be spray washed without fear of oxidation or lasting damage. If you want to learn even more about cleaning your bathroom stalls, check out our blog post "What cleaners you can use on different toilet stalls".
Stainless Steel Partitions also have the highest level of fire-resistance available for any washroom partition, making it a perfect choice for high-rise buildings or any other facility.
Stainless Steel Toilet Stalls Are Responsibly Built
Stainless Steel toilet stalls ensure you are getting a great product while also being environmentally cautious.
These stalls contain 76% post-consumer and 15% pre-consumer steel for a total of 91% recycled materials.
They are environmentally sound and their inclusion in your building project will also award you LEED credits.
These stainless steel bathroom stalls will last forever, but should you decide to replace them, they are also 100% recyclable.
The full-corner welds keep the partitions hygienic and prevent them from coming apart.
Inside of each panel or pilaster is a 1/2-inch honeycomb cell that enhances strength, impact resistance, and sound absorption.
These panels are tack-welded along every seam to keep them sturdy and sanitary.
As you can see, these partitions are a wonderful choice for long term, sustainable use.
Private yet Accessible Restroom Partitions
These stalls offer excellent privacy, yet they also meet accessibility standards. Stainless Steel bathroom partitions come with stainless steel hardware for all their joints and hinges. There is also an option for chrome. Their signature barrier-free lever latch conforms to both American and Canadian disability access standards. On the corner of every door is a metal-core hinge pin coated in a nylon sleeve that ensures smooth operation.
These stalls come with a "No-Sight-line Solution" which eliminates all gaps for total privacy. At the same time, the clean exterior retains its smooth look. There is a full-length continuous stop with a rubber bumper that deadens sound and reduces wear, as well as a full-length hinge along the other edge. All these pieces are available with a brushed aluminum finish for further refinement.
Stainless steel restroom stalls come in a variety of different privacy options.
Standard (58-inch door, 12-inches from the floor)
Elite (64-inch door, 6-inches from floor)
Ultra Private Elite Plus (72-inch door, 6-inch floor) is also available in several mounting configurations.