Elite Series Toilet Partitions
Hadrian's Elite Series Partition
Add built-in privacy to your new or existing bathroom with Hadrian's Elite Series partitions.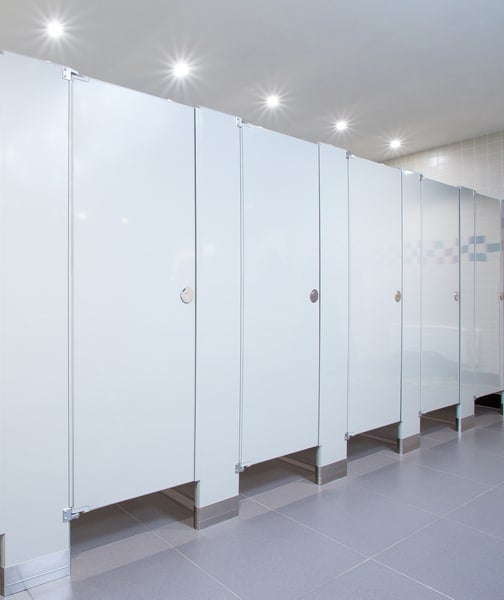 Hadrian's Elite Series is the first step towards privacy for powder coated and Stainless Steel partitions. The Elite Series partitions come at a low cost making privacy attainable for any establishment, no matter their budget. These partitions also come with Hadrian's unique "No-Sightline Solution" setting them apart from other high privacy options.
Upgrade Your Bathroom with the Elite Series Partitions from Hadrian
The Elite Series is perfect for the bathroom that isn't looking to be the next work of art just trying to provide more privacy to make occupants comfortable. The standard bathroom stall comes with large gaps both underneath the stall and between panels and doors. The Elite Series works to shrink and even eliminate those gaps, enhancing the overall appearance and privacy of the bathroom.
Just because the Elite Series doesn't come with a new trendy spin on partitions (like the Aria Series' engraved panels or Elite Max Series' pedestal mounting) doesn't mean you're sacrificing design to get privacy. The Elite Series' powder coated and Stainless Steel options include multiple texture and color options that will make your bathroom pop and even protect it from damage. Your bathroom may be sleek and modern or more colorful, the Elite Series can match both.
Practical Privacy without Breaking the Budget
When it comes to privacy, finding a solution can range anywhere from affordable to very expensive. Since partitions are difficult to price because of their many customizable options it can be hard to get a sense of what your bathroom might need. Becoming knowledgeable about the different methods of creating privacy can help you find the right stalls.
Powder coated steel is usually the most inexpensive material used for toilet partitions. Using this logic it makes sense that the Elite Series and other powder coated privacy options from Hadrian are relatively inexpensive as well. In fact, even at the highest level of privacy, the powder coated Elite Max is often less expensive than a standard stainless steel stall.
Stainless steel on the other hand tends to be the most expensive material offered for toilet partitions. That puts high privacy options out of the budget of many bathrooms, but they still make excellent choices for sleek upscale business bathrooms and many more.
Other materials range in expense and privacy levels as well. For example Solid Plastic tends to fall in the middle of the road in terms of expense and offers multiple levels of privacy as well. It also makes a much better option for high moisture bathrooms, as the Elite Series is not moisture resistant.
Whether you're looking for an inexpensive way to bring your bathroom to the next level or something upscale and trendy there is a high privacy option for you. The partition experts from Partition Plus are ready to help you design the perfect stalls.
If you want more information give us a call and ask about Hadrian's Elite Series. The partition experts from Partition Plus are ready to help you design your perfect bathroom. Or if you're ready to jump in, get a free quote online today and include "Elite" in the notes.
Promote the Elite
If you like the sound of Powder Coated or Stainless steel material but the level of privacy offered by the Elite Series just isn't enough, you're in luck. Hadrian offers two additional privacy options: the Elite Plus and Elite Max series.
Both options offer larger panel sizes and smaller gaps beneath the partitions. Check out Hadrian's series to find the level of privacy that works best for you.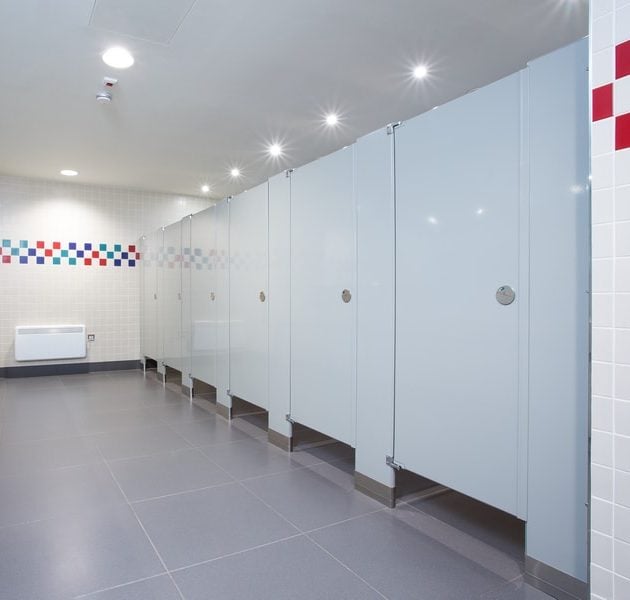 Features of Elite Partitions
Elite Partitions come with a variety of features that enable them to be such a great choice for all kinds of bathrooms.
Elite Series partitions come in powder coated steel and stainless Steel material options
Includes 64" high doors and panels mounted 6" or 9" above the finished floor (compared to the standard 58" mounted 12" above the floor)
Materials come in a variety of colors, patterns, and textures to match any bathroom's look
Mounting styles include: ceiling hung, floor mounted, headrail braced, and floor to ceiling styles
Full height stops, hinges and more are available to block the sightlines between doors and panels, preventing any accidental eye contact when you are using the restroom.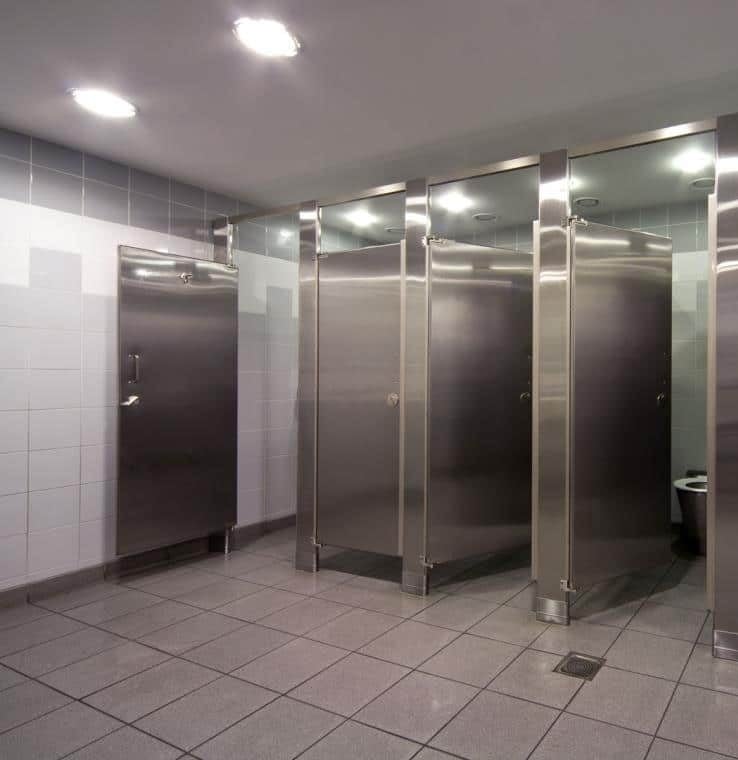 Additional Strengths of Elite Partitions
Alongside the advantages offered by Elite privacy these partitions also benefit from the strengths of their materials. Both powder coated and stainless steel come with a myriad of benefits.
Class A fire resistance
Graffiti resistant colors (PCS) and textures (SS) alongside many other design options
Lightweight material that is easy to install but retains stability and strength
Whether you're looking for strength and resistance, design options, privacy, or ease of installation the Elite Series has something for every bathroom.
So Many Ways to Get a Quote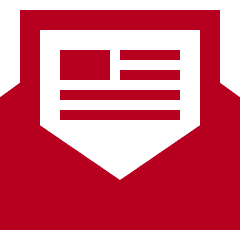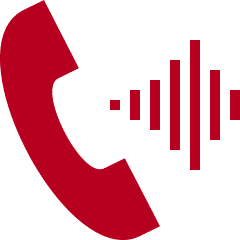 Call
Get in Touch with Our Experienced Team
Call: 800-298-9696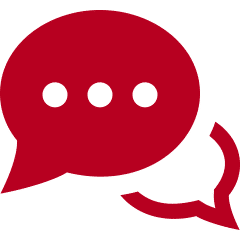 Text
Send Us a Message with the Stalls You Want
Text: 410-343-9660

Need Additional Details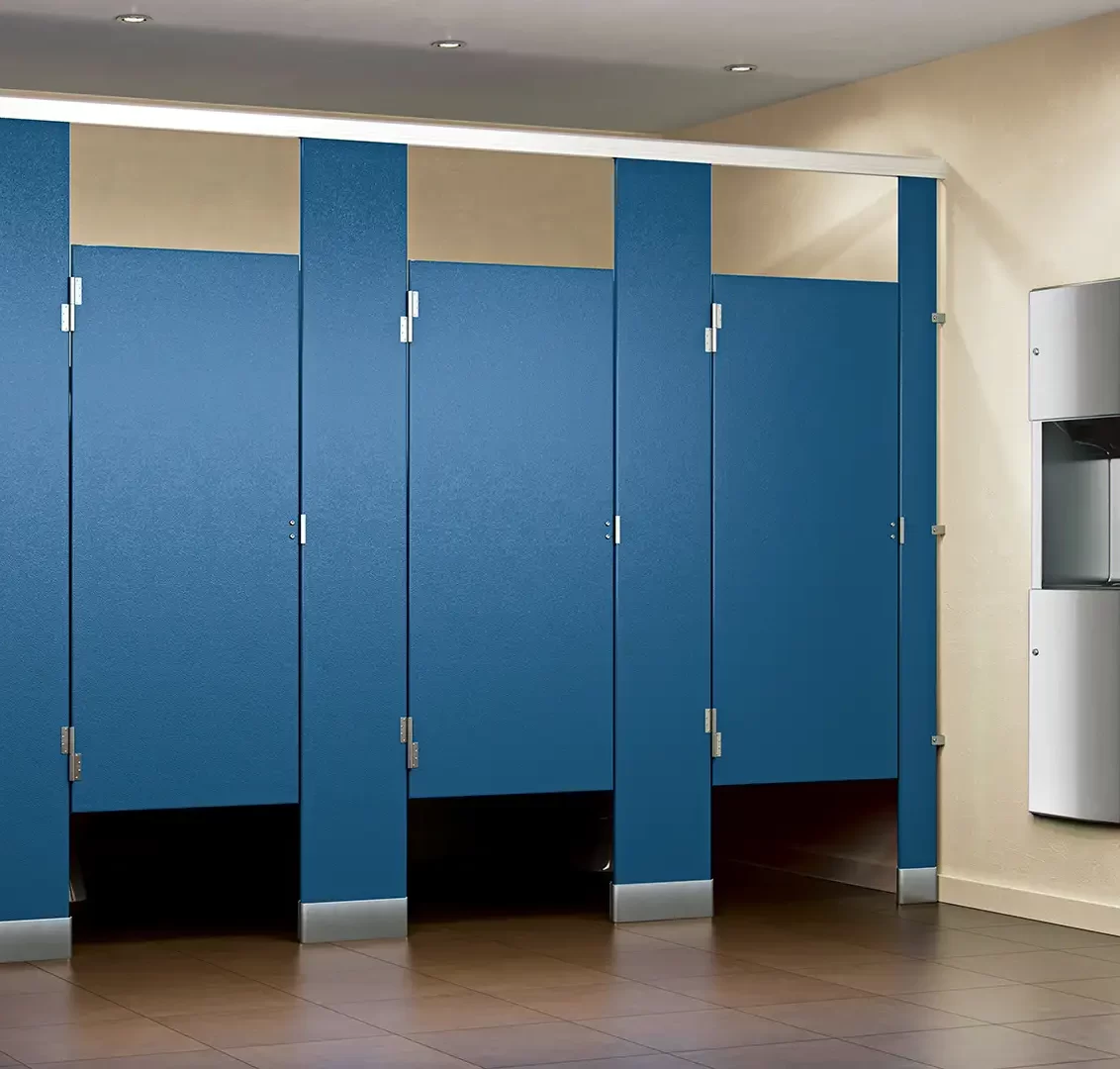 See More Toilet Partitions