Scranton Products Toilet Partitions
Scranton Products
Get a variety of toilet partitions from Scranton Products with Partition Plus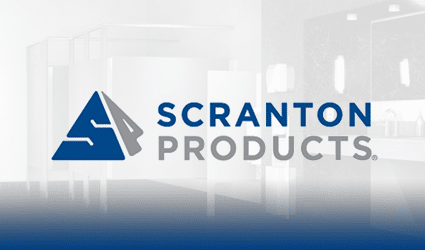 Scranton Products says it best when they call themselves "the industry leader in plastic bathroom partitions." Their manufacturing expertise, industry experience, and strong backing enable them to produce truly excellent solid plastic bathroom stalls. Partitions bearing the Scranton Products name deliver superior durability, functionality, privacy, aesthetics, and value. The quality is evident to construction professionals, but it is the general public that benefits most of all. As such, thousands of washrooms across North America use Scranton Products HDPE stalls. We at Partition Plus are proud to offer Scranton Products toilet partitions.
Scranton History
The company known as Scranton Products was originally three entities: Santana Products (founded in 1978), Capitol Partitions (founded in 1983), and Comtec (founded in 1989). Comtec acquired Capitol in 2003 and then Santana in 2006. The expanded business, renamed Scranton Products, brought decades of manufacturing and partition industry experience under one roof. Both of these elements contribute significantly to the quality of Scranton's products. Today, Scranton Products operates as part of The AZEK Company (alongside AZEK Building Products and Vycom). The AZEK Company's resources help sustain the excellent science, manufacturing, and distribution associated with Scranton Products toilet partitions.
HDPE Advantages
Why does Scranton focus on plastic toilet partitions? Their reasoning is simple – solid plastic (also called HDPE, for high-density polyethylene) is a promising path forward for commercial bathroom stalls. HDPE offers numerous benefits, chiefly:
Moisture Resistance
Scranton Products' solid plastic stalls are entirely waterproof. Panels, doors, and pilasters can withstand indefinite exposure to moisture with no ill effects. This durability translates to superior performance in the face of humidity, spray, splashing, and cleaning. Scranton packages their plastic partitions with aluminum hardware, which is also resistant to moisture from humid environments, daily use, and regular cleaning. Given appropriate circumstances, bathroom maintenance personnel may even use a spray hose to clean Scranton Products toilet partitions. As long as the stalls are dried afterward, this aggressive cleaning method is entirely feasible.
Environmentally Friendly
HDPE plastic and aluminum are both highly recyclable products. Scranton regularly reuses scraps generated during manufacturing. They also participate in post-consumer recycling by utilizing HDPE from previously-used items. Eco-conscious customers can feel comfortable that Scranton Products minimizes waste and considers the environment during manufacturing. Whatsmore, Scranton partitions are 100% recyclable at the end of their useful life. HDPE stalls will provide years of service, but when a change is necessary, the components needn't end up in a landfill.
High Privacy
The solid plastic used by Scranton Products in their partitions lends itself to increasingly popular privacy-focused stall designs. "Taller" panels – with decreased open space at the floor and increased overall height – are easily achieved in HDPE. Scranton produces optional sightline-blocking continuous hinges, continuous brackets, continuous strikes, as well as privacy strips. Also, because Scranton's plastic components are very dense, noise from neighboring stalls is minimally audible. In this way, HDPE addresses a frequently ignored aspect of privacy in public restrooms.
Customization
HDPE, as used by Scranton Products for toilet partitions, is also highly customizable. They offer solid plastic in a variety of colors and textures. A light "orange peel" texture is standard, but customers can opt for any of the following:
Rotary Brushed finish is smooth, with hints of texture suggesting circular motion. It pairs well with gray tones to create the look of brushed steel.
EX texture consists of tiny hemispherical bumps organized in a geometric pattern. This texture is an excellent option for deterring vandalism, as the bumpy surface makes it difficult to write on panels or doors.
Hammered emulates a surface texturized using a hammer. This style pairs well with metallic colors.
While a broad range of available colors and textures increases the number of design variations, Scranton Products' engraving options allow true customization. Scranton can add unique text and imagery, via engraving, to partition panels and doors during the manufacturing process. Colorized engraving is also possible. In this process, removal of surface material, during engraving, reveals a colorful, contrasting layer at the core of a panel. Inlaying is another option for customers interested in personalization.
Scranton Product Lines
Scranton Products markets its solid plastic in three distinct product lines. Each line caters to a section of the large and diverse market for toilet partitions:
Hiny Hiders
Hiny Hiders is Scranton's line of "standard" HDPE/solid plastic toilet partitions. Hiny Hiders provide privacy and design refinement that works well in most public restrooms. Hiny Hiders offer the benefits of solid plastic partitions (primarily moisture resistance and durability) at a minimal price. The stalls include hardware that's enhanced to support the heft of plastic (relative to metal or wood). It is also corrosion-resistant, unlike the pot metal brackets, hinges, and latches provided with wood and metal stalls.
Eclipse Partitions
Eclipse Partitions from Scranton Products utilize the same durable, waterproof HDPE as Hiny Hiders, but with increased privacy and style. The appearance is clean and European-inspired, with narrow stanchions replacing bulkier pilasters. Stylish headrail bracing, occupancy-indicating latches, and concealed hardware throughout complete the simple, yet thoughtful design. Two increased height options provide a choice for high privacy applications. Beyond the standard 55″ option, customers can opt for 62″ or 72″ heights. Angled door edges further boost Eclipse Partitions' privacy by blocking gaps and sightlines at the door's edges.
Aria Partitions
Scranton Product's full-height Aria Partitions redefine the concept of a bathroom stall. The individual compartments in an Aria Partition system are as private as any room. Panels and pilasters optionally extend from the bathroom floor up to the ceiling. Doors open and close just 1″ above the ground. A transom panel fills the space above the stall's entrance to create a fully-enclosed cubicle. Continuous brackets and hinges, along with with a shiplap door edge detail, complete the privacy-oriented system.
So Many Ways to Get a Quote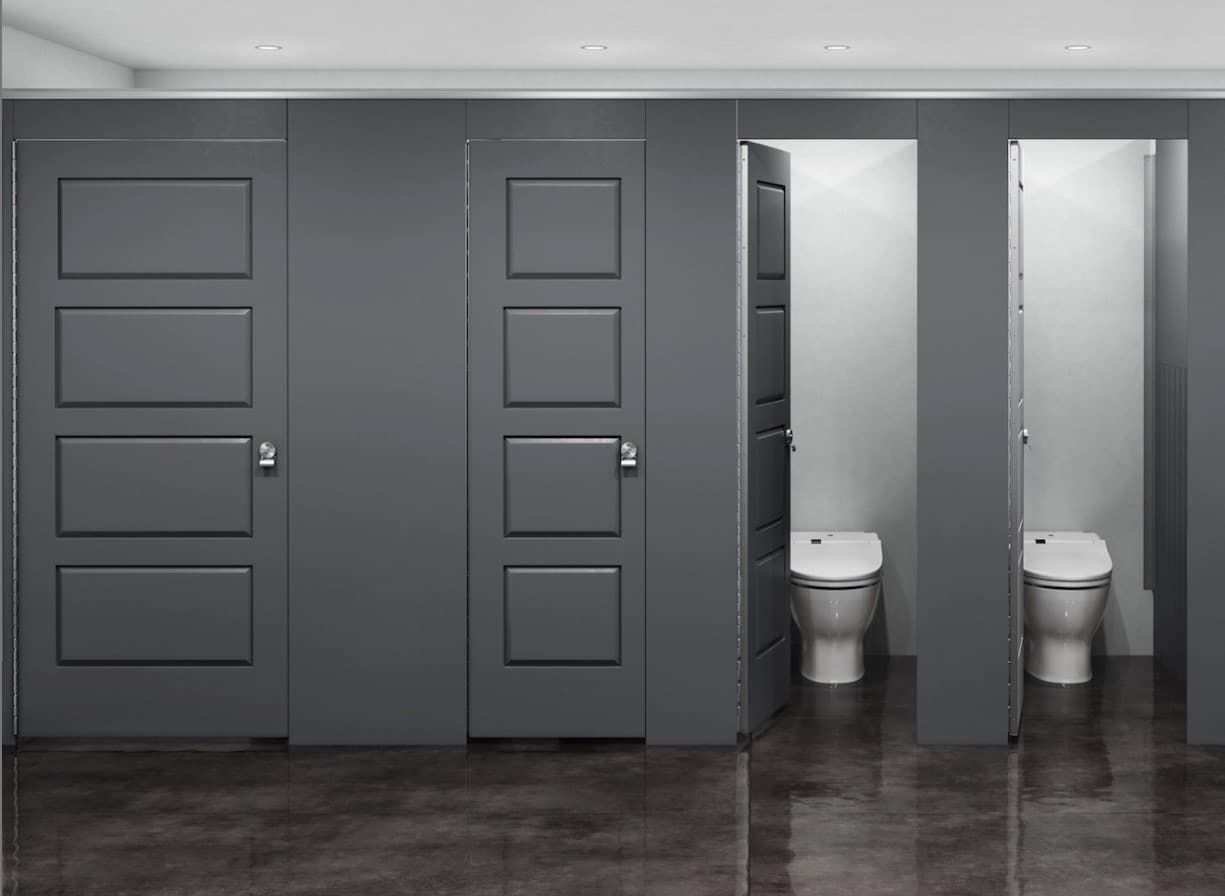 Check Out High Privacy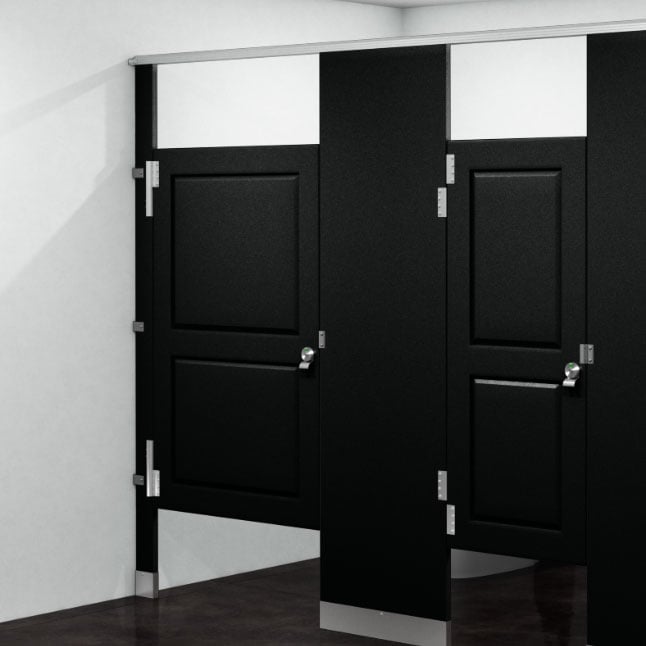 Get Toilet Partitions