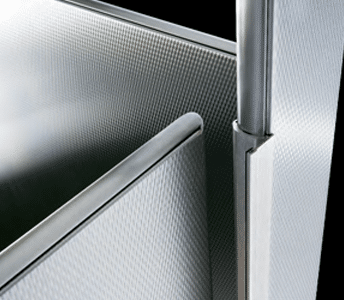 Stainless steel partitions are at home in any restroom space.
Stainless steel partitions are an excellent option for churches, restaurants, shops, and offices seeking a great look in their restrooms. Consider the following benefits of stainless. First, it is attractive and luxurious. Almost anyone would agree that stainless steel surfaces are pleasing to the eye, and the material is undoubtedly associated with high-end items. Second, stainless will last. Manufacturers design stainless partitions with long-term service in mind. Resurfacing is possible, should the stalls pick up marks or scratches. Third, stainless steel stalls' fire ratings are superior to many comparable plastic partitions. The metal is not flammable and inhibits the flames' spread, should a fire occur in a restroom. If these advantages seem enticing, contact us for a quote on stainless steel partitions for your space.
High Durability Stainless Steel Partitions
As befitting the premium material, manufacturers build stainless steel partitions to the highest standards. Toilet stalls constructed from stainless steel feature extra welding along corners and seams to help keep panels sturdy and sanitary. The stronger, tighter seal keeps water from becoming trapped within the component. Trapped water serves as a breeding ground for microorganisms that cause odors and other problems. Likewise, moisture can degrade even the most robust metals when left in contact for an extended period.
Unlike some other partition materials, owners can refurbish stainless steel should the surface become scratched or otherwise lightly damaged. Powder-coated steel partitions and laminate-faced stalls (HPL and phenolic) are challenging to repair because they are multilayered. On the other hand, Stainless steel does not have any coatings that would prevent the refinishing of the surface. Many owners report success with products designed to maintain and repair stainless steel appliances.
Design and Style
Stainless steel's brushed metallic finish picks up hints of color from the surrounding space. This quality makes stainless steel partitions suitable for a whole range of building types and decor styles. Furthermore, in a facility with contemporary, minimalist decoration, the stainless stalls will feel sleek and flashier. But, if placed in the middle of a traditional design, stainless elements fall back, taking on a functional air. Stainless steel's inherent mix of visual appeal and utility allows this design flexibility.
Fire Resistance in Stainless Steel Partitions
Fire safety isn't at the top of most people's minds when visiting a public restroom. However, it should be a concern for anyone shopping for bathroom stalls. Stainless steel partitions typically hold the most desirable fire ratings among competing materials. The steel itself won't catch fire, under normal circumstances, and a typical toilet partition configuration significantly inhibits the spread of flames.
Additional Benefits
Stainless steel partitions offer a range of other, less obvious benefits. For instance, they are a privacy-focused product. Manufacturers sell a range of upgrades and additional parts to block sightlines and create a feeling of personal space. These upgrades include privacy strips, extended height doors, extra tall panels, full-length brackets, and continuous hinges. Stainless partitions are also disability-friendly. They are available in fully ADA-compliant configurations. 60″ by 60″ stalls, wide doors, and accessible hardware are common requests.