SCRC Reinforced Composite – Cleaning and Maintenance
---
Solid color reinforced composite cleaning and maintenance is very easy when carried out per the manufacturer's recommendations. Continue reading for everything you need to know about keeping your SCRC bathroom stalls in ideal shape. Maintain the warranty by investing time in regular cleaning and maintenance. The partition manufacturer protects your SCRC purchase with a 25-year warranty – one of the best in the industry. In the event of light damage, follow these tips for easy repairs.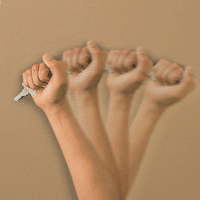 SCRC partitions are simple to clean, maintain, and repair.
Repairing Light Surface Scratching/Scuffing
Gather paper towels and sealant (e.g., Bobrick Graffiti Remover or silicone sealant)
First, clean off whitened edges of scratch by firmly scraping dry paper towel along with the scratch.
Second, moisten a paper towel with Bobrick Graffiti Remover (Model #891099) or silicone sealant.
Third, liberally apply the sealant to the scratched area, allowing the sealant to set in the scratch for one to two minutes.
Finally, lightly wipe off excess sealant with a dry paper towel.
Repairing Light to Moderate Scratches
Prepare a color matched crayon, acetone (or Bobrick Graffiti Remover).
Begin by moistening the dry paper towel with Bobrick Graffiti Remover (Model #891099).
Next, clean off whitened edges of scratch by wiping moistened paper towel parallel to scratch.
Dry surface of material off with a clean paper towel.
Select appropriate crayon: SCRC Color Matching Color Crayon

Golden Khaki Crayola™ Crayon – Gold
Desert Beige Crayola™ Crayon – Tumbleweed
Terra Cotta Crayola™ Crayon – Desert Sand
Forest Green Crayola™ Crayon – Shadow

Rub crayon across (i.e., perpendicular to) grain of scratch to fill in scratch completely.
Moisten a paper towel with Bobrick Graffiti Remover (or acetone).
Clean off excess crayon around scratch by rubbing moistened paper towel lightly across the grain of scratch.
Finishing Technique A
Clean the sanded surface with Bobrick Graffiti Remover (#891099).
Seal sanded surface by applying two coats of silicone sealant.
Allow the sealant to dry for 24 hours.
Finishing Technique B
Smooth out rough sanding marks with medium grit sandpaper (180-grit).
Blend whitened appearance of the sanded area by wet-sanding with 2000-grit sandpaper.
SCRC Reinforced Composite is Also Easy to Clean
As partitions become soiled, use these easy cleaning tips. Don't clean with harsh cleaners that have abrasives, acids, or alkalis. They'll etch, discolor or damage the surface.
Power Washing
These bathroom stalls can easily be power washed to remove dirt and stains. You can also remove any formed dirt using a soft cloth. Always make sure that restroom partitions in wet areas are in well-ventilated areas to allow for extra humidity to dry.
Self Cleaning Wax
Routinely applying self-cleaning wax will make graffiti cleaning easier. These products are gentle and usually don't need stripping.
Graffiti Cleaning
For stalls damaged by graffiti, use specialized graffiti removers to clean away marks of vandalism safely. Use a high quality concentrated D-limonene based solvent (such as Bobrick Graffiti Remover) applied with a soft cloth. This process works to remove markings from:
Permanent Marker
Acrylic
Enamel Spray Paints
Markers (containing Xylene)
Metallic Markers
Laundry Pens
Paint Pens
A word of caution: many solvents are very flammable, so make sure to keep away from sparks and open flames.
Cleaning Burn Marks or Gouges
Burn marks and more severe gouges may seem like they aren't repairable, but you can fix them. Use an electric sander with coarse 80-grit sandpaper on the affected area. Re-sand the area using medium 180-grit sandpaper. Then to blend the color into the surrounding area, wet-sand the area using a fine 2000-grit wet/dry sandpaper to complete the process.
Have more questions about composite bathroom partitions? Email or call our knowledgeable sales staff at sales@partitionplus.com or 800-298-9696.