Scranton Products Toilet Partition Quotes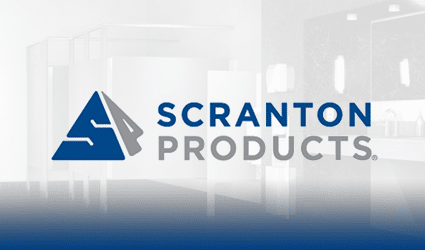 Work with the Scranton Products experts at Partition Plus.
Submitting a quote request for Scranton Products toilet partitions is easy and quick. Choose the method that suits you:
We recommend the first method because our interactive form collects all necessary information and provides visual aids for anyone unfamiliar with partitions. However, all of the above-listed options work well.
What Info Do We Need?
To provide a Scranton Products toilet partition quote, we require a few essential pieces of information about you and the project.
Project name and your contact information
Material preference (Scranton produces solid plastic in Hiny Hiders, Eclipse, and Aria varieties)
Layout style (corner, between walls, alcove, or free-standing – and whether the layout is right or left-handed)
Number of stalls (total partitions required)
Simple measurements (overall layout width, single-stall widths, layout depth, door swings)
Shipping zip code for the order (to calculate freight costs)
On-Demand Scranton Products Quotes
After receiving your request, we start work on your quote. We use a web-based layout tool accessible only to authorized Scranton Products distributors. The system allows us to custom design a partition system that fits your space and style preferences. We have complete control over the layout, down to the gaps between panels and walls. Adjusting the cosmetic appearance and privacy features is also straightforward. In addition to our material costs, the system also provides a shipping estimate – based on the shipping zip code collected earlier. This highly accurate, readily available information lets us speed through the quoting process.
Quick, Competitive Quotes
This highly accurate, readily available information allows us to respond to quote requests – with competitive pricing – in short order. Most shoppers receive a PDF file (containing a price, product details, and a layout drawing) just hours after requesting a quote. Because we write our own Scranton Products quotes, we can be sure they're comprehensive and include competitive pricing.
For more information on Scranton Products toilet partitions, or bathroom stalls in general, please feel free to call Partition Plus at 800-298-9696 or email sales@partitionplus.com.