Sales representatives at Partition Plus have more than 25 years of industry experience. Their goal is to guide you through your bathroom stall project, making sure it is easy and you are completely satisfied. Whatever the scope of your job, we have the knowledge and skills to assist. Partition Plus is ready to provide the products and services you need, at competitive prices. You can expect top-notch service throughout your bathroom stall project. We strive to create the best purchasing experience and earn your repeat business.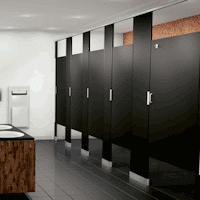 Solid plastic bathroom stalls shown in black.
More than Bathroom Stalls from Partition Plus
Furnishing and installing bathroom stalls is a large part of our business, but Partition Plus also sells Division 10 products. Our representatives fully understand how to outfit bathrooms and surrounding areas. You can trust our knowledge of bathroom stalls, lockers, toilet paper holders, paper towel dispensers, grab bars, and hundreds of other washroom accessories. Partition Plus representatives will customize a solution to fit your needs. Whether your priority is cost, compliance, design, function, or something else entirely, we can assist you.
Working with Leading Partition Manufacturers
Partition Plus distributes products nationwide for Bobrick, Hadrian, Scranton Products, Penco, and others. Quick shipment and low freight costs are possible thanks to our many shipping locations across the country. We ship anywhere in the United States. If you need your bathroom stalls and bathroom accessories not just furnished, but installed, we provide those services to Maryland, Washington DC, Virginia, and the surrounding region.
As a nationwide distributor for industry leading manufacturers, we strive to provide the best purchasing experiences. The best bathroom stall purchasing experiences are easy. Not many people deal with partitions, bathroom accessories, and Division 10 products everyday. We at Partition Plus appreciate this, so we use our extensive technical expertise and our understanding of your needs to make the process as easy as possible.