High Pressure Laminate Partitions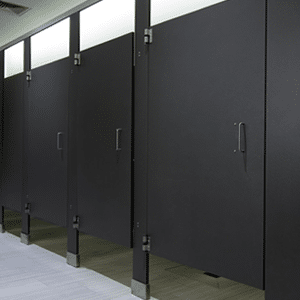 Enjoy the great look and low cost of high pressure laminate partitions.
High pressure laminate partitions offer two standout features that make them an excellent choice for many different project types. First, they are affordable, compared with other bathroom stall materials. Second, they offer nearly unmatched design flexibility – manufacturers offer dozens of colors, including solids, wood grains, and faux stone. Do you think plastic laminate stalls are right for your project? Call our friendly, knowledgeable staff at 800-298-9696 for more information and pricing!
Low Price with Quality and Reliability
Generally speaking, only powder-coated steel stalls sell for less than high pressure laminate partitions. Plastic laminate over a particleboard core is a time tested choice for bathroom stalls. Manufacturers have evolved and perfected their processes through the years, allowing the material and labor costs to fall.
Quality and reliability have also improved over the years. The laminate sheets themselves feature better graphics and harder, scratch-resistant surfaces. Meanwhile, the adhesives and techniques used to bond the laminate to the fiber-based core are better-than-ever. Where delamination (the separation of the laminate from the wood core) used to be a common concern, now it is only a consideration for excessively damp environments. Laminate isn't only an entry-level material for toilet partitions. While starting prices are highly affordable, manufacturers do offer a range of customizations and enhancements. These include European-inspired hardware, high-privacy accessories, and accessibility focused additions.
Design Options for High Pressure Laminate Partitions
Regarding design, no other product comes in as many different finishes as high pressure laminate partitions. Do splashy solid colors like Hollyberry, Spectrum Blue, and Leaf Green sound interesting? Would you consider sophisticated faux wood patterns like Burnt Strand, Xanadu, or Smokey Brown Pear? A range of understated textures, such as Grey Nebula, Natural Tigris, and Pewter Mesh, suit many customers. For conservative applications, we sell high pressure laminate partitions in solid neutral tones: Designer White, Natural Almond, Beige, Grey, and Platinum. Visit our color chart page to see all the available options. Partition Plus is ready to help you choose a finish that's perfect for your facility's decor. Plastic laminate partitions generally come with better hardware than the pot metal brackets, hinges, and latches included with metal partitions. Not only is laminate's hardware better looking, but it is more durable (it is aluminum or stainless steel).
We stand behind our high pressure laminate partitions. The product lines we sell include a limited two-year warranty. It protects against corrosion, breakage, and defects in materials. Should these issues occur with adequately installed and maintained stalls, the partition manufacturer will replace or repair the dividers at no charge.