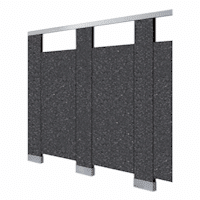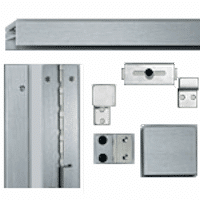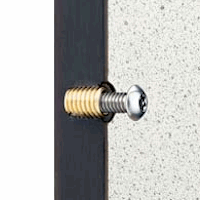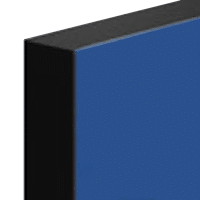 Solid Core Phenolic privacy options give owners the capability of changing door and panel sizes to appropriately accommodate for any clientele. In some instances, a regular bathroom stall works just fine. Others may require less or zero viewing space than an average bathroom stall.
At Partitions Plus, we have a number of different privacy options for you to choose from. Below is a summary of each of the different choices we offer.
STANDARD SIZE SOLID PHENOLIC BATHROOM STALLS
Solid phenolic toilet partitions typically have door and panel heights of 58 inches. These doors have a 12 inch clearance off of the ground for overhead-braced, floor-anchored, and ceiling-hung stalls. Standard gaps exist between doors, panels, and/or stiles of the toilet partition.
This is the kind of privacy you will find in any standard bathroom. However, if you want to take things to another level, continue reading.
GAP-FREE PRIVACY DOORS AND STILES
Our gap free privacy doors and styles is the first of two privacy options that have enhanced privacy. This option has the ability to reduce and effectively remove the standardized gaps that exist between the doors, panels, and stiles. Problematic gaps are mitigated by the inclusion of interlocking door and stile pieces, as opposed to standard pieces. This concept of interlocking causes the viewable sightlines to be blocked, as shown on the image to the right.
This privacy option is available for the following mounting configurations:
Ceiling Hung
Floor Anchored
Floor to Ceiling
Head rail Braced
This is a great option in situations where discretion is of concern, or you want to make sure there is no way to see inside the bathroom stall.
MAXIMUM HEIGHT TOILET PARTITIONS
The second privacy option that exists for solid phenolic restroom partitions is the extension of door and panel heights. This option also removes viewable space from under the bathroom partitions. Compared to the standardized door and panel heights, maximum height bathroom stalls increase the height by a substantial 14 inches, for a door and panel size of 72 inches.
Additionally, the elevation off of the floor is reduced by over 60% — maximum height compartment privacy brings the restroom partition 4 5⁄16 inches off of the floor.
Available in:
Ceiling Hung
Floor Anchored
Floor to Ceiling
Headrail Braced
We understand that different establishments require different types of bathroom stalls. We're here to give you options so you can find what works for you best!