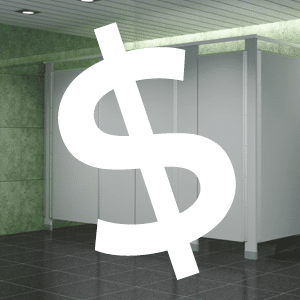 Bathroom stall prices vary significantly, based on several factors.
Bathroom stall prices depend on a variety of factors. Here, we explain those factors and illustrate the difference between inexpensive partitions and high-end bathroom stalls.
Number of Partitions
The most significant factor influencing bathroom stall prices is the number of stalls ordered. The per-stall cost rises when fewer compartments are purchased. We can offer better values when we can spread shipping charges and other overhead across many partitions. Consider that, in most cases, it costs the same to ship a half-empty pallet as it costs to send a full pallet. Also, stalls intended to enclose multiple commodes share dividing panels. For instance, a free-standing partition system for one commode would require two large panels. The same stalls for two commodes would only need one additional large panel – the number of parts wouldn't double as you might expect.
Material
While the material has little impact on a toilet partition's core functionality – to provide privacy – it will significantly impact the price. Stainless steel partitions, for instance, are among the most expensive available. In relative terms, phenolic configurations are higher priced as well. The next least expensive material is solid plastic, followed by plastic laminate. Powder-coated steel is the least costly bathroom stall material.
Finish and Bathroom Stall Prices
For certain materials, enhanced finishes increase the price. Anti-graffiti, metallic effect, and unique textures all come with upcharges. Finishes that require special raw materials – to create an iridescent look, for instance, or that provide particular functionality – like vandalism-resistance, are more expensive than standard finishes.
Hardware
The style of hardware also influences bathroom stall prices. Flashier or sturdier hardware is more expensive than what's included by default. Also, hardware designed to obscure sightlines is costlier than standard brackets, hinges, and strikes. Also, consider that Zamak fittings are cheaper than aluminum or stainless steel hardware – in this way, the hardware material also impacts overall cost.
Shipping
At Partition Plus, we're proud to work with prominent manufacturers who maintain manufacturing or shipping facilities in two or more locations – typically, at least one facility per US coast. Shipping an item across half the country is much less costly than sending it over the entire country. Massive shipments of dozens of stalls, or deliveries to remote locations, such as Alaska or Hawaii, will be more expensive and increase the overall cost accordingly.
Understanding Bathroom Stall Prices
For more information about bathroom stall prices, please contact us. We're available by phone at 800-298-9696 and via email at sales@partitionplus.com. Partition Plus' helpful staff is eager to discuss your needs and suggest the most appropriate stalls.