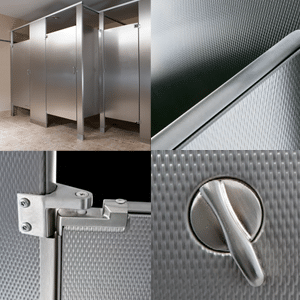 Steel toilet partitions are both affordable and durable.
Manufacturers of steel partitions design their products to provide years of reliable service while remaining affordable. In addition to steel's economic advantages, it also offers superior durability, fire-resistance, environmental responsibility, and speed compared to other partition materials.
Durability and Affordability Together
No material is impervious to wear or damage, but powder-coated steel toilet partitions do quite well considering their cost. Hadrian – a leading maker of powder-coated steel toilet partitions – offers stalls with special graffiti-resistant coatings for customers planning stalls in vandalism prone restrooms. For a minimal upcharge, the stall receives a specialized finish that keeps paint, ink, and other "marking agents" from adhering to the surface. Along the same lines, the finish makes cleaning any marks much more manageable.
If exposed to excessive dampness, steel will rust. To block standard environmental moisture from causing corrosion, manufacturers treat steel with rust-inhibiting chemicals. Galvanized steel, used to make bathroom stall components, employs a protective layer of zinc to minimize the effects of liquids and regular use.
Leading Fire Resistance in Steel Toilet Partitions
Many configurations of steel toilet partitions feature ASTM E84 compliance and hold CLASS A grades. These stalls are less flammable than their standard counterparts. They also emit less harmful smoke when exposed to flames or intense heat.
An Environmentally Responsible Product
Powder coating, used with the majority of steel toilet partitions, is a very efficient process. Minimized waste and low power consumption help contribute to this. Furthermore, some steel partitions include 50% recycled content.
Short Lead Time on Steel Toilet Partitions
Are you rushing to purchase bathroom stalls? We understand! Deadlines have a way to creeping up, and renovations can be unpredictable. Fortunately, powder-coated steel toilet partitions have some of the shortest lead times in the industry. Customers choosing select quick-ship steel products end up waiting hours – rather than weeks – for their stalls to ship from the factory. If you have a time-sensitive project, please call us to discuss available options. We're available by phone at 800-298-9696. You can also reach us by email at sales@partitionplus.com.