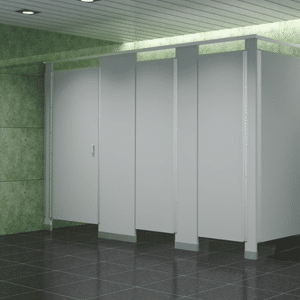 Buy public toilet stalls from the experts at Partition Plus
Purchasing public toilet stalls online may seem complicated, but it doesn't need to be. When you're working with experts, like those at Partition Plus, the process of purchasing, installing, and maintaining stalls is easy-to-understand and straightforward to execute. We'll help you through several essential considerations. First, you'll need to consider the bathroom where the partitions will go – allowing you to select the best material (in a suitable color or pattern) and the most appropriate mounting option. Second, it is crucial to plan the delivery and installation of the stalls in advance. Third, you should think about how you'll protect your investment with ongoing maintenance and cleaning. We do our best to make obtaining high-quality stalls for your bathroom is an exciting and approachable process.
What Material is Best for You?
Is the room heavily trafficked? Do visitors treat the facility gently, or is there potential for abuse and vandalism? Will the stalls contact excessive water, moisture, or humidity (because of the general location or the presence of showers or a pool). Is visual appeal important to your project? With all these considerations in mind, you'll need to select from the following materials.
Powder-Coated Steel – Painted steel partitions ship fast and are inexpensive. Unfortunately, they are the least durable option. For many consumers, they offer a decent balance of cost and utility.
High-Pressure Laminate – Another light-duty option, laminate public toilet stalls are relatively inexpensive. Unlike metal partitions, customers can choose from a range of colors and faux-textures.
Solid Plastic – HDPE (solid plastic) provides the best balance of price and durability. It completely resists water, unlike metal or high-pressure laminate, so it will undoubtedly outlast those materials.
Stainless Steel – Brushed stainless public toilet stalls offer style compatible with luxury decor, but do so at a premium price point. Stainless steel is resilient but not impervious to moisture and denting.
Solid Phenolic – Phenolic is the most robust partition material available. Manufacturers produce phenolic in a broad array of finishes. If your budget allows for it, phenolic is always a great choice.
In the world of public toilet stalls, the more bracing, the better. For this reason, we typically recommend the floor-mounted overhead-braced mounting style. This bracing style is superior to floor-mounting alone or ceiling-hanging. If the bathroom allows for it, floor-to-ceiling mounting is also suitable.
Delivery and Installation Considerations
Public toilet stalls travel from the factory to your facility via less-than-truckload (LTL) freight services. Our manufacturers contract with numerous different freight carriers, but, generally speaking, the customer should plan to accept the delivery in person and unload the pallets themselves. All freight lines offer tracking and call-ahead services.
Many of our customers self-install toilet partitions. It is quite possible to do with average DIY skills and a modest assortment of tools. However, anyone doubting their abilities should hire installers – either through Partition Plus or a local contracting firm.
Maintenance Protects your Public Toilet Stall Investment
After installation is complete, devise a maintenance plan to ensure your public toilet stalls last as long as possible. Regularly clean all surfaces and tighten any loose fasteners. Regular application of light cleaning solutions handles the most common grime and soils before they become big problems. Thoroughly rinse and dry the materials after cleaning. More aggressive cleaning methods are possible but vary by material. Contact your partition manufacturer or Partition Plus for more information.
For more information about public toilet stalls, contact the sales team at Partition Plus. Our phone number is 800-298-9696, and our email address is sales@partitionplus.com. We welcome all questions!