Public Restroom Partitions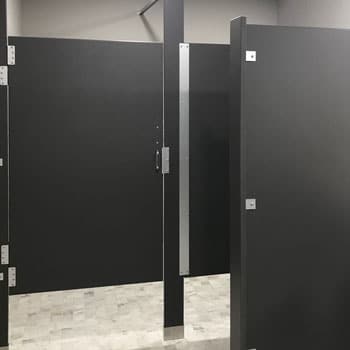 We sell public restroom partitions in a range of materials and styles.
When the time comes to replace your current public restroom partitions, shop with Partition Plus to find the best stalls for your environment and budget. For high-traffic restrooms, consider long-lasting phenolic, HDPE, or composite partitions. For less demanding applications, powder-coated steel or plastic laminate work well for many customers. Manufacturers produce a range of materials and styles – enough to accommodate nearly any project's requirements. Our experts understand all aspects of toilet partitions. They'll help you find the best products for your needs and budget.
Ordering Toilet Stalls from Partition Plus
Measuring your space is a significant part of the toilet partition ordering process, but it needn't be complicated or overly time-consuming. Anyone with a tape measure and a few minutes can complete the task. To accurately quote replacement public restroom partitions, we need the following measurements and figures:
Width and depth of any existing stalls
For oversized stalls, the distance from the side walls to the commode
In new construction or renovations, these measurements are useful:
The overall size of the room
The distance between toilets and nearby walls, for in-corner or end-of-row commodes
The size, and relative placement, of stub walls, half walls, vanities, urinals, radiators, ducting, or other planned fixtures
Use our toilet partition configuration tool to simplify the measurement process. After choosing a material, you'll select a general layout (i.e., left corner, right between walls, alcove left, right free-standing, left alcove between walls, etc.). Top-down drawings accompany all the options for those unfamiliar with toilet partition terminology.
After we receive your measurements and preferences, we'll prepare a quote based on them. We reply to requests with detailed pricing and shop drawings within a few hours – in most cases.
Understanding public restroom partitions means understanding ADA regulations. In the United States, the federal government requires accessible facilities. Often, local building codes also include accessibility standards. Thanks to our years of experience in the toilet partition industry, Partition Plus can help you make sure your new stalls and washroom accessories are compliant.
Public Restroom Partitions Available in High-Privacy Configurations
Our experts are also familiar with the emerging trend of high-privacy public restroom partitions. In the last decade, partition manufacturers, construction professionals, and the general public have begun embracing European-style, higher-privacy bathroom stalls. These partition designs use many of the same materials and much of the same hardware. However, there are a few key differences. The first difference is that these new designs eliminate or completely block gaps (between panels, doors, pilasters, and walls). The second difference is that panels (the dividers between toilets) and doors sit closer to the floor. Gone is the 12″ open space between the floor and the bottom of the partition. The third difference is that panels and doors are taller. The increased height prevents anyone from casually peering above the stall.
Contact Partition Plus for more information about our public restroom partition offerings. When you call (800-298-9696) or email (sales@partitionplus.com), know you'll be speaking with seasoned professionals ready to help. Not only do we understand ADA compliance and high-privacy, but we also work quickly to provide accurate and informative quotes.