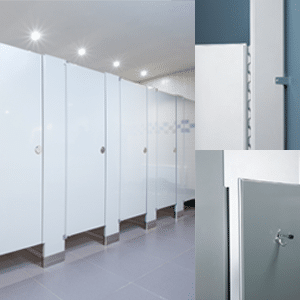 Partition Plus sells a range of public bathroom stall materials and designs.
Public bathroom stalls are our specialty at Partition Plus. We have more than a quarter-century of industry experience. Our goal is to make your bathroom stall project as easy as possible We want to be sure you are delighted with the finished product. You can expect highly competitive pricing and top-notch service throughout the process. If questions or issues should arise – before, during, or after you receive your stalls – please call or email our friendly, knowledgeable staff. They'll be glad to assist.
In addition to public bathroom stalls, Partition Plus sells other Division 10 products. We understand all the accessories required for a functional, safe, and pleasant space – the list includes lockers, toilet paper holders, paper towel dispensers, grab bars, and dozens of other optional items. Our experience helps us create a complete solution to fit your needs, whether your priority is cost, accessibility, or practicality. We fully understand ADA-compliance, high-privacy, and all other important aspects of contemporary toilet partition sales and installation.
Working with Leading Manufacturers
Relationships with Hadrian, Scranton, Bobrick, Penco, and many other major Division 10 manufacturers afford us rapid access to public bathroom stalls and other popular items. Most of the firms we work with have shipping locations on (at least) both coasts, making for quick shipment and lower freight costs. We can serve any area in the United States. What's more, for Maryland, Washington DC, Virginia, and the surrounding region, we can offer full installation services.
Years of Public Bathroom Stall Experience
At Partition Plus, we use our extensive technical expertise to make it easy for anyone to buy public bathroom stalls. We're happy to discuss your project and provide a quote. Submit a drawing or use our online configuration tool. If you prefer to chat with a knowledgeable representative, call 800-298-9696 or email sales@partitionplus.com.