Powder Coated Steel Toilet Partitions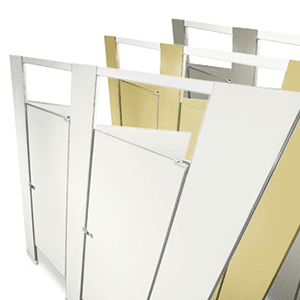 Powder coated steel toilet partitions are extremely popular.
Powder-coated steel toilet partitions offer durability and quality at a reasonable price point. Workers in the Division 10 industry sometimes refer to powder-coated steel as "baked enamel," "painted steel," and "PCS." The material is an excellent choice for a wide variety of applications. As such, you'll see it in many commercial restrooms and public bathrooms across the United States.
Consider the following benefits of powder-coated toilet partitions. First, they are inexpensive. Second, their understated appearance enhances bathroom decor without clashing with existing design elements. Painted steel stall manufacturers provide a good assortment of colors and unique finishes. Third, powder-coated toilet partitions withstand day-to-day use and will last years when properly maintained. For more information about value-oriented toilet partitions, contact our knowledgeable staff at 800-298-9696 or sales@partitionplus.com.
Powder Coated Steel Toilet Partition Installation
Many Partition Plus customers self-install their toilet partition systems. For anyone with rudimentary do-it-yourself skills and the correct tools, the process is simple. Manufacturers provide detailed, user-friendly instructions that fully explain how to complete the installation. As with most DIY projects, preparation and pacing are crucial. If you're planning to self-install toilet stalls, make sure you have the appropriate skills, tools, and additional materials before starting the task. Once you've begun the job, carefully review the instruction to ensure none of the beginning steps are missed or misunderstood. For instance, measuring and drilling to mount brackets isn't the most exciting part of the installation process, but it is valuable. Be sure to allow enough time to complete the project without rushing. Sometimes, a time crunch is unavoidable – but working under pressure is seldom a good idea.
Shipment and Delivery: What to Expect
When Partition Plus customers accept delivery of their powder-coated steel toilet partitions, the solid engineering and quality craftsmanship are immediately evident. Despite being an entry-level product, manufacturers design these stalls to resist rusting, fading, and chipping. Extra welds around the edges and corners of panels, doors, and pilasters keep the components sturdy and free from water. Trapped moisture is the leading cause of problems with metal toilet partitions. Fluids within the partition parts can lead to corrosion or create a breeding ground for odor-causing microorganisms.
Accessibility and Privacy Together
During unboxing, our customers will also notice the many accessibility-oriented features of their powder-coated steel toilet partitions. In compliance with ADA regulations and other accessibility standards, stalls are configurable with 60″ by 60″ (or larger) dimensions, disability-friendly hardware, and extra-wide doors. Oversized doors allow the passage of a wheelchair in and out of the stall.
Powder-coated steel toilet partitions also include several optional privacy enhancements. Continuous hinges, full-length strikes, filler strips, and extra height panels are just a few of the unique features available to increase privacy. These additional components make it more challenging to peer above or below stalls – or look through gaps.
The Partition Plus team is ready to discuss powder-coated steel toilet partitions with you. Call us at 800-298-9696 or email sales@partitionplus.com today.