Powder Coated Steel Partitions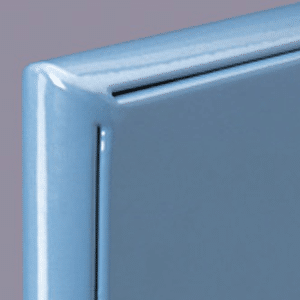 Powder coated steel partitions are an excellent value.
Powder coated steel partitions work well in many public restrooms. Not only are they functional, they are also low-cost. Buyers of powder-coated steel get a design with broad appeal, a large assortment of available finishes, and high durability – both day-to-day and through-the-years. PCS (powder-coated steel) includes a 3-year manufacturer warranty. Given the user-friendly instruction, many customers do not need to hire an installation professional.
Partitions for All Bathroom Types
Almost every non-residential structure contains public or multi-user restrooms – the list includes office buildings, industrial facilities, restaurants, bars, schools, and religious facilities. These buildings have different needs where toilet partitions are concerned, however. Fortunately, Partition Plus sells highly customizable Hadrian powder coated steel partitions. Customers can adjust appearance, accessibility, and privacy to suit the situation.
Customizability: We sell powder-coated steel in dozens of colors, and manufacturers offer special-effect and anti-graffiti finishes for an additional charge. View our color charts to pick the best color for your restroom.
Accessibility: PCS provides ADA compliance when necessary. We can configure powder coated partitions with 60″ by 60″ stalls, 36″-wide doors, and easy-to-operate hardware.
Privacy: Even though steel is an entry-level material, manufacturers offer many high-end privacy enhancements, such as extra height panels and sightline-blocking hardware.
Powder-coated steel partitions are environmentally friendly, in comparison to older baked-enamel products. The powder coating process that colorizes the metal is waste-free, low-emission, and uses little energy. Fifty percent of the materials used in the manufacture of our powder-coated steel partitions are recycled. 36% is post-consumer, and 14% of the material is pre-consumer.
A Range of Special Features
Hadrian's powder-coated steel stalls include many other innovative, helpful features. First, components feature welded corner seams to increase rigidity and discount buckling and warping. Second, powder-coated steel partitions are entirely modular, allowing for the easy replacement or repair of any component. No special skills are necessary for assembly or disassembly. Third, panels, doors, and pilasters have a fiber-based 1″ honeycomb at their core. The core increases rigidity and sound dampening without adding significant weight or bulk. Fourth, these partitions come together using vandalism-resistant fasteners that are difficult to remove without special tools.
Powder-Coated Steel Partitions Provide Choices
Partition Plus' experts will help you choose the right layout and bracing style for your restroom space. We'll also help you make the stalls your own by customizing color, privacy, and accessories to suit your needs. Call Partition Plus at 800-298-9696 or email sales@partitionplus.com for pricing on powder-coated stalls.