Plastic Laminate Toilet Partitions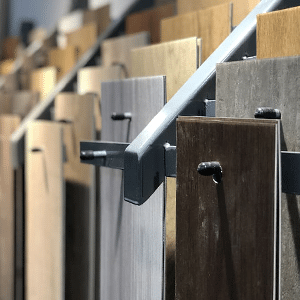 Faux-woods are popular finishes for plastic laminate toilet partitions.
For many customers, plastic laminate toilet partitions are an ideal balance of low cost and design flexibility. Who wouldn't be interested in a sensibly priced, good looking stalls? Other advantages of PLAM (plastic laminate) include fire resistance (a CLASS B (ASTM E84) rating and higher impact and scratch resistance than metal. For more information, request a quote.
These toilet stall components consist of a particleboard core wrapped in a thin-yet-durable plastic sheet. The sheet – usually adorned with colors, patterns, or faux finishes – is the "plastic laminate" component from which the material takes its name. While manufacturers make every effort to seal the surface and edges of plastic laminate, moisture can penetrate the outside layer and cause the particleboard to degrade. For this reason, we don't recommend plastic laminate for high humidity and high moisture areas. In these circumstances, solid phenolic and solid plastic (HDPE) stalls are more appropriate. But for relatively dry restroom spaces, plastic laminate partitions can be a great fit.
Plastic laminate toilet partition manufacturers use Formica, Wilsonart, and Fundermax products to create panels, pilasters, doors, and other components. Customers can select from literally hundreds of different finishes. Choices include high-gloss solid colors, faux-wood patterns, and imitation stone effects. Optional upgraded hardware further enhances laminate partitions. Sleek, hidden hinges allow the eye-catching finishes to stand out.
Assuming the restroom is dry enough, and high-pressure laminate is within budget, we can recommend a configuration that will enhance any facility's decor.
Inexpensive, Stylish, and Environmentally Friendly
Often, high-pressure laminate is of interest to environmentally-conscious contractors and facility owners because HPL stalls can qualify for LEED credits. The panels themselves include recycled material, and the hardware used to construct the stalls consists of 50% to 70% recycled steel.
Laminate Stalls are Tested Tough
During testing, technicians removed 100% of graffiti marks from high-pressure laminate panels. This performance contributes to laminate's ATSM D6578 rating for graffiti resistance. In other tests, high-pressure laminate continues to best metal stalls. Impact resistance of 3″ per pound beats metals 2″ per pound rating. High-pressure laminate can also withstand a 10kg load in trials designed to test scratch resistance. Metal partitions could only withstand 3kg in the same tests.
Plastic Laminate Toilet Partitions Guarantee Performance
Manufacturers and Partition Plus stand behind our HPL – laminate stalls come with a limited two-year warranty. It protects against breakage, corrosion, and defects in materials. If these issues occur, properly installed and maintained toilet partitions are repaired at no cost to the customer. We are happy to supply additional details about this product, and its warranty. Call or email us to begin the conversation!