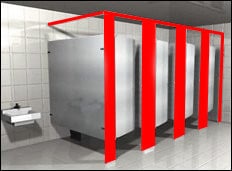 Headrail braced toilet stalls are our recommended style, they are ideal for just about any situation. A great balance between strong design and aesthetics, this mounting style is the best solution for high traffic areas. The top rail has an anti-grip design that increases the level of structural security.

Floor mounted bathroom stalls provide a sleek appearance in their minimized design. Because of the lack of structure held to the ceiling, their clean design is not only desirable, but also practical! They are an ideal choice for areas with high ceilings where a ceiling-hung mounting or floor to ceiling is not viable.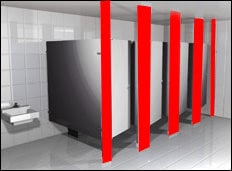 Floor to Ceiling units are extremely strong units due to their connection to the ceiling, floor, and walls. Due to this structural configuration, their capability to withstand damages is unrivaled, making it a great choice for areas where unit abuse is simply unavoidable.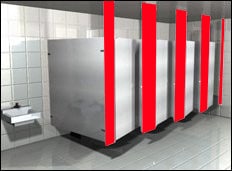 Ceiling hung bathroom stalls provide a very clean appearance due to a completely open floor area. In addition to design cleanliness, maintenance is considerably more convenient — the units have no connection to the floor, allowing for easy access to the floor areas between each stall. This is not the best option for heavy traffic areas or vandal-prone bathrooms. (Requires additional structural support)