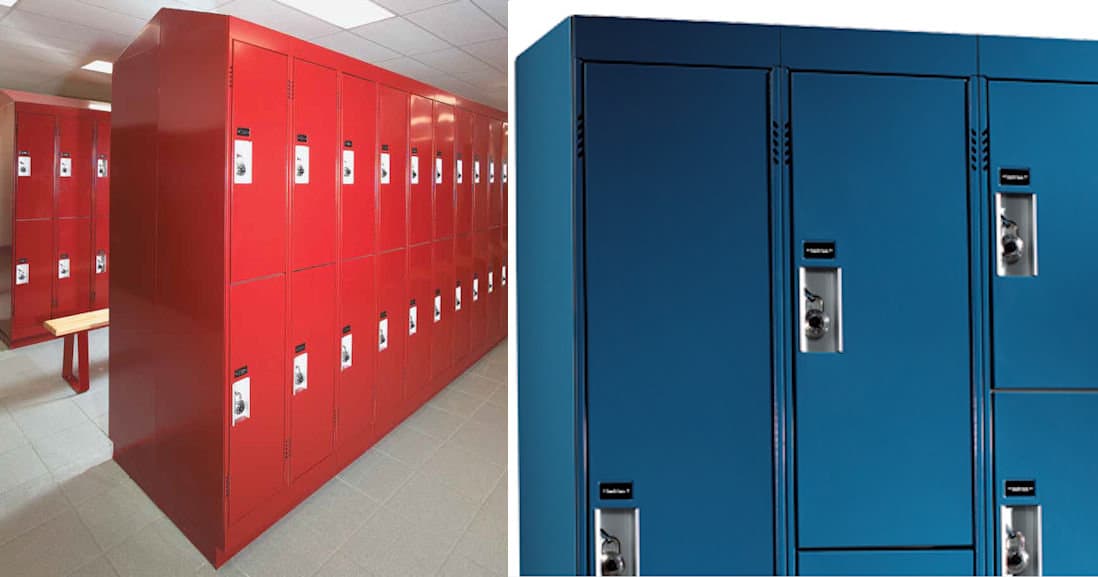 Emperor (Corridor) Lockers
Emperor lockers, also known as corridor lockers, are some of most aesthetically pleasing metal lockers you'll find. Their appearance is probably different than the lockers you're used to seeing. They don't have air vents on the outside, like many other types of metal lockers. Instead, emperor lockers are equipped with a frame venting design that doesn't take away from their appearance! With their sleek and clean look, these lockers do much more than simply look good. Their durability and unique design allow people to store personal items, hassle-free. They are known to be some of the quietest lockers out there, offering users a noiseless way to store and retrieve their belongings. These lockers come in various colors, tier amounts, and sizes. This, of course, makes them some of the most versatile and convenient locker options available!
Gladiator (Athletic) Lockers
Calling all athletes! If you own a gym or a place where athletes gather, gladiator lockers might be your ticket to success. These lockers are designed especially for those who are physically active. They are durable and stable, built to stand firm and strong. They're also quiet, creating a less noisy way to store personal items. As one may imagine, sporting environments can become stuffy as athletes are constantly on the move and may become quite sweaty. Gladiator lockers are ready for the challenge with their oval ventilation holes which allow air to properly flow in and out of the lockers. These lockers are sleek in appearance. They're fairly versatile and very convenient. Also, exposed ends are available as either solid or perforated for even more air circulation without any extra cost to those who purchase them. Gladiator lockers are definitely among the best options for sporting and athletic environments, including gyms and locker rooms.
Replacement Front Lockers
As a result of time and wear, some lockers simply become unusable. But, in many cases, money can be saved by simply replacing the broken parts instead of replacing the entire locker. Replacement front lockers can save you time and funds. They're easy to install and can fit most non-Hadrian brand lockers. If you're looking to make your lockers come alive again and offer a better appearance, replacement front lockers are the way to go! You can even use this option in order to convert a single-tiered locker into a double-tiered locker. Or, you can transform a double into a single! These replacements are offered in a variety of colors, making them versatile and convenient for those who need them. They're durable and are a surefire way to get your locker area back up and running in no time!
Specialty Lockers
The good news about Hadrian lockers is that they are versatile and customizable. This means that they can be made to meet specific needs and requirements. Customers who need lockers installed can find exactly what they need. With their interchangeable shelves, easy-to-open friction latches, and wide range of material options, Hadrian lockers have so much to offer!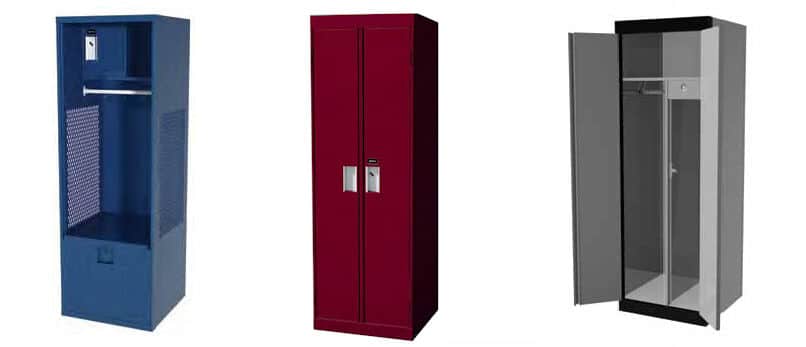 Galvanneal Lockers: Hadrian offers the option to have lockers constructed using galvanneal for additional rust protection. This material paired with Hadrian's sturdy powder coating technology creates a fortified, moisture resistant locker!
Divided Lockers: These specialty lockers offer uses a storage space that is well-ventilated and perfect for various purposes. They provide space that can be used to separate different items while sharing one unit. Divided lockers can be customized to meet the requirements of specific and unique purposes.
Open Front Lockers: These Hadrian specialty lockers have perforated sides and heavy-duty 16-gauge frames. They are both robust and durable. Customers can customize open front lockers with various upgrades. For example, a boot locker storage space can be added. Also, an upper valuables compartment can be included. Extra hooks and a bench can also be added in order to conform to any special requirements and needs. These specialty lockers come in a vast range of colors that are applied using Hadrian's cutting-edge powder coating technology.