Commercial Restroom Partitions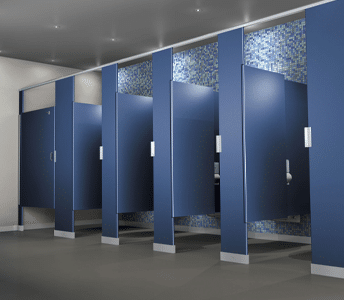 Commercial restroom partitions are our specialty at Partition Plus
Send Your Layout, Get a Quote – Fast!
Send us your bathroom measurements, material preference, and shipping address, and we will reply with a detailed quote for commercial restroom partitions – usually within just a few hours. Our partition configuration tool and drawing upload form make the process simple. If you have any questions, please call or email us.
Because we quote every partition – rather than providing vague pricing – you'll only pay for the materials and shipping necessary to your project. We also do our best to help customers avoid bathroom stall pitfalls. For instance, thrifty customers gravitate to the low starting price of powder-coated steel partitions, but in some cases, they could cost more in the end. "Painted steel" is a great option, so long as the environment is dry. Customers who opt for this material in damp environments – near pools, showers, or other moisture sources – may find themselves replacing rusted stalls sooner than if they'd chosen plastic or phenolic.
Increase Occupant Comfort in Commercial Restroom Partitions
Upgraded commercial restroom partitions significantly increase the comfort of workers, visitors, and other facility occupants. A clean, aesthetically pleasing environment and clear evidence of an investment in the building help boost morale.
Comply with ADA Regulations
Accessibility is important. Accommodate all restroom users and comply with helpful ADA standards. The Partition Plus team has years of experience with the guidelines set out in the Americans with Disabilities Act. We will make sure any "handicapped" stalls you order are the proper size and equipped with user-friendly hardware.
Privacy-Conscious Features
Our manufacturers offer a complete range of privacy enhancements, no matter which material you choose. Privacy is possible with commercial restroom partitions! Add sight-blocking strips, taller doors, continuous hinges, full-length strikes, and extra-height panels to your stall system. The increase in cost is nominal, especially compared to the increase in comfort for privacy-conscious individuals.
Many Customers Self Install
Often, shoppers worry that installing commercial restroom partitions will be difficult, expensive, or troublesome to arrange. Partition Plus can help alleviate these concerns. We've provided installation services for many customers in our region. For those buying outside Maryland and the surrounding states, we provide complimentary install support. Replacing stalls or installing partitions in new construction is not hard – given modest DIY skills, detailed instructions, and advice from experienced professionals (like those at Partition Plus).
Contact Us Now for More About Commercial Restroom Partitions
Please contact us by phone or email with any questions on toilet partitions, washroom accessories, or related topics. We're happy to prepare a fast, free quote – tailored to your specific restroom space.