Bathroom Stalls for Gyms and Locker Rooms
Bathroom Stalls for Gyms and Locker Rooms
Looking for bathroom stalls for a gym or locker room that will last for years and look great? The experts from Partition Plus are here to help.

The Needs of Gym and Locker Room Bathrooms
Bathrooms in gyms and locker rooms can be complicated due to a few attributes that set them apart from other bathrooms. However, with a little knowledge on the space you can easily find stalls that will make a great fit. Here are the attributes to take into consideration.
Budget: Depending on the type of locker room budgets for stalls can vary widely. So it is important to find stalls that will fit the budget but still meet the other needs of the room. For example even if the budget is tight it is still crucial to select a water resistant stall for a high-moisture environment. Otherwise the stalls will quickly become non-functional and you will have to pay for new partitions all over again.
Potential for Damage: All bathrooms have some potential for damage. When people bump up against stall walls they can be dented or scratched. The likelihood of this happening rises when people bring bags and other items into stalls with them. Gym bags, water bottles, keys, and more can cause accidental damage to partitions. Picking stalls that will resist this damage is key to a long lasting bathroom.
Potential for Moisture: Many locker rooms come with showers for cleaning up after work or working out. This means that moisture can tend to stay in the air in these rooms. In high moisture conditions many partitions will warp or sustain other damage. Other stall materials like plastic and phenolic are water-resistant meaning they will survive the moisture and can be easily washed.
Taking these attributes into consideration the team at Partition Plus recommends the following materials when selecting bathroom stalls for gyms and locker rooms.
The Best Toilet Partitions for Gyms and Locker Rooms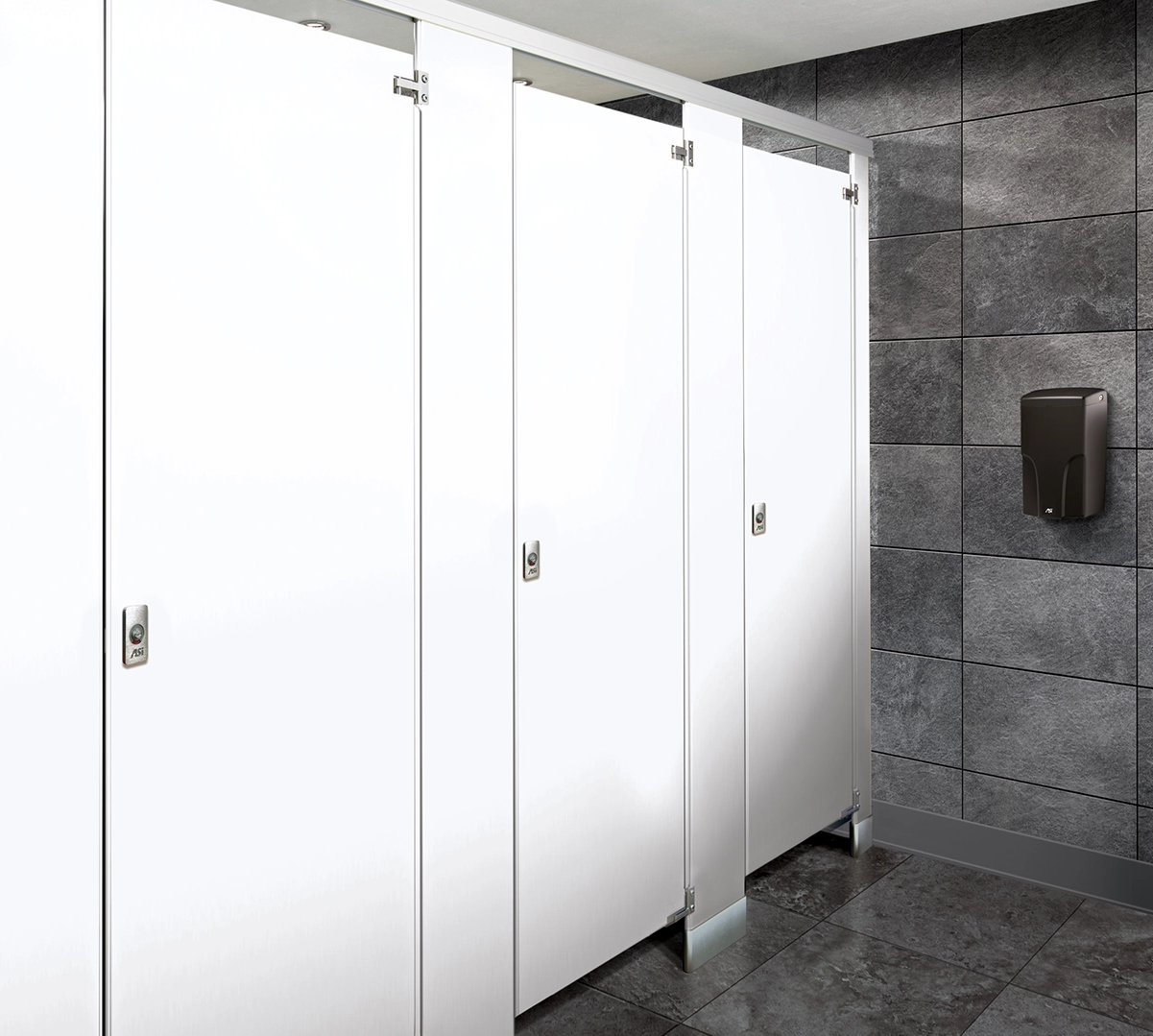 Powder Coated Steel
Powder Coated Steel is a great low cost material for gyms and locker rooms offering durability and a variety of design options. Privacy can be enhanced with larger panel sizes and no-sightline hardware. However, this is not a good option for high moisture locations as the material is not waterproof.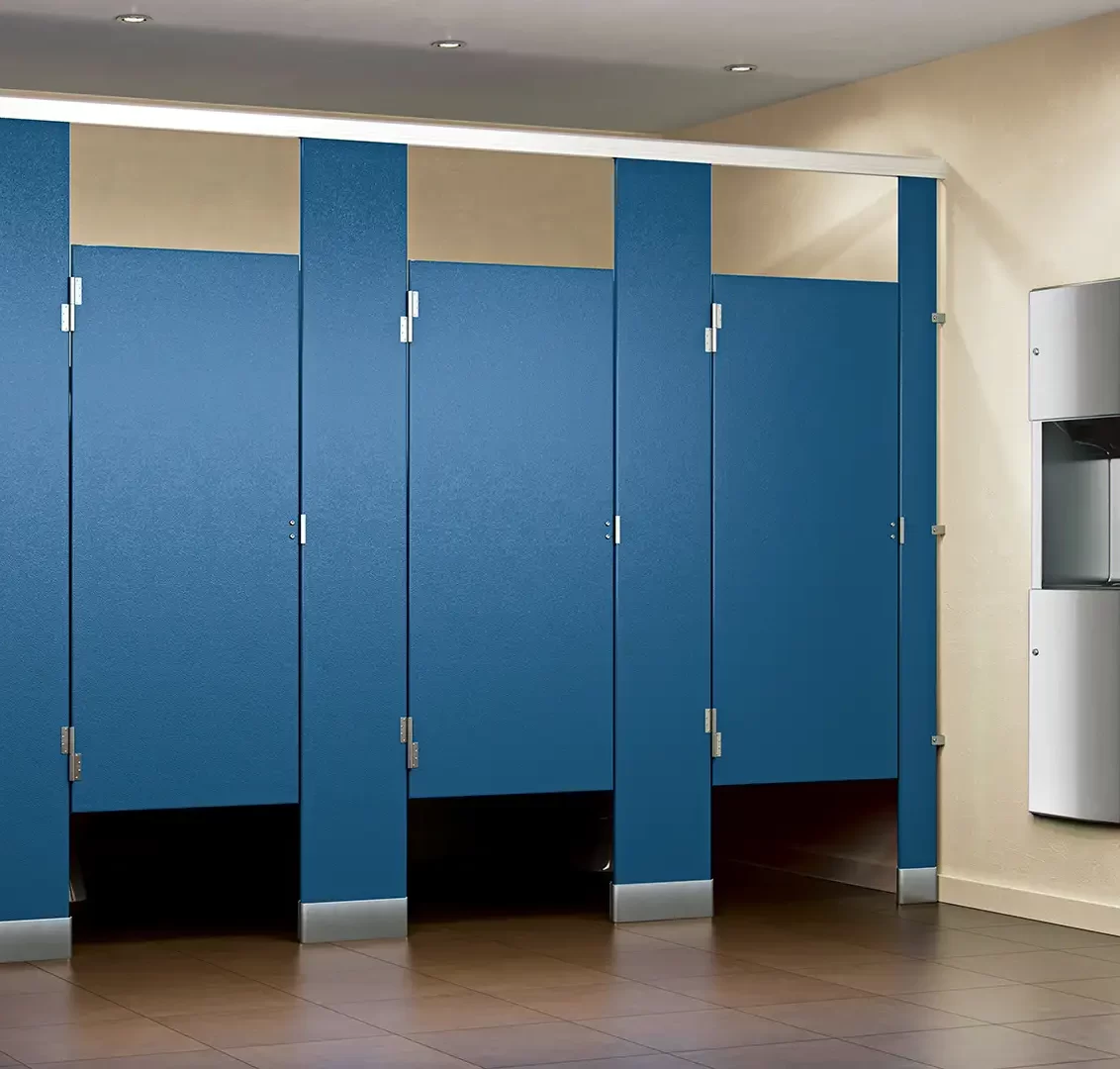 Solid Plastic HDPE
Solid Plastic offers a water and damage resistant material that is easy to maintain making it a great choice for gyms and locker rooms. The material is 100% recyclable, comes in many color options, and can be assembled with privacy add ons that elevate the level of comfort in your bathroom.

Solid Core Phenolic
Phenolic is a higher budget material that offers impressive benefits including strong damage and moisture resistance and over 400 color choices to match any design. It also offers high privacy options and comes with a 25 year warranty that makes it a reliable choice for any gym or locker room.
Build Your Gym or Locker Room Bathroom with Partition Plus
Gyms and locker room bathroom stalls are important to get right, not only for the comfort of users but also for keeping within budget. At Partition Plus we have experts ready to help you make the best decision for your gym or locker room.
Partition Plus has over 25 years of experience building the best bathrooms in the country. Our team is dedicated to giving you professional and expert quality help for jobs big and small. When you work with us you can count on getting a free quote that fits your needs quickly and without obligation.
If you're still not sure which material or layout you want for your bathroom, or if you have any other questions contact our team today. We look forward to working with you.