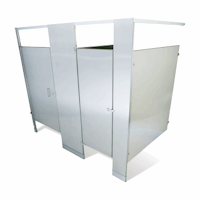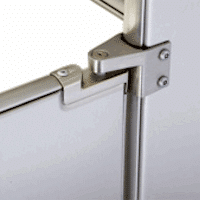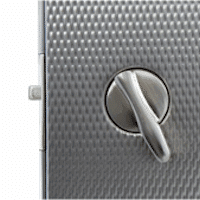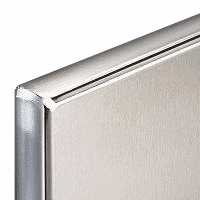 Stainless steel bathroom stalls have a number of great advantages. They look good, function great, are safe, customization, and even environmentally friendly. If you are looking for a solid product to last for years to come, continue reading about why these are the right choice for you.
ELEVATE ANY BATHROOM APPEARANCE TO A NEW STANDARD.
Perhaps you are building a bathroom in an upscale office building, or a fancy lounge. All stainless steel partitions feature a highly polished finish with a beautiful shine. This shine gleams in any environment, making it an attractive selection for nearly any bathroom. Bathrooms made our of stainless steel are upscale and modern, giving an effortlessly polished look that will impress your guests.
AN ENVIRONMENTALLY FRIENDLY CHOICE.
Stainless steel advantages include looking good and being good… for the environment! While the splendor of stainless steel is prominent, it is also a great choice for responsible owners looking to be environmentally conscious.
Stainless steel stalls exceed 90% recycled content (76% recyclable post-consumer and 15% recyclable pre-consumer)
This exceptional material assists in the process of obtaining LEED certification
It is an easy choice for those who want to have a nice product that they won't have to feel guilty about discarding, if and when that happens.
THE BEST FIRE RESISTANCE THE INDUSTRY HAS TO OFFER.
Fire resistance is a great trait for bathroom partition materials to have. Stainless steel far exceeds the standards when it comes to fire resistance.
ATSM E84 CLASS A fire rating
With an ATSM E84 CLASS A rating with regards to fire resistance, exposure to harmful smoke will not present an issue. This rating means that a fire will be contained to an extremely small area. This will help to prevent further damage and increase safety. ASTM E84 testing denotes CLASS A as the highest fire resistance rating achievable. This fire rating makes stainless steel an ideal choice for structures like high-rise buildings.
WORRY LESS ABOUT CORROSION AND RUST
Nothing says old and dingy like corrosion and rust stains. When you choose our stainless steel, you are making a choice that is highly resistant to tarnishing. The stainless steel used on bathroom partitions is type 304 stainless steel, which carries a reasonable resistance against rust-based material deterioration. This is because the type 304 stainless steel is partially composed of chromium, which naturally resists rust. This means less upkeep for you, and a product that will look good for years.
CUSTOMIZABLE PRIVACY OPTIONS FOR ANY NEEDS
Different places require different levels of privacy. Naturally, doors and panels do have a standardized size which suits most when it comes to bathroom privacy. However, it is possible to either raise or reduce the sizes of the panels to more appropriately accommodate for specific project requirements. Standard steel door and panel sizes come in four different variations:
Junior
Standard
Elite
Elite Plus
The choices range from least private to complete privacy. You can also further customize your bathroom stalls for aesthetic purposes and visual appeal.
CUSTOMIZABLE MATERIAL FINISHES FOR AESTHETICS AND STRENGTH.
To really take things to the next level, you can select a finish to completely match the look and style of your bathroom. Specialized finishes can be applied to the material to not only further enhance the appearance, but also to introduce a resistance to damage and aesthetic imperfections. Scratches, smudges, and fingerprints will no longer be an issue with these choices.
Stainless steel has the option of a type #304 stainless steel, an embossed stainless steel, and a hybrid option that combines an embossed and smooth finish by placing #4 brushed stainless steel on the outside and an embossed finish on the inside to provide the best of both worlds.